Posted on
the SCOUTING REPORT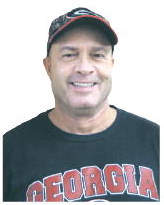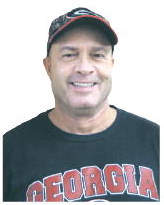 Big Week For 2-AA Baseball
If only the elements will cooperate, the high school baseball fans in this county will be in for a real treat this week.
Cross-county rivals Vidalia and Toombs County are both ranked in the state's Top 10. Both teams are coming off series victories over region rivals. Vidalia swept Swainsboro and Toombs took 2-of-3 from another ranked 2-AA team, always tough Jeff Davis.
Game 1 of the series was scheduled for Monday with the first pitch at 5:54 p.m. Vidalia enters the three-game set with a 12-4 record overall and a 3-0 region record. The Buldogs are 10-5 overall and 2-1 in region.
Game 2 is scheduled for Vidalia on Wednesday and game 3 in Lyons, both with 5:45 start times. Ought to be an exciting series that could go a long way toward determining a 2-AA Champion.
Remembering Peach Jam
A little over three years ago, Barbara and I were in Augusta for a weekend of shopping after one of our feequent doctor's appointments.
I can't remember the name of the hotel we were staying in; but I do remember looking up a lot when we stepped into the elevator. A mother and her 13-year old son accompanied us up the elvator.
As we went up to the fourth floor, I asked the still young mother if anybody was looking at her son. She immediately replied, "Oh he's the second rated eighth grader in the country."
I asked her if there was a basketball tournament being played that weekend. "You did realize that Peach Jam was being played this weekend."
I hadn't realized that it was Peach Jam weekend. For those who don't know. Peach Jam is a basketball tournament which features the best amateur basketball players in the nation.
When I walked back down to the lobby, I suddenly realized that the hotel was filling up with kids who were most all 6'4" and up. The bar was filled with well-known college coaches hoping to just be seen by the players they were courting.
John Calipari of Kentucky was there. So were North Carolina's Roy Williams and Villanova's Jay Wright.
Barbara and I came down for breakfast the next morning; and we sat beside the mother of one of the players from Team Takeover, the AAU team from Washington, DC.
Several of the players were from DeMatha, a powerhouee for many decades from the DC area.
The players included a trim young 7'1" kid by the name of Hunter Dickinson. We talked for several minutes. I think he already knew that he would eventually play for Michigan because he mentioned it prominently among the basketball powers he was already offered by.
We asked him if we could take a picture with him. He readily agreed. He was a very nice young man. At the time, I found out that he was only a 10th grader at DeMatha.
Why am I bringing this up now? This weekend on Sunday, I saw Hunter, continued from page
now a college freshman, help lead his Michigan Wolverines into the Elite 8, where the Wolverines would face the winner of the Alabama-UCLA game. I hadn't realized that he had been President of his senior class at Dematha.
Hunter, still only a college freshman, led his team with 14 points and 8 rebounds as the Wolverines demolished a talented Florida State team 76-58.
The youngster from Alexandria, Virginia, has made several All-American teams, including AP, Sporing News, USA Today, and NABC. He was also the Big 10 Freshman of the Year.
I remember asking Hunter if he was considering the University of Georgia. He replied, "They play basketball there?" I answered, "Sort of." And with that, young Hunter disappeared with his Team Takeover buddies for their first game of Peach Jam.
Hunter Dickinson – Three years ago, Barbara and I had a few minutes of pleasant conversation and took a picture with Hunter Dickinson, the starting center on Washington DC's DeMatha Catholic High School's basketball team. Hunter, only a sophomore in high school then, and a few of his high school teammates were playing in Peach Jam with a DC AAU team. Dickinson is now the starting center at the University of Michigan as a college freshman and played against FSU in this past weekend's NCAA Tournament Sweet 16, and defeated them to move into the Elite 8, which was held on Tuesday night against UCLA.