Posted on
Meadows- HCA Deal Supported By Community Leaders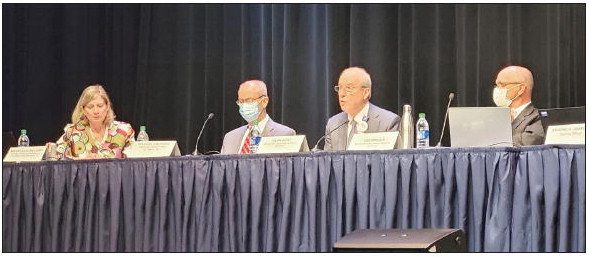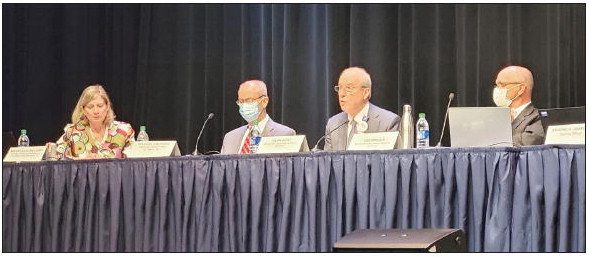 A public hearing on the sale of Meadows Regional Medical Center to Hospital Corporation of America (HCA) held Thursday, March 18, in Vidalia provided a forum for both parties to present statements and for public comment. A number of community residents and officials voiced their support of the transaction, but there were also questions from those in attendance about the sale process, the future of the Meadows Health fitness center, and an appeal from the president of the 94-member Meadows Health Auxiliary to be included in the future of the medical center.
Meadows Testimony
Michael Calhoun, chairman of Meadows Healthcare Alliance, opened the testimony with his remarks about MRMC's decision to se- continued from page
cure a financial partner to ensure the longevity of the hospital. "It was a matter vital to the health and safety of this community," Calhoun said, emphasized his ties to the community by noting he is native of Toombs County and managing partner at a local CPA firm. He was appointed to Alliance Board in 1994, where he has served in a governing role for 27 years. He was elected chairman of the volunteer board 12 years ago.
"Around 2018 we began to hear more and more about the trends for small, rural hospitals like Meadows and the trends were not favorable." He said hospital revenues were declining and costs were increasing. "Our (hospital) Boards were trying to determine how best to protect the hospital and the medical community for the long term; it is part of our fiduciary duty."
He noted that Meadows is one of the largest, if not the largest employer in the Toombs County community. "We consider Meadows to be an economic driver so we are well aware of the organization's importance." In 2018 the Boards began discussing an affiliation and "came to the conclusion it would be in the best interest of the hospital to look for a partner that could ensure our long-term viability so the hospital could continue its mission to serve community."
He explained that the Meadows Boards formed the Building and Grounds Committee, consisting of members of both hospital Boards and three physicians. This committee was tasked with finding an advisor to assist Meadows in initiating the search for a financial partner. Iain Briggs and his company Microgate was selected for this role. Calhoun said, "We were looking for a partner with financial strength, financial stability, organizational stability and permanency, an organization with a history of providing high-quality health care that was community-minded and would maintain the current complement of services. We were looking for an organization that would be aggressive in expanding and growing to meet the needs of our community that could ensure the long-term sustainability of Meadows, and had similar values. He said that two respondents made presentations to the B& G Committee. After consulting with the advisor, the Committee selected HCA and requested an offer and term sheet from them. "The Boards were very deliberative in the process and we performed our due diligence," Calhoun said, explaining that Meadows contacted leadership at Satilla Health in Waycross and Mission Health in Ashburn, N.C., both HCAowned hospitals. A group from Meadows and the Meadows advisor also met with leadership at Memorial Health in Savannah, another HCA facility. The B& G Committee recommended entering into a letter of intent with HCA which was signed by both parties. For the remainder of 2019 each party performed its due diligence and the board was updated monthly, but negotiations were put on hold during the COVID- 19 pandemic. By July-Aug. 2020, negotiations and due diligence picked back up and an agreement to purchase was reached by both parties.
Calhoun said that COVID- 19 brought about a reduction in revenue at Meadows and impacted HCA's original offer for Meadows. "It was a $17 million reduction. The original offer of $90 million was reduced to $73 million." He said the Board recognized how the pandemic exposed the vulnerability of all independent, rural hospitals. "In light of what has happened, losses have mounted and services have been severely restricted and curtailed. The fact that HCA reduced their offering price was not surprising but the reduction not so great an amount that it caused us to reconsider."
The Boards agreed that the reduced price was still a reasonable offer that would cover the hospital's debt of $52 million and provide $25-30 million for a new community foundation, Calhoun explained.
He said that at beginning of each board meeting, everyone was asked if they still wanted to proceed with the sale to HCA. "No one ever expressed a desire other than to go forward with HCA. We were deliberate in our consideration and moved with purpose."
Calhoun said that HCA clearly demonstrated to the Boards its commitment to the Toombs County community and to providing high-quality health care. "They have continually met our selection criteria and our vision for the future. To stay in business even a not-for-profit must make a profit. The line of difference between the not-for-profit and the forprofit ways of doing business have blurred over the years. Each can go out of business in the current environment," he said.
Calhoun added, "One of the major community benefits for the for-profit model is that it pays sales and property taxes from which the non-for-profit is exempt. This will mean a larger tax digest for our community and its local schools."
Regarding indigent health care, Calhoun said, "The Boards were naturally concerned about how HCA would handle caring for the indigent and financially challenged population of our area. Their charity policies aligned with ours, and even exceeded them in many cases."
Commenting on two health care services important to many residents, he noted that HCA has agreed to maintain, operate and grow the Cancer Center and the Meadows Health Women's Center. "This will allow local patients to access such health care here in Vidalia instead of traveling 50 miles or more to obtain the service. The boards are very satisfied with HCA's commitment to this portion of our community."
When asked how he knew Meadows leaders are doing the right thing, Calhoun said, "We (the Board) have had our difficult conversations and we have done our due diligence. We have superior and experienced advisors who have provided the wise counsel we have needed as we headed along this journey. The Committee has put in the time necessary to reach a proper decision. Personally, I am confident we are doing the right thing for the right reason." Meadows advisor Iaian Briggs, has 40 years financial advisory experience, the last 27 of which have been in the health care industry. He noted that Meadows' financial performance had been declining for several years. Net revenue had declined from $154 million in 2015 to $132 million in 2019. Net operating income had declined from $4.9 million in 2015 to a loss of $2.4 million in 2019. Since that time operating losses have continued to increase from $12.9 million for 2020 and $9.5 million for the first eight months of the current fiscal year through February.
"Consistent with other independent hospitals in Georgia, Meadows was facing reducing volumes, increased reimbursement pressure from commercial payers, and the ongoing challenge of recruiting and retaining physicians to rural communities," Briggs said. He emphasized that these trends are consistent with the challenges facing rural hospitals across America. "The sobering truth is that hospital closures reached an all-time high in 2020. Microgate (his company) concluded that Meadows could remain independent for a few years but it would likely face an uphill struggle to do so and a very uncertain future." Microgate provided to the board examples of different partnerships from merger, to affiliation, to an outright sale. "We outlined the proposal process for competitive bids and a continued from page
summary of regional and out-of-state partners… Due to the size and location of Vidalia the board thought it best to approach potential partners who were familiar with the hospital and service area and specific needs of the citizens of this community. They were looking for a potential partner who articulated a particular growth strategy that included the Toombs County service area," Briggs said.
He added, "HCA is clearly expanding its presence in Southeast Georgia with existing hospitals in Macon, Dublin, Savannah, Augusta and Waycross. Vidalia fit neatly as a missing piece in this HCA network. This gave the B& G Committee great comfort that Meadows would not become an isolated outpost of a larger system but would be part of an integrated market strategy."
The partner affiliation criteria included: a commitment to maintain and enhance services and physician recruitment in the Vidalia area over a specific period of time; and indigent care policy similar to what Meadows currently has; consideration of the impact on Meadows employees including compensation and benefits; and more broadly on the number of jobs in the county; a commitment to future capital expenditure; plans for the assets remaining after the transaction including any land and buildings; and a commitment to maintain a level of local governance and community involvement.
Briggs said HCA specifically addressed all of the criteria proposed by Meadows, which also included the creation of a new foundation to manage the net proceeds of the transaction whose commitment is to improve the health and wellbeing of the residents of Toombs County and the right of first refusal (the new foundation has the right to reacquire the hospital if HCA decides to sell it at some time in the future). A letter of intent was signed on September 12, 2019.
Briggs said Meadows employed a rigorous course of reverse due diligence in verifying HCA's ability to honor its letter of intent. This included a visit to HCA headquarters to meet senior leadership; a visit by a delegation of Meadows management, physicians and committee members to HCA's Memorial Health Hospital in Savannah; and review of HCA's publicly available documents to determine HCA's ability to stand behind transaction terms; as well as telephoning CEOs and Hospital Board Chairs that had previously completed similar transactions with HCA.
Briggs concluded, "Meadows Board followed a rigorous process and continued from page
reached a rational conclusion."
A lan Kent has had a long association with the Toombs County area and with Meadows. He first came to the community as a hospital consultant in 1996 and, later as Meadows Chief Executive Officer, oversaw the completion of a new $75 million regional health care center. "We outgrew our old facility and built a new facility. We added services, more physicians and technology and around 2015 we started to evaluate long term. In 2017 we hired Stroudwater Associates to help with objective analysis of strategic options." He pointed out, "Revenue is declining and projected to continue. COVID has made almost every hospital in the nation unprofitable during 2020, and there is uncertainty as to how it will affect long-term viability. All these factors drive consolidation in industry. Most hospitals in Georgia already belong to a system because of the power of scale. It is very difficult for any independent hospital to remain so for much longer."
Allowing that some hospitals find themselves with numerous opportunities because of their size and their typically urban location, rural facilities like Meadows face unique challenges. "When we started looking around it became clearer how unusual we were in our rural location. A University of Georgia economist who did a study for us a few years back found at that time Meadows was the most isolated community hospital with respect to cardiac care in the state. It was 90 miles in any direction to the next tertiary care hospital." Becoming a part of the HCA health care system made sense for Meadows. "We have especially been supported by Memorial Health in Savannah, our state designated trauma and perinatal center. Over 80% of our transfers for higher levels of care already go to Memorial." Being part of a regional health care team can provide a network of services. "We especially see strength in patient care management systems, purchasing at the highest levels and integrated information systems and electronic health records. There is group synergy from having a lot of people working on the same issues." Kent added, "Hospital consolidation is a reality of the world these days." He pointed out that rural hospitals are in even more peril than the average community hospital. Almost 200 rural hospitals have closed since 2005, over 100 since 2010.
"We at Meadows are one of the more sophisticated rural hospitals in the nation thanks to our physicians and the technology we have. Newsweek recently counted Meadows as one of the best maternity hospitals in the U.S., something we are extremely proud of. We have defied the odds by growing in size and sophistication. We pride ourselves that we are the only community hospital in this region that has not had to rely on county funding to remain open."
He observed, "We had to ask ourselves what we could do to offer the best opportunity to have a hospital operating at least at the level Meadows operates today in Vidalia 50 years from now. HCA is the only company that could give us that assurance. They committed to protecting Meadows core services—OB, emergency care, our Cancer Center and interventional cardiology services. We have something in Vidalia that has become the interest of the top health care provider in the country. I think that says a lot about Meadows and lot about Vidalia."
HCA's Testimony
Hugh Tappan, President of the South Atlantic Division of HCA, has been with the corporation for 27 years after starting out Columbus in 1994. He cited the company's mission statement: HCA is committed to the care and improvement of human life.
"We fulfill it (the mission) through developing industry best quality initiatives, creating charitable partnerships across this country and here in Georgia, through billions of dollars made in capital investments every year, to taxes paid in 22 different states." He noted that in Georgia in 2020 the company paid $43.5 million in local and state taxes. "I support and guide 12 hospitals in more than 200 points of care from (an area including) Myrtle Beach, Charleston, Augusta, middle Georgia markets and Jacksonville," Tappan said. He explained that the hospitals and practices are all locally managed but with 70 subject matter experts based in division offices and with duplicates in corporate offices in Nashville.
HCA's 12 hospitals saw more than 12,600 COVID positive patients in the past 12 months. "Throughout 2020 and during the pandemic HCA has not laid off any full or part-time employee. We instituted a pandemic pay policy so employees received a paycheck even when there was no work to be done as hospitals lost a significant amount of business." Through national partnerships HCA was able to buy and distribute PPEs. "We never ran out. We even purchased a PPE manufacturer and paid for hotel rooms for colleagues who were treating COVID 19 patients." The were no copays or deductibles for COVID 19 patients treated in HCA hospitals whether their treatment lasted for one day or 100 days, Tappan said.
"In 2020 we returned $6 billion in federal cares act dollars because we believe it is our responsibility to make sure the money is there for business that would have folded without it. Our values and guiding principles are in line with those of Meadows Health," he said.
Tappan assured, "By becoming part of HCA, Meadows can continue to care for its community just as it always has but with the support, scale and resources of HCA behind Meadows. We are delighted to be here to convey our commitment to this community."
Tappan said, "Our primary objective is to improve access to high-quality, compassionate care for the patients in every community we serve. Our goal is to remove barriers and to ensure everyone can reach and receive the care they need to thrive. We do this by leveraging our broad, organizational scale, resources, experts and experience across the HCA healthcare family to drive effective and efficient care. When we do, we deliver a better healthcare experience for our patients and their families." He noted "We will commit capital and other resources to implement strategic initiatives based on based on community needs and community support and we intend not only to maintain but to grow Meadows legacy through the recruitment of skilled specialists and expansion of services."
He said HCA intends to continue to offer the acute care services currently offered at Meadows with an emphasis on continually lifting patient care experience and access. "In the emergency department we will look at opportunities to improve patient flow to ensure that patients are seen rapidly on arrival. The hospital currently treats approximately 30,000 emergency patients per year and is the provider of choice for this community. We believe we can help the team build on its already successful care model."
Tappan said Meadows will continue to participate in the federal insurance programs such as Medicare, Medicaid and Tri-Care and will also work with private insurance companies to ensure there is access to affordable care in this community.
Tappan also pointed out that Meadows Health currently offers medical education programs for third year medical and Certified Registered Nurse Anesthetists (CRNA) students. "As the country's largest provider of graduate medical education HCA Healthcare looks forward to continuing Meadows existing programs while also exploring new opportunities at Memorial Health in Savannah and Mercer University Medical School."
Regarding HCA Healthcare's indigent care policy, Tappan assured that HCA always provides the necessary medical care to anyone who presents to its hospitals regardless of their ability to pay. HCA provides free, non-elective care for uninsured or under insured patients whose income level is less than 200% of the federal poverty level with a tiered approach up to 400% of the federal poverty level. Other features of HCA Healthcare's charity policy that will benefit th Meadows community include financial counselors available to address its policies and resources. As a company HCA Healthcare does not report to credit bureaus on accounts when patients owe money, and does not sue patients or file liens on outstanding balances, Tappan said.
"When we acquired the facilities both in Waycross and in Savannah this question came up about how we would treat our communities. We committed to layering the local, current policy and the HCA policy for the first six months and we reported back to the board which was the more beneficial policy to the local community. In every case, the continued from page
HCA policy was more beneficial to individuals in Waycross and Savannah," Tappan said. He added, "In 2020 alone, HCA provided approximately $3.4 billion in charity care. In our Division's six Georgia hospitals, we provided $130 million in charity care."
Regarding Meadows employees, Tappan said HCA does not anticipate making any significant changes to Meadows' current team. "We have committed to hire all Meadows team members who successfully complete the pre-employment process at their current salary levels for at least one year." He said that insurance and retirement plan participation will begin on day one with no lapse in coverage, no waiting periods, and no pre-existing conditions. "As part of the largest healthcare employer in the world the team will have new opportunities, educational support and career paths available to them. We know we are only as strong as our people. Our people deliver the care that makes our hospital and physician practices extraordinary."
Tappan said HCA is committed to investing a minimum of $10 million in the Vidalia community at Meadows over the next five years. He explained HCA's community investment by highlighting Memorial Health in Savannah. Since 2019 HCA spent $28 million to renovate and expand the medical center's heart and vascular institute, expanded its level 3 NICU by 18 beds at a cost of $15 million and recently opened a $67 million children's hospital.
"Our commitment was a $250 million commitment over 10 years for Memorial Health and we have already exceeded that in the first three years. We have already exceeded our commitment for capital in Waycross. As a company, HCA Healthcare invested more than $2.8 billion in the middle of pandemic in 2020 and we expect to spend approximately $3.7 billion this year," Tappan said.
Joe Sowell, HCA's Chief Operating Officer, is responsible for all acquisitions HCA pursues. He commented on HCA's obligations per the provisions of the sale which include establishing an advisory board composed of six individuals. Three members of the advisory board will be appointed by a new foundation which will be created to receive the net proceeds from this transaction. Three members will be appointed by HCA. The advisory board will have numerous responsibilities including providing strategic guidance on operations and services, providing oversight of HCA's continuing obligations and facilitating accreditation of the hospital by the Joint Commission.
He also addressed benefits to the community. During the five-year period after the closing the transaction HCA will contribute $250,000 to be spent on community initiatives. How these funds will be spent will be determined solely by the new Meadows Foundation. Proceeds from this transaction will be transferred to the new foundation which will be philanthropic in nature and the community will benefit from the initiatives it supports. The community will also benefit from the property taxes Meadows will pay as the result of becoming a for profit organization. That tax money pays for schools, roads and other community services.
Expert Testimony
Opal Greenway, Principal, Stroudwater, independent valuator for MRMC, reviewed a written report of the transaction, including a fair market valuation and community benefit analysis. Stroudwater, as a third party valuator, provided a completely independent review and written report of the proposed transaction under the Hospital Acquisition Act requirements. This Act requires transactions for hospital assets involving not-for-profit entities to be assessed to ensure that the seller will receive an enforceable commitment for fair and reasonable community benefits. Greenway said the $73 million HCA has offered is above the range of fair market value of operations of Meadows Health. The deal includes an additional $10 million capital commitment over five years.
"We examined ongoing community benefits for which HCA is responsible over coming years, with a commitment by HCA to keep these benefits at least at the level of Meadows has done in the past. This is worth another $30 million," Greenway said. "This results in a total, quantifiable community benefit of $103 million versus the current value of Meadows Health. The proposed transaction provides significant community benefits, both monetary and non monetary. We believe Meadows will be able to make significant investments in the community and have the capital to execute strategic initiatives and physician partnerships that will benefit the community through its partnership with HCA."
Jimmy Peterson, a principal at Deloitte Transaction Business and Analytics was retained by the Attorney General to assist that office as it reviewed economic aspects of the deal. Peterson said in an independent analysis, his company interviewed all stakeholders on both sides and issued a report that lays out observations and conclusions. "We focused on income and market approaches. What is the future cash flow of system and value in today's dollars? We reviewed the Stroudwater model and agree that the Meadows value is below the price offered by HCA, Peterson said. "We are comfortable confirming that Stroudwater's implied conclusion that the purchase consideration offered by HCA is consistent with or above the fair market value of the asset and meets normal industry standards."
Public Comments
During the public comments portion of the hearing support of the MMRC to HCA transaction was voiced by Vidalia Mayor Doug Roper, Lyons Mayor Willis NeSmith, Dr. Karen McColl from MMRC who read letters of support from Dr. Kurt P. Hofman and Dr. Frank Gibase, and Southeastern Technical College President Larry Calhoun. Also commenting in favor of the transaction was James Nixon, Chief Operating Officer at Meadows, among others.
Dr. Oliver Whipple, a practicing general surgeon at Memorial Health and President of the Medical Staff there is a native of Vidalia who born at Meadows in 1973. He maintains an office and a home in Vidalia. His parents still live in Vidalia and he plans to retire in Toombs County. He said, "HCA is a stabilizing force for any health care system. They know how to run a hospital. They constantly invest aggressively in new equipment and maintain the equipment and facilities." He urged the community "not to underestimate the impact of additional tax revenue from having a forprofit company run the hospital system. I can tell you that being a part of HCA has made it easier for me to provide high quality care for my patients."
Dr. Ramon Meguiar, Senior Vice President and Chief Medical Officer for Memorial Health, voiced his "firm commitment" to the HCA mission. He joined Memorial in 1989 and has been its CMO since 2004. "I know what life was like before HCA when we struggled to have what we needed to serve our safety net mission to Savannah and South Georgia. HCA keeps its word, promises to its colleagues and communities."
He added, "Since acquisition we have recruited more than 50 physicians in trauma, orthopedics, colon and rectal surgery, subspecialty cancer surgery, critical care, obstetrics and gynecology, cardiology, cardio-thoracic surgery, internal medicine, pediatrics specialists, family medicine and others. HCA makes sure we have the people, tools and the technology to succeed."
Owen Herrin, Chairman of the Board of Trustees at Satilla Health in Waycross and President of Satilla Health Partners, a 401-C4, addressed that facility's relationship with HCA.
Herrin said he has monitored commitments HCA made when acquiring Satilla Health. "HCA has fulfilled everything it said it would. They are a step ahead of us. If they promise to do something in your community they will do it. You can count on them. They are candid, open and honest, and the communication line totally open." He said during the COVID pandemic Satilla Health never lacked for anything. "We had access to life-saving equipment. Because we were part of HCA, we did not have to fend for ourselves."
Since May 1, 2017, when the acquisition took placed, HCA has invested $21 million in the hospital. What was to be accomplished in five years was accomplished in three and a half, even during the time of the pandemic, Herrin said. "We added a wound care center, a 3-D mammography unit, upgraded our cardiac catheterization lab and spent $8 million on technology." Another $2 million went toward further modernizing the hospital's operating rooms. An additional $19 million is scheduled to be spent following a capital campaign over the next two years. Local citizen Dan Brown, a volunteer with Meadows Auxiliary at the Cancer Center, inquired whether alternatives to the sale of the hospital had been considered, including a bond sale, increased millage rate or special purpose local option sales tax.
A response to his question was provided by MRMC advisor Iain Briggs who explained that Meadows was already leveraged with the level of debt taken on to build the new hospital in 2012. "We did a debt capacity analysis and did not have an awful lot of headroom to issue additional bonds in an environment where financial performance is deteriorating. We did not explore local taxes." Brown also posed a question about the future of the Meadows Health fitness center which is housed in the Wellness Center. Tappan replied, "We talked to local leadership about finding someone who can operate that effectively on a go forward basis."
Lisa Parker, President of the 94-member Meadows Health Auxiliary, emphasized that the Auxiliary is an integral part of Meadows. She noted that Auxiliary members volunteer at the front desk, radiology, surgical waiting, family waiting, the Wings Pavilion, the gift shop and the cancer center. "Out of all hospitals HCA owns in Georgia we will be your largest auxiliary and I request we be allowed to serve the way we are serving at the present hospital. We just finished donating $100,000 (Meadows), we gave $50,000 last week for the 3D mammography machine, and for the Cancer Center we brought in $300,000." Parker did not receive a response to her presentation from either party.
Chaplain advised that concerned citizens may submit any questions or comments until the close of the record Tuesday, March 30, at 5 p.m. to [email protected] These comments will be included in the hearing record and addressed by the appropriate party. After the close of the record, the Attorney General's office will issue a report of findings, which will be available to the public within 30 days of this hearing.