Posted on
Vidalia High School Senior Receives Full Scholarship to Study Music at Berry College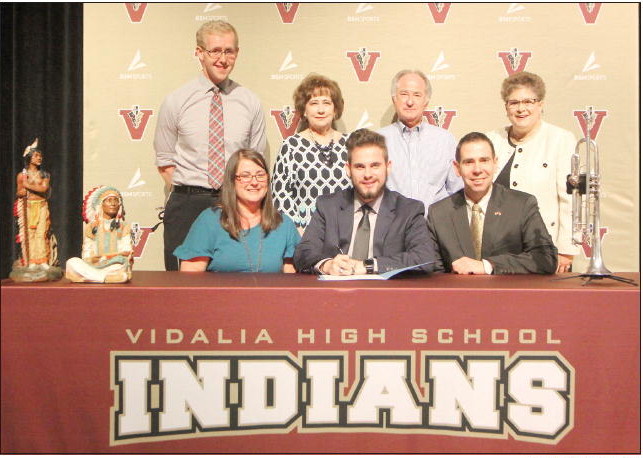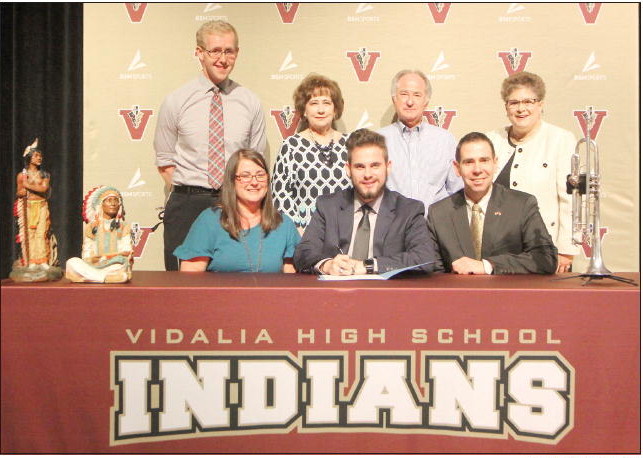 A Vidalia High School senior—who is also an exceptional musician—has earned an opportunity to fulfill his dreams. The announcement that Reagan Miller has been selected for a full scholarship to Berry College in Rome was made at the high school's theater Wednesday, March 17. The Gate Scholarship amounts to $200,000 over the next four years.
A cheer went up from those gathered in the theater as Band Director Dr. Beth Taylor shared the good news. Surrounded by his family and fellow Show Choir and Band members, Miller expressed gratitude and his goal of using the scholarship to give back to his hometown. "I have been inspired by the effort my family and instructors invested in building me into the person I have become. Without them, I would not be here," Miller said in an interview following the announcement. After he studies music education at Berry, Miller wants to return to his hometown to give back to those who have supported him.
Dr. Taylor emphasized that the Gate Scholarship is all inclusive. It pays for tuition, room and board, and a book allowance. But at Berry, value is placed on student responsibility and Miller will also be participating in a work study program in the College's Music Department. "He was very diligent in jumping through hoops," Taylor said of the effort Miller put into winning the scholarship. He not only auditioned musically, he went through a series of very intense, very competitive virtual interviews and he had to impress a lot of people, Taylor said.
Miller and Taylor were in the band room together on March 4 when the call came from Berry about the scholarship. "I was ecstatic. Dr. Taylor cried," Miller said.
"I'm very proud of him," Dr. Taylor enthused. "He's worked hard and I'm excited that he wants to come back and teach music and band to the next generation— to pass the torch."
School Principal John Sharpe expressed his pride in Miller's accomplishments. "Reagan's goal is to be a school band director. At Berry, he will get to work with one of the best trumpet players in the United States—Dr. Adam Hayes. He has worked hard and we are excited to see more future band members get these kinds of scholarships. Kids need to know their talents are valued."
Sharpe underlined the school's emphasis on the arts and music. When the new high school was built, he insisted on including a theater for the arts.
Miller is a multitalented musician who became interested in playing the trumpet after watching his older brother play that same instrument in the school band. Miller's mother was also musical. Miller not only plays the trumpet in the marching and concert bands, he is a member of the Show Choir where he sings bass. In April, he will represent the school in Regional Literary competition as a solo vocalist and member of a vocal quartet.
With a 4.0 GPA Miller is Beta Club President, a member of the National Honor Society, recipient of the University of Georgia Certificate of Merit and is the projected valedictorian of his 2021 graduating class. He is a Captain and Trumpet Section Leader in the Sound-Tribe marching band, and an actor and crew member in the school's One-Act Play group. He is also Bass Section Leader and Music Captain in the Indian Express Show Choir. He is active at Vidalia Church of God where he participates in the Youth Ministry and is a cashier at Food Lion in Vidalia.