Posted on
Teachable Moment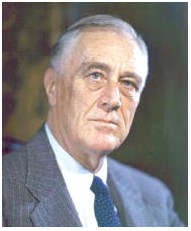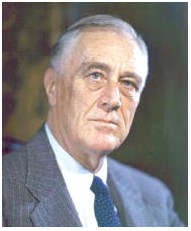 the Teachable Moment
Why did Congress limit terms of the President after Franklin Delano Roosevelt?
FDR (1882 – 1945) was the only American president to be elected four times. Born to wealthy parents, he married Eleanor Roosevelt and had five children. He attended law school and entered politics. In 1921 at the age of 39, he was diagnosed with polio and remained unable to walk without braces and crutches. In 1928 he became Governor of New York. In an era of the major economic and military upheavals of the stock market crash, the Great Depression and World War II from 1929 to 1945, he was elected President in 1932, 1936, 1940, and 1944.
World War II broke out in Europe in September 1939, and after Japan bombed the U.S. naval base at Pearl Harbor in 1941, America entered the war. While organizing with Britain and Russia to fight Japan after Germany's surrender, Roosevelt suffered a cerebral hemorrhage and died on April 12, 1945, before World War II ended and only 2½ months into his 4th term. He was succeeded by his Vice President, Harry S. Truman. Roosevelt's critics said he violated the American tradition of two terms set by George Washington, who voluntarily decided to decline running for a third term because he thought that more than eight years of tremendous political power would be a great temptation for anyone to become a tyrant like the British king and a dangerous threat to American freedom.
In February 1951 Congress ratified the 22nd amendment to the Constitution, which states, "No person shall be elected to the office of the President more than twice."