Posted on
TCHS Soccer Gets Wins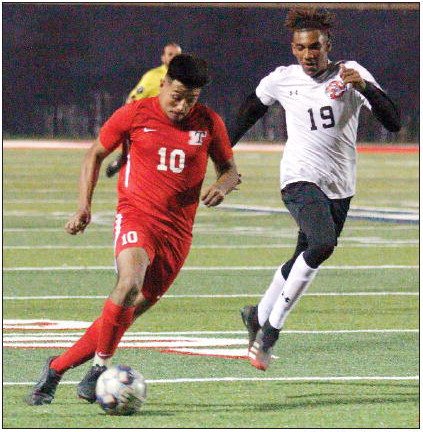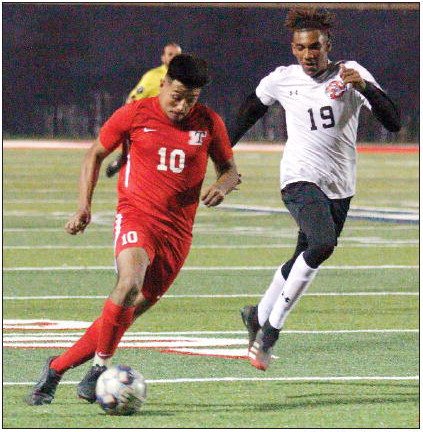 The Toombs County High School soccer teams took on Swainsboro and Bacon County last week in Region matchups. The Lady Bulldogs came up with a pair of wins, while the boys split their games.
Girls vs. Swainsboro
The Lady Bulldogs got a big outing by Brandi Sharp as she scored four goals against the Lady Tigers on the way to a 6-1 win. Toombs scored twice in the first half of the game, but allowed a goal by Swainsboro to send the game to halftime up 2-1.
In the second half of the game TCHS added four more goals to pull away for the win. Along with Sharp's four goals, Gisselle Delgado added two goals to the total.
Boys vs. Swainsboro
The boys also got a big game from one player as Omar Aguilar found the net four times to lead to Bulldogs. The rest of the team spread it around as they took a 9-0 win over the Tigers. Five other Bulldogs scored one goal each, Marcos Zamorano, Uriel Brabosa, Carlos Sanchez, Jose Leon, and Yovanny Zamorano.
Girls vs. Bacon The Lady Bulldogs rolled over Bacon County on Friday at home in The Pit. Toombs raced out to a 4-1 first half lead on the Raiders. The Lady Bulldogs then added four more goals in the second half on the way to an 8-1 win. Three girls combined for all of the goals for TCHS. Rilyn Fitzgerald and Anyadi Colmenares each put three goals on the board and Delgado added two.
Boys vs. Bacon
For the boys it was a tough match. The game was a fight in the first half, but in the second half the Raiders got the offense going and pulled away to a win. In the first half of the game the game was tied at 1-1 with Aguilar scoring the goal for the Bulldogs. But in the second half the Raiders found the back of the net four more times while Toombs could just add one to their total. That gave the win to Bacon, 5-2.
The Lady Bulldogs are now 8-2 on the season and are 7-0 in Region play. The boys are 7-3 are are 5-2 in the Region. This week they were at Woodville-Tompkins on Tuesday after presstime. TCHS will play again on Friday when they host East Laurens in The Pit with games starting at 5:00 p.m.