Posted on
SWAT Team Deployed In Two-Hour Standoff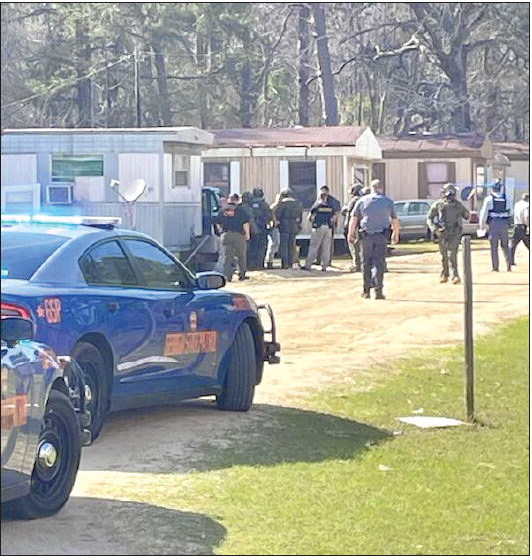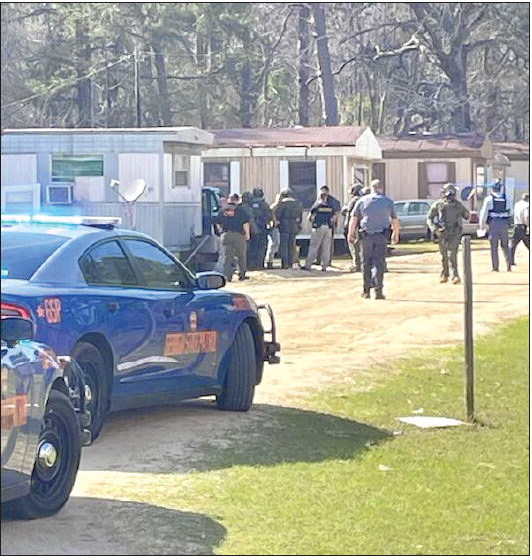 held in the Wheeler County jail on multiple charges.
Over 50 law enforcers, including a Georgia State Patrol Special Weapons and Tactics (SWAT) team, responded to a tense, two-hour standoff in Wheeler County Wednesday after officers at the scene called for backup. The incident took place on the outskirts of Glenwood shortly after 1 p.m. and ended with an arrest and without harm to the suspect or authorities.
Wheeler County Sheriff's Chief Deputy Richie Floyd said a suspect who barricaded himself inside his mobile home told law enforcement, "I'm tired of y'all harassing me. I'm going to show y'all something today." Floyd said officers considered that a direct threat and because they also feared that the suspect had weapons, called for back-up. The alert brought in law enforcement from as far away as The Georgia Public Safety Training Center in Forsyth where the GSP's state-wide SWAT team had congregated for training. SWAT Command staff arrived by helicopter, landing in a field off of Ochwalkee Road a quarter mile away from the trailer park.
Wheeler County Sheriff's Deputies took William Riley Davis, 38, into custody around 3 p.m. after he spoke with Sheriff Randy Rigdon and agreed to surrender to authorities. Davis is being held in the Wheeler County jail on multiple charges following a preliminary hearing before Magistrate Judge Jolinda Harrelson on Friday morning. Davis was charged with manufacturing methamphetamines, two counts of felony obstruc­continued from page
tion, possession of meth with the intent to distribute and possession of drug-related objects. He will remain in custody until he goes before a Superior Court judge for a bond hearing.
Chief Deputy Floyd said the incident initiated around 1:10 p.m. when Wheeler County Deputy Ben Atkins, the Oconee Drug Task Force, and a probation officer visited Davis, a convicted felon who was on probation. Authorities say they were going to the residence to conduct a probationary search after receiving multiple tips that Davis was manufacturing meth.
When investigators knocked on Davis's front door and advised him they were there to conduct a search, the subject refused to comply with their orders, issued a threat and ran to a bedroom where he barricaded himself inside.
As they attempted to coax the suspect out of the bedroom, Floyd said officers heard noises coming from underneath the trailer. They discovered what appeared to be a trap door in the floor of the mobile home and shortly thereafter determined Davis was hiding under the trailer. Law enforcement removed the underpinning on the trailer and brought the suspect out. A search of the residence turned up a small amount of what appeared to be meth and chemicals to make the drug. In addition to the Georgia State Patrol and its SWAT team, law enforcement arriving to render aid included the Oconee Drug Task Force, State Probation, a Telfair County Sheriff's deputy, the Lumber City Police Department, state officers with Motor Area Carrier Compliance Division and Wheeler County EMA Director Steve Adams. A Wheeler County ambulance was also on standby.

William Davis