Posted on
EVANCE Donates To VHS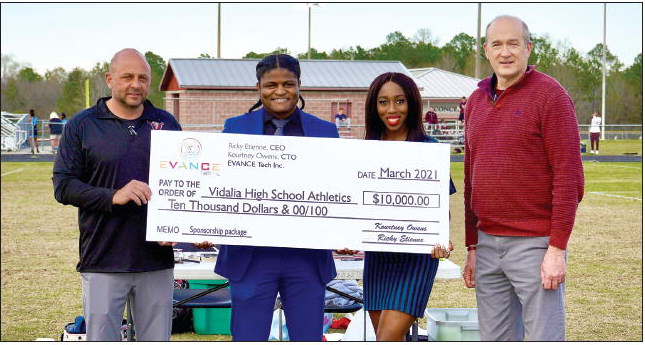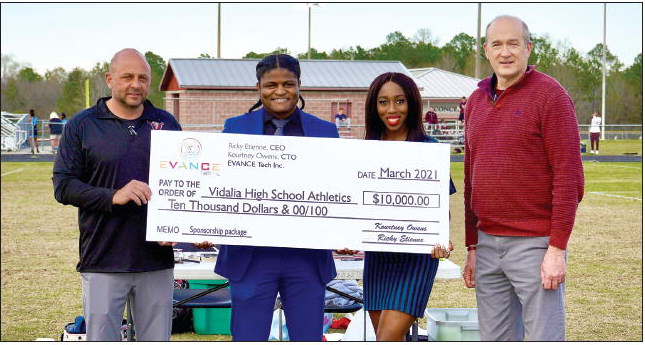 The Vidalia High School Athletic Department was the recipient of a large donation last week as EVANCE Technical Inc. presented Vidalia High School Athletic Director Tommy Dalley and Principal John Sharpe with a check for $10,000. The gift was made during the Indian Invitational Track Meet, with CEO Ricky Etienne and VHS Alum, and EVANCE Chief Technical Officer Kourtney Owens doing the presentation.
The donation will help several athletic programs in the school along with the Audio/Visual Department at VHS. According to Etienne, "It just made sense to help Vidalia High School and the student-athletes, as Kourtney is one of their alum. We are just happy that we can give back to the Student-Athletes and bolster the programs and give them the opportunities that we didn't have when we were younger."
Etienne, who was born in Boston and lived in New York while growing up, said that while as a family they struggled, their Mom always taught them that the American Dream was alive and well. "Even though we struggled and didn't have much, our Mom taught us at a young age that you have to go out and get what you want. The American Dream is there, but it is built on one's own shoulders and work. So, I had to pick myself up out of the grind and make my dreams come true. And now that we are where we are, I feel like it's a Blessing to give back and hopefully change some lives that may not have had the opportunity otherwise.
Etienne also owns a Medical Supply Company that has become the largest in Atlanta and one of the countries' largest. When asked to what he attributes his success, Etienne is quick to point out a motto he lives by, "Humility before Honor." "It keeps me grounded and lets me know I am doing things for the right reasons."
And the advice he would give to those who may be about to venture out on their own? "Dream on! No matter your age or what you deal with in life, hold on to your dreams. Because the day you quit dreaming is literally the day you stop living. You have to have a goal, a dream, a vision. And every day, you have to work toward it. But you also have to know that there will be adversity along the way, but it's not about getting knocked down; it's about whether you get up or not and what you do once you get back up.
For her part, Owens, a 2014 graduate of Vidalia High School and former point guard on four Lady Indian Basketball teams that made the State Playoffs, says it feels good to give back to a school and community that gave so much to her. "It feels so amazing that I can come back to a community that helped make me who I am today. Through sports, the coaches, and community leaders who helped me along the way, I am very grateful. Now I can come back and love on my community and Bless them, just as I have been Blessed. I look forward to being able to do it even more in the future."
Vidalia Athletic Director Tommy Dalley, who taught Owens at Vidalia High School, expressed his gratitude for the partnership with EVANCE Tech, "Our athletic department is extremely excited about the partnership with EVANCE Tech. For a relatively new company to step up and offer this kind of support is a little overwhelming. Kourtney Owens, the CTO of the company, had a major part in putting this together, and that in itself makes this special. To have a former athlete and alumna give back says a lot about Vidalia HS and what this place means to her."