Posted on
Area Teachers Roll Up Their Sleeves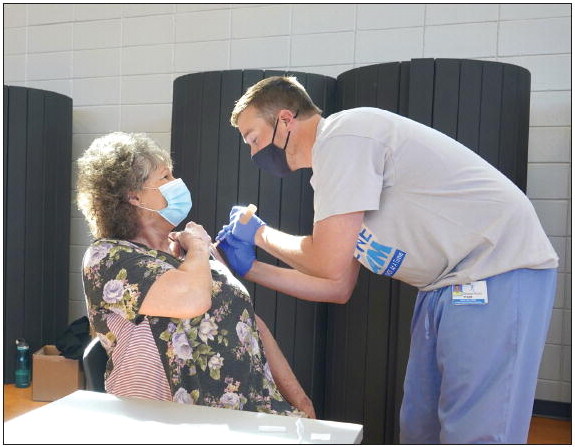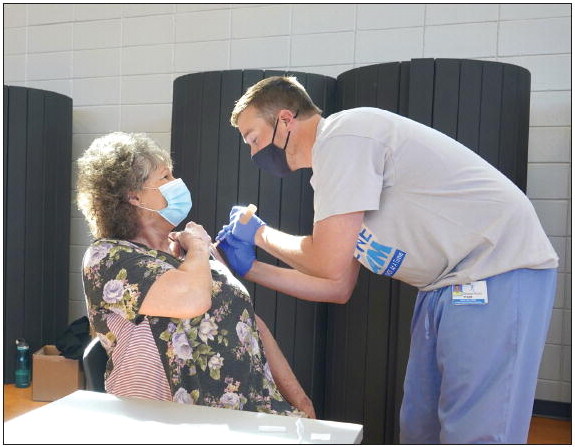 Area teachers and school staff rolled up their sleeves last Friday to receive COVID-19 vaccinations. Beginning March 8 eligibility for the vaccinations was extended to include teachers and staff at public and private Pre-K, K-12, and Department of Early Care and Learning licensed or exempt childcare programs. The criteria did not include staff at colleges and universities. Educators and school staff comprise about 450,000 residents in Georgia. Vaccinations were not mandatory but many took advantage of the offer. Meadows Health administered the one-round Johnson & Johnson vaccine to educators at Vidalia High School. Since taking a survey of those who would choose to receive the shot, school officials discovered some of the staff had received it by other avenues. About 170 doses were continued from page
administered there. In a partnership and smooth registration process with Meadows Health, about 25%, or 100, of the Toombs County Schools staff received the Johnson & Johnson shot. Recent COVID numbers in the school system have been the lowest since Thanksgiving.
At Montgomery County Schools, about 40 persons lined up to receive the vaccination last week, said School Superintendent Hugh Kight. He noted that many school employees had already been vaccinated. COVID-19 reports in Montgomery County have revealed a decline in cases for many weeks. The Johnson & Johnson vaccine was administered to Wheeler County teachers last Friday at the Wheeler County Health Department. Though the case numbers in the school are currently low, teachers, staff, and students continue to wear masks and take the precautions recommended by the CDC, said Superintendent Suzanne Couey. A representative with Governor Brian Kemp's office confirmed that 83,000 doses of the newlyapproved Johnson & Johnson vaccine arrived last week, with some educators getting the Moderna and Pfizer vaccine. On March 15, vaccination criteria expanded to include Georgians aged 55 and older and individuals with disabilities and certain medical conditions. Adding Georgians over the age of 55 and those at high risk to COVID-19 will make vaccines available to categories that account for 92% of deaths due to COVID- 19 in Georgia. Vaccine supply has been the main obstacle to expanding vaccine criteria, the governor has previously said.
'With increased vaccine supply from the federal government, and significant progress made in vaccinating Georgia seniors and other high-risk individuals, this expanded vaccination eligibility will enable more people to get vaccinated over the next few weeks,' Kemp said.
Roughly 215,000 vaccine doses are now sent to Georgia per week, up from 150,000 per week earlier in February. Georgia has distributed about 1.9 million vaccine doses to roughly 1.2 million Georgians, with 700,000 Georgians receiving second doses.
The state has a total of nine mass coronavirus vaccination sites across the state. Four of them are open in Fulton, Bibb, Dougherty and Habersham counties. The remaining five sites — in Chatham, Ware, Washington, Bartow and Muscogee counties – were scheduled to open today. To register for a vaccination at one of these sites, visit MyVaccineGeorgia. com.
Provided supply allows, vaccine eligibility is expected to open to all adults in April. For a complete list of health conditions that qualify for vaccination visit https://dph. eorgia.gov/covid-vaccine.

ROLL UP YOUR SLEEVES! – Some 100 teachers and staff of the Toombs County School System rolled up their sleeves to receive the one-dose Johnson & Johnson COVID-19 vaccination last Friday. The event was facilitated by Meadows Health at Toombs County High School. Recently, public and private school educators at pre-school, K-12 and licensed Department of Early Care and Learning (DECAL) day care sites became eligible to receive the vaccination.(Photo Courtesy of Toombs County School System)