Posted on
MCHS Cuts Ribbon On New Track & Field Facility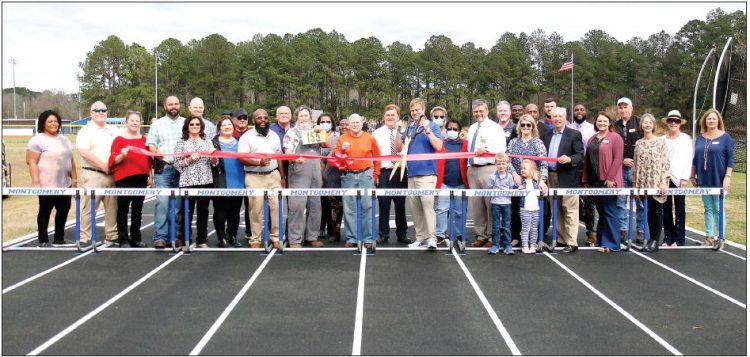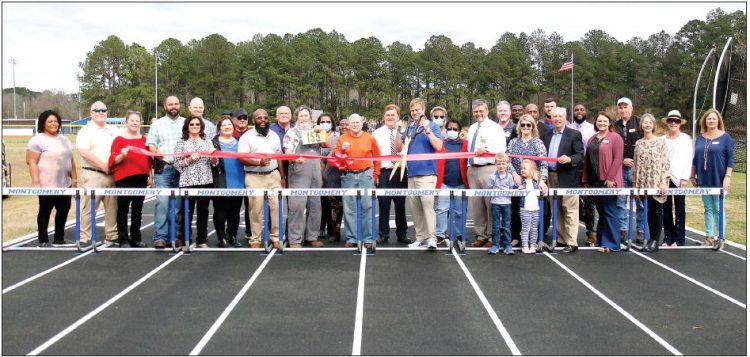 On Monday March 1, Montgomery County High School held a ribbon cutting ceremony for the newly constructed Curtis Ryals Track and Field facility on the campus of MCHS located at the William Mayes Dobbins Athletics Complex.
The newly constructed track and field facility is named in honor of the late Curtis Ryals Sr., who was the high point scorer at the 1972 State Track Meet while he ran to state titles in the 100 and 220 yard dashes and earned medals in three other events.
The track and field programs at MCHS have experienced lots of success since their inception in the 1950's. Nearly 100 athletes have climbed the medal podium at the State Track Meet continued from page
wearing an Eagle uniform while 14 state titles have been claimed over the years by Eagles.
The track will be used by the current student athletes at MCHS, but it was certainly the hard work and dedication of former track athletes that paved the way for this great facility to come to fruition.
Athletic Director and Head Track Coach Tim Suttles said, "This has been a long term process. Our school board has talked and planned for the last decade, and we had just been waiting on the financing to be right. There have been so many people that have been involved in this process and we are just so excited to be able to have this great facility.
"We are thankful to everyone that has been a part of this, and there are so many people to thank for all the hard work. And to be able to honor one of the former MCHS greats, and to hopefully have many more that will get to use this new track is awesome.
"We have five home varsity meets, four home middle-school meets and we will be hosting the Region Track Meet in April. And it is a testament to the quality of this new facility. We didn't even have to offer to host the Region Meet, all the other coaches asked us to do it, and that shows what we have put together here."
Montgomery County School Superintendent Hugh Kight stated, "We are very excited about this new facility. We are also thankful that it is all paid for, just like the new school, that is a big plus. We know out community is proud of this just as we are.
"This truly has been a community effort. From the Commissioners, the School Board, the Tranportation Department, to all the local people that put in time to help work out here. We even had the Mayor out here driving a tractor working. Everyone we asked graciously came out and did all that they could to help out.
"This has been a true community effort, and we are excited to have been able to do this for them, and for all of our great kids and student athletes."