Posted on
FFA/4-H Participate in 36th Annual Market Hog Show in Wheeler County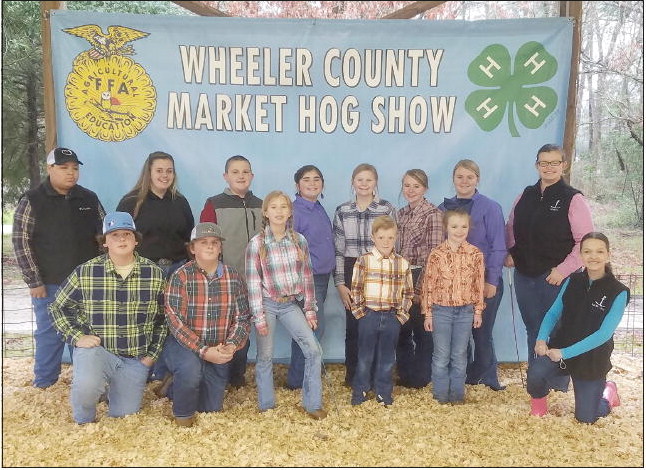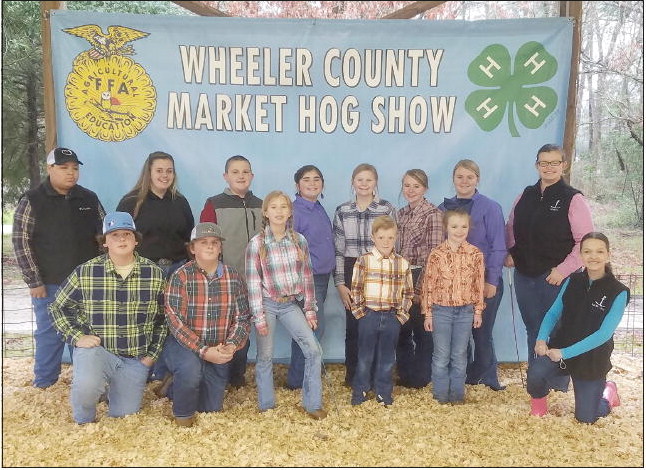 Sixteen FFA and 4-H members participated in the 36th annual Wheeler County Market Hog Show on February 17. The show was held at the local livestock facility in Alamo. There were 24 entries and the hogs had to weigh 220 to 280 pounds to qualify for the show. The exhibitors participating this year were Aaron Hammock, Layla Vann, Layton Thrift, Layton Spires, Shelby Howell, Sarah Grace Williams, Jaxson Derriso, Weston Pickle, Molly Bridges, Summer Vann and Hannah Williams.
Project advisors were Bryant Oliver and Les Bateson, Wheeler County Agricultural Education teachers, and Hannah Henry, Wheeler County Middle School Agriculture Education teacher. Dr. Neal Clark served as the Master of Ceremonies and Dr. Clay Walker judged this year's show. Summer Vann won Grand Champion with her 235-pound gilt, and Keaton Pickle received the Reserve Champion award with his 233-pound gilt. Vann also won third overall with her 253- pound gilt. Jaxson Derriso received 4th place overall with his 220-pound barrow. Ann Ethredge won 5th overall with her 234-pound gilt.
Showmanship is also a big part of the show. The participants were judged on how well they could present their hogs to the judge. Preparation includes washing, clipping, grooming, walking and training their animal. The winner for Pee Wee Showmanship was Layla Vann. Claire Van-Houten won Novice Showmanship, while the winner of Junior Showmanship was Zoey Vann. The winner for Senior Showmanship was Summer Vann.
Eight participants had an entry in the record book contest. The participants kept up with all of their livestock project expenses and wrote a summary of what they learned. The 4-H/FFA Market Hog Record Book top three were Hannah Williams, 1st place, Ann Beth Ethredge, 2nd place, and Jaxson Derriso, 3rd place.
All of the 4-H/FFA members traveled to Perry to compete in the Georgia Junior Livestock Show on February 17-20. Many individuals played an important role in making the Market Hog Show a success. The FFA/4-H parents sponsored the show with the guidance of Coach Oliver, Bateson and Mrs. Henry. Many local businesses made contributions to the show. Brown Realty/ Brown Insurance of Vidalia sponsored the Grand Championard; Trane of Vidalia sponsored the Reserve Champion award. The 3rd Overall Market Hog award was sponsored by 3D Farms; the 4th Overall Market Hog award was sponsored by Holland Land Clearing; and Locke Logging sponsored the 5th Overall Market Hog award.
The Boss Hog award was presented to the 4-H/ FFA participants who collected the most donations for the show. This year, Jaxson Derriso won the award, while Summer Vann earned 2nd place.

Layla Vann shows her hog.Photo by Joy Youngblood