Posted on
Country Music Singer Rodney Atkins to Headline the 2021 Vidalia Onion Festival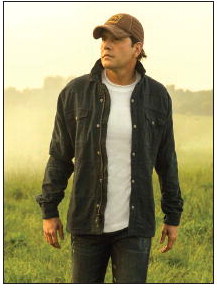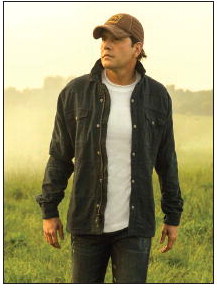 Headliner for the Vidalia Onion Festival's Saturday Night Concert is Country music singer/songwriter Rodney Atkins. The Vidalia Onion Committee made the announcement last week. The festival is slated April 22-25. With eight Top 5 singles, six No. 1's, and a $1 billion career on-demand streams under his belt, Atkins is one of Country music's most prominent artists. His platinum-selling No. 1 "Watching You" earned the songwriter a BMI "Million-Air" award and the top spot on Country Aircheck's top-played songs of the decade list. Atkins was the second mostplayed male artist of the decade overall.
He has also sold over 11 million units and earned 10 career Gold, Platinum and Multi-Platinum RIAA certifications to date, including his continued from page
latest Gold-certified single, "Caught Up In The Country (featuring The Fisk Jubilee Singers)," which also set the record for longest-running single in Billboard Country Airplay history at 57 weeks. Atkins recently performed on NBC's TODAY Show, GMA's Strahan & Sara, and FOX & Friends. Rodney's latest single "A Little Good News" is available now.
Danielle Bradbery, the twenty-four-year-old, multifaceted artist will open before Atkins on Saturday night. She continues her career evolution after her sophomore album I Don't Believe We've Met (BMLG Records), featuring the hit "Sway." Launching a new musical chapter last year with "Never Have I Ever" which she co-wrote alongside Laura Veltz and David Hall Hodges, Bradbery garnered over 15 million global streams to date.
She continues to broaden her impressive range and deepens her connection with her Mexican heritage by enlisting Latin GRAMMY® nominated artist KURT for a Spanish version of her latest single "Never Have I Ever." The singer/songwriter also recently collaborated with Diplo and Zac Brown on a new song, "Hometown," for Diplo's latest Country album released last year. Finetuning her unique sound since getting her start winning Season 4 of NBC's The Voice, Bradbery has earned multiple award nominations and toured globally with Kane Brown, Blake Shelton, Brad Paisley, Miranda Lambert, and more.
Opening bands on Saturday include Clayton Hackle and the DILLIGAF County Band. Advance tickets are only $15 and may be purchased at https:// www. freshtix. com/ events/ 2021vidalia- onionfestival- concert- rodneyatkins- and- danielle- bradbery. Tickets at the gate will be $20. On Friday night at the Onion Festival Street Dance, the featured band, Bogey & the Viceroy, will cover classic soul from every era along with retro rock/pop to today's current chart-toppers. Opening Friday night is a hometown favorite, the Tiger Creek Band. Fireworks will be displayed at both the Friday Night Street Dance and the Saturday Concert, and both events will be held at the Vidalia Regional Airport to provide more room for social distancing.
Andy Woodruff, 2021 festival chairman, stated, "Entertainment Chairman Tim Jones worked many hours to put the schedule together for the Saturday Concert and the Friday Night Street Dance. The entire festival committee is working very quickly now to pull everything together to hold a festival that will include most of the popular events. Keep checking for updates at VidaliaOnionFestival. com."

Bogey & the Viceroy


Danielle Bradbery