Posted on
Woman Swims to Safety As Truck Plunges into Pond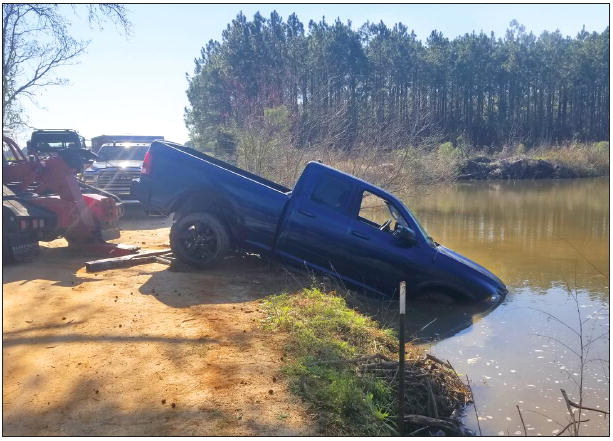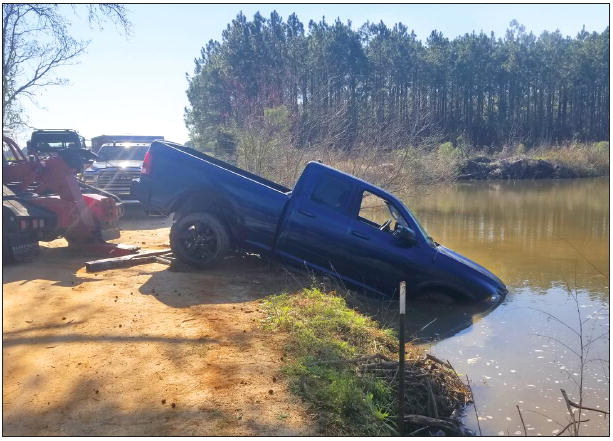 A 34-year-old woman is lucky to be alive after the truck she was driving plunged into a muddy, 10-foot-deep pond last week near Uvalda. A first responder said Angel Lynn Torres escaped her sinking vehicle and swam several yards to shore after veering off of Tillman Riner Road and into a pond swollen by recent rains. She was discovered at the side of the road by a passer-by who called 911. The incident occurred Wednesday, February 24, just after 11 a.m.
Torres had already been transported to Meadows Memorial Medical Center for treatment when a woman who knew the victim told responders that Torres has two children, said Toombs County Emergency Management Director Lynn Moore, who was at the scene. A search ensued for the children who rescuers feared might still be inside the sunken truck. Divers who were called in found the truck unoccupied and authorities later learned the children were safe at school, Moore said. continued from page
The Georgia State Patrol, which investigated the incident, reported that Torres, who has a Lyons address, stated she had been having dizzy spells and believed that she may have passed out. The GSP report noted the truck was traveling east on Tillman Road when it veered onto the north shoulder and into the pond. The truck came to rest about 100 feet from the road. There were tire marks for 39 feet from the point where the vehicle began to leave the road until it entered the pond.
In addition to Moore, Toombs County Sheriff's Deputy James Powell investigated the scene, along with the Georgia State Patrol.