Posted on
Celebrating a Century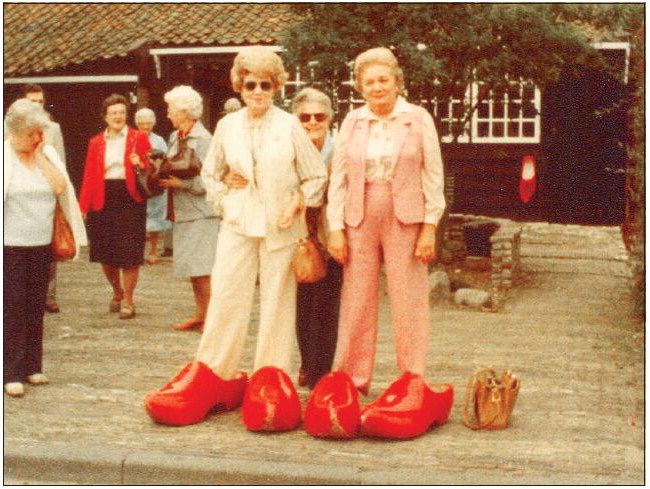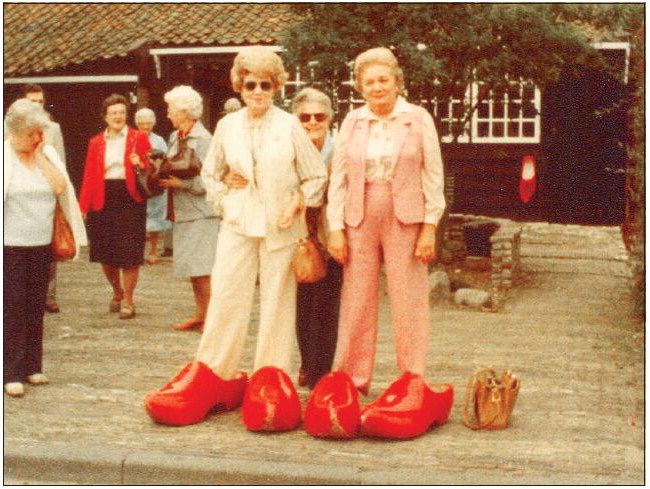 Vidalian Frances Clark Marks 100th Birthday
On Sunday, February 28, friends and family honored a special lady who has reached a milestone achieved by only a few. Frances Hart Clark turned 100. Bright as a copper penny and in remarkably good health, Mrs. Clark beamed as members of her church gathered on her front lawn Sunday afternoon to sing happy birthday while friends and family gathered around — all at a safe distance, of course, since the pandemic is still part of everyday life. When asked to what she attributes her longevity, Mrs. Clark shrugged and offered matter-of-factly, as if it is no great feat, "I exercise and I keep going." Last spring, she painted her patio and she still prunes her azaleas. She doesn't believe in taking medicine and spending time in a doctor's office. "But I'm not stupid. If I hurt, I call the doctor." She admitted that she sometimes takes over-the-counter medicine for her aches and pains.
She laughed about visiting her doctor recently for a routine visit. He was baffled after getting the results for her blood work. "I don't know what I am going to do with you," he told Mrs. Clark. She was a little concerned. "Why, what did you find out about me?" The doctor began to read the report, "No high cholesterol, no high sugar, no high blood pressure. There is nothing wrong with you," he remarked. Then he asked her, "Do you have any ancestors with a history of longevity?" Mrs. Clark told him that her father lived to be almost 100. The doctor nodded his head, "That's what I thought. It's in the genes."
Mrs. Clark said her five siblings — four brothers and a sister — enjoyed long lives. In fact, her younger sister is still living in LaGrange.
Born in Troup County — and she knew the exact time — "at 1 o'clock in the morning on February 28th" to William A. and Rebecca Britten Hart, Mrs. Clark grew up on a farm with brothers William, Ridley, Bernard and Emmett, and sister Martha. Her mother came from Muscogee County to marry Mrs. Clark's father, a farmer and timber dealer. "My father furnished most of the timber for President Roosevelt's Little White House in Warm Springs. When the President died in Warm Springs, we went to see his body being placed on the train. I was in high school," she recalled.
Her childhood was typical. "I played basketball and was a member of the 4-H Club. I had my nose stuck in almost everything." After graduating from Troup County High School, she briefly attended the University of Georgia. That is where she met her future husband, Julian Clark of Montgomery County, in 1939. He later graduated from Reppert Auctioneer School in Indiana, and after they married, the couple moved to Savannah where Mr. Clark conducted auctions for three years. He also officiated at auctions in Macon and Athens, and Mrs. Clark accompanied him to work in the office at the auctions. In 1964, he bought Vidalia Livestock and ran the company for 32 years. He retired in 1989 and passed away in 1998.
When they first married, the Clarks lived on a farm that Mr. Clark inherited from his father in Montgomery County. They moved to Vidalia in 1951 and built a home that they occupied for 52 years. Son Jake was born in 1945 and son Michael came along in 1953. Jake worked in auction sales and died a few years ago. Michael, who still lives in Atlanta, retired from a position with the state of Georgia. Jake and his wife, Becky, had two sons whose progeny include five children. Becky Rhodes (formerly Clark) lives in Vidalia, close by to her mother-inlaw, Mrs. Clark, and communicates with her daily.
In 2003, after selling the home she and her husband built together, Mrs. Clark thought about moving to LaGrange to be near her sister. "Bridge stopped me," she said with a chuckle. "I was in three bridge clubs and they would not let me go. They said they needed me." She decided to stay in Vidalia. Through the years, Mrs. Clark developed what some might call an obsession for the game of bridge. "We played several days a week, sometimes until four o'clock in the morning," she shared. "We carried a covered dish, had a cocktail and dinner, and everybody played bridge. We had two tables," she said. Mrs. Clark gave up the game at age 98, but still misses it. "So many of my bridge friends have died," she lamented. But there was also her love of travel. She and her best friend, Eugenia Wilson, Becky's mother, joined small tour groups for many journeys through the years. "Eugenia and I were the best of friends. We visited eight countries in Europe, and Alaska and Canada twice." Mrs. Clark and her husband were also active in the Presbyterian Church of Vidalia where she was a member of the Women's Circle and where he was Sunday school superintendent for years.
She was also a member of the Vidalia Woman's Club and president of Pine Ridge Garden Club. Family and friends also enjoyed the Clark's home at Lake Lanier, which they owned for 25 years. "We had a bridge retreat there and stayed for a week," she said. Her garden club came for a picnic, and she often drove the boat while her family enjoyed skiing on the lake.
When asked what advice she would give to young people today, Mrs. Clark paused to consider for a moment and said, "That's a big responsibility isn't it, to give advice? Times have changed." She said she has never seen anything like the COVID-19 pandemic. "I pray every night for the virus to go away. I don't think life will ever be like it used to be."
Mrs. Clark misses bridge, and traveling, and just having the ability to drive somewhere to pick up her evening meal. One of the most difficult decisions she has ever had to make was to give up driving at the age of 98 and a half. "I was going to renew my license and buy more insurance, but I knew I should stop driving. My insurance agent said I was making a wise choice."
She observed, "I don't go out much now, but if I need something my friends and Becky take me. I don't know what I would do without her. I think of Becky as my daughter. I claim her. She has a heart of gold." She added, "Michael is a sweet son. He calls me often."
Pondering what is most important in her life, Mrs. Clark responded readily, "Family. I am grateful for my family." And she has lots of friends, including her former bridge partners, many of whom live in her neighborhood, and her fellow church members.
She reflected, "I am content. I am so blessed. God has blessed me. You know, you can't do it alone."

HANDSOME COUPLE — Frances Hart and Julian Clark met in 1939 in Athens when they were both students at the University of Georgia. They moved to Montgomery County where Julian's family had a farm and later to Vidalia. They had two sons.


ON THE RHINE — Frances Clark looks like she is having a great time as she and her fellow tourists take a trip down The Rhine. Travel was one of Frances's favorite hobbies, but bridge was her first love.


VERY SPECIAL OCCASION — Friends from Frances Clark's church, including Pam Langston, gathered on Mrs. Clark's lawn to sing "Happy Birthday," during the birthday tribute on February 28. Colorful signs and decorations proclaimed best wishes for a happy 100th birthday.Photo by Evan Riekhoff


HAPPY BIRTHDAY MOM — Frances Clark sits next to her son, Michael, of Atlanta, who came to wish his mother a very happy 100th birthday on Sunday, February 28.Photo by Evan Riekhoff


DEVOTED — Becky Rhodes, left, who was married to Mrs. Clark's son, Jake, until his death, is still devoted to her mother-inlaw. Mrs. Clark said she claims Becky as her daughter. The two are very close.Photo by Evan Riekhoff


CRUISING — Frances Clark enjoys a cruise aboard The Caribe. On this trip she sailed from Bar Harbor, Maine, to Nova Scotia. Through the years she toured Europe, and Canada and Alaska — twice!