Posted on
3 Indians Earn Titles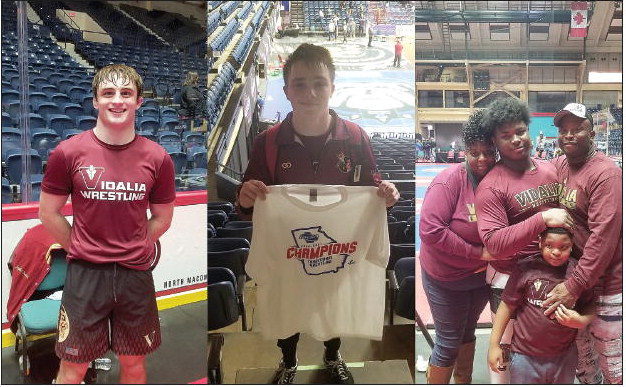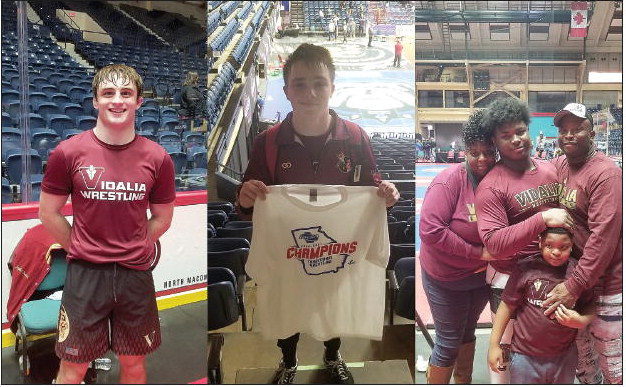 Three Vidalia High School Indian wrestlers were crowned State Champions at the GHSA State Wrestling Championships Wednesday night in Macon. Hunter Manning (145lbs), Tom Godbee (195lbs), and Jaylin Burns (285lbs) all won their respective weight classes, bringing home three State Championships for the first time since 1999.
The Indians, who set a school record by placing four in the Championship round, finished the Traditional Championship with a 6th place team finish. Dawson Campbell (182lbs), who also wrestled for a Championship, placed 2nd, while Damien Townsel (160lbs) took 5th place, and Javarius Worthen (126lbs) was also 5th. All received medals and points for their finish. Chandler Corbett (152lbs) finished the tournament in the Top 8.
"We set a school record with four finalists and tied a school record with three champions. A great way to finish off a great season!" said longtime Assistant Coach Steve Fullam.
The night of Champions for the Indians began with junior Manning, who won a decision over Dawson Heath of Berrien County, 8-4 to capture his first State Championship. Manning, who's close 7-6 decision over Lamar County's Levi Banks in the semifinals got him into the finals, finished the year at 44-4.
The hope of a clean sweep of the finals by the Indians hit a snag at 182lbs when Campbell lost by Fall to Dade County's Cody Williams, a minute in the 2nd period. Campbell, who pinned all of his opponents on the way to the Championship Match, finished the year at 37-9.
Godbee then took the mat against Haralson County's Clay Hyatt and, from the beginning, was in control of the match. Following a near pin at the end of the 1st period, Godbee wasted little time securing the title, pinning Hyat just 39 seconds into the 2nd period.
For Godbee, it was his 2nd straight Championship and caps a career of 220 wins and only 24 losses, with 21 of those coming in his Freshman and Sophomore years, as he battled inju- continued from page
ries. The 220 wins is a school record, and in addition to the back to back State Championships, Godbee is a two-time Region 2A Champion and finished the last two years at 96 and 3, including a 44-1 record this year.
The last match of the night featured Jaylin Burns, who won his 1st three matches by pin and entered the Championship match with 32 wins on the year. Facing Dodge County's Landynn Powers, Burns took control in the 2nd period, scoring 5 points and then cruising to a 6-2 win. After the four had competed, Indian Head Coach Bobby Blount was more than pleased about the results, "These four have been our leaders all year, and it was great to have all four in the finals. I am just proud to be able to have this experience with them. It was fun to coach and spend so much time with them this season. They made a lot of memories that they will never forget, and I am just proud of them."
Assistant Coach Chris Hamilton summed the year up by saying, "All of our wrestlers have grinded all year to get where we were. They faced adversity all year long with COVID, but made it happen anyway. It was an awesome finish to a great year."