Posted on
Two Businesswomen Seeking Election to Vidalia City Council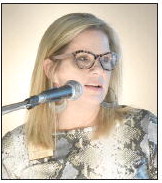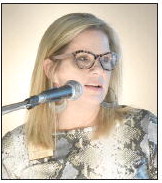 Local businesswomen Jennifer Evans and Carmela Spikes-Williams have announced their candidacy for the Ward 2 seat on the Vidalia City Council previously filled by Gregory Johnson.
Johnson vacated the seat in order to seek election as Vidalia Mayor.
Johnson was defeated by Doug Roper in the November 3 General Election.
Qualifying for the post was held January 11 and 12. The election is scheduled for March 16.
As a 1991 graduate of Vidalia Comprehensive High School, Evans furthered her education at Georgia College and State University. Upon her college graduation in 1995, she returned home to become a small business owner of Vidalia's local favorite, Brown's Jewelry. In 2003, Evans transitioned into a corporate role as the Human Resources Manager of DOT Foods, Inc, and recently became its' Transportation Manager in Operations.
As the HR manager, Evans was the forerunner responsible continued from page
for managing the number one corporate initiative for healthcare costs, the third largest expense for the company. As a distinguished leader, she led the research and successful implementation for four on-site health centers in Georgia, Indiana, Idaho and Illinois, which was no small feat.
Evans is married to Lee, and they have two children who are fully engaged in the Vidalia community – public schools, local sports, and various extra-curricular activities that make Vidalia a better place. Evans and her family are active members of Vidalia First United Methodist Church.
"My desire is to make Vidalia even more attractive to our next generation than it already is – a place of opportunity and growth. Along with the current Council, my vision for Vidalia is to grow our local job opportunities, invest in infrastructure and work to ensure our community continues to be safe and healthy. All Vidalians should be proud to call Vidalia home. My desire is to keep it this way by continued, self-sustainable growth."
Evans's civic affiliations include: Downtown Vidalia Association, Retail Development committee chair, 2000 Graduate of Leadership Toombs-Montgomery, Vidalia Onion Festival volunteer, 2011 United Way Campaign Chair, 2011 Graduate of Leadership Georgia, 2019 President of Leadership Georgia, Toombs Montgomery Chamber Board member, as well as most recently served on the local CVB Board. Born and raised in Toombs County, Spikes-Williams is married to Troy Williams, and they have seven children and five grandchildren. She is a 1994 graduate of Toombs County High School and a 1999 graduate of Southeastern Technical College. She is the co-owner of T.C. Williams Enterprises, LLC, and is co-founder of Becoming One Outreach Ministries, Inc., for which she serves as pastor.
She has served Vidalia for over 16 years in various capacities including as a diplomat for the Downtown Vidalia Association, as a board member of the Tri-County Entrepreneur Support Team and as a coach for Toombs-Montgomery Leadership Participants. In conjunction with the Area Resource Center, she has distributed supplies to the parents of several hundred newborns and awarded 13 scholarships highlighting the effects of domestic violence on the entire family.
"I have always been a community servant and the role as a city councilwoman will allow me to serve in a greater capacity," Spikes-Williams said.

Carmela Spikes-Williams