Posted on
VHS Hosts Cheer Classic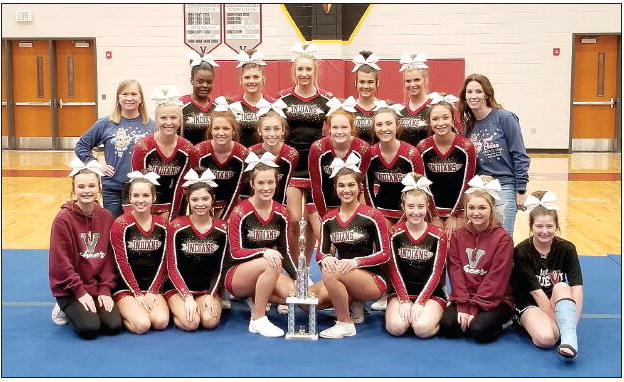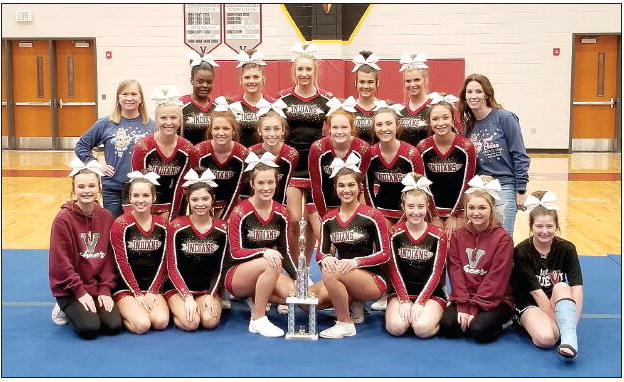 The Vidalia High School competition cheerleading team took first place in the 20th Annual Sweet Onion Cheer Classic held Saturday at Parsons-Reid Gymnasium. Despite being down a flyer, the defending State Champions outscored five AA teams to take their fourth Sweet Onion Title in the last five years.
After the trophy presentation, Indian Head Coach Ann Michele Toole said, "We have had so many distractions, along with not knowing whether we would be able to compete or not. But our girls stayed focused and persevered through the negative things and really nailed the routine.
"The girls realize that the situation that we are in because of COVID is a day to day thing and we don't know if we will be able to compete or even practice from one day to the next. So they take nothing for granted and are truly grateful for the opportunity to compete."
After the meet the Indians' only two seniors were recognized along with their parents. Ivy Martinez and Chrislyn Kersey both have competed for four years.
Toole added, 'They have brought continued from page
both leadership and a lot of talent to the team, they are great leaders on and off the mat and bring a lot to the table on the score sheet. So they will definitely miss them, but look forward to hopefully having them help us win another championship."
The Sweet Onion Classic, which is one of the biggest competitions in the state every year, takes hours of work and preparation to get ready for and Toole said she couldn't do it without the volunteers. "Our cheer parents and other volunteers are absolutely the best! The hours that they put in to make this a top quality event is unreal and I am forever grateful.'
In Single A Screven County took the top spot, AA Vidalia was first with Swainsboro taking second, Pierce won AAA, West Laurens won 4A, Jones County was top in 5A, and in 7A Colquitt County was the winner.
In the Middle School Division Vidalia was the winner with Toombs County taking second place.
The team numbers were down greatly this year due to COVID. Last year there were 47 teams competing across high and middle school, but this year there were just 20.
The J.R. Trippe Middle School Chiefs team also placed first at the event. Trippe took the top spot in the Middle School Division and will hit the mats again this Saturday in Alma at the Bacon County Blueberry Classic. Meanwhile the varsity will compete on Saturday the 23rd in Lyons at the Cheer Dawg Classic at Toombs County High School.