Posted on
UGA Next Year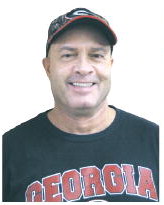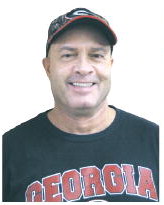 the SCOUTING REPORT
I feel like a Braves manager from the 1970's. Well, next year is here now. So, I'll try to explain to the public what I think will happen with my teams now. And this'll surprise a few Georgia Tech fans. Yes, I pull for the state rival when they're playing everybody but Georgia. In fact, I wish both teams were always undefeated when they played each other. My dad used to do that, too.
But when they're lined up against each other, it's always going to be the Red and Black. Could you imagine this state if both Georgia and Georgia Tech entered this game with 11-0 records and ranked 1 & 2 in the nation.
Well, it almost happened in 1942, when Georgia beat the Yellow Jackets 34-0.
The week before, Georgia was 9-0 and ranked # 1, Tech was 8-0 and ranked #2. All Georgia had to do was beat Auburn. They lost 27-13 to a team that lost to Florida, a team the Bulldogs had beaten 75-0.
The Bulldogs went on to beat UCLA 9-0 in the Rose Bowl, and finished # 2 in the biggest poll, the Associated Press Poll, which gave the national championship to a 9-1 Ohio State team. The 1942 Bulldogs were recognized as a national champion by almost everyone else.
Again I ask, Thanksgiving weekend, 11-0 Georgia vs. 11-0 Georgia Tech, #1 vs. #2. Would you be psyched up? One can only hope; but the rivals didn't get to play this season. Maybe they should play twice next year.
What should we expect from the 8-2 Georgia Bulldogs, a team that will lose a lot of experience but will have a ton of returning talent.
There's nothing wrong with rebuilding. Tech has been doing it for a couple of years now. Georgia is really starting to do it now as the last vestiges of the 2017 team are graduating.
If everyone returned, Georgia could be very, very good. Of course, everybody is not returning from the team that beat unbeaten Cincinnati in the Peach Bowl.
The most important position the Bulldogs will have to rebuild is at cornerback, where both Tyson Chandler and Eric Stokes will be playing in the NFL next year.
J.T. Daniels is coming back. I think that he likes the opportunity to play behind a young but talented offensive line with huge talents at receiiver, tight end, and running back. For Georgia to compete at the Alabama-Ohio State level, he has to stay healthy.
The only two back-up QB's next year will in all liklihood be Carson Beck, who was redshirted this season, and true freshman Brock Vandergriff, the Prince Avenue Christian star who rated among the country's top QB's while leading his team to the Class A Private state championship.
The skill positions are mostly set. After his second season, George Pickens is one of Georgia's best receivers ever. All he has to do is calm down just a little bit. By that I mean no bottle sprays at opposing players on the sideline and hold the celebration on the field to a minimum.
Remember that the Bulldogs also continued from page
return players like 6'7", 260-pund tight end Darnell Wasington, who has shown great hands and an ability to run with the football, and young freshman speedsters Arian Smith and Jermaine Burton. I'd have Pickens and the four youngsters on the field as much as possible. With Zamir White, James Cook, Kenny McIntosh, and Kendall Milton returning at running back, the Bulldogs will be four deep at running back. Any one of these could start. Two of them, White and Milton, were ranked as the best high school backs in the country. Despite the key losses at cornerback, there was good news on the defense this week when Jordan Davis, the 6'6", 330-pound nose tackle, who is considered a high pick in the NFL Draft, announced that he's returning to "ball with his bros."
2021 should be a great season for the Bulldogs. National chamoionship good, maybe.