Posted on
A Second Century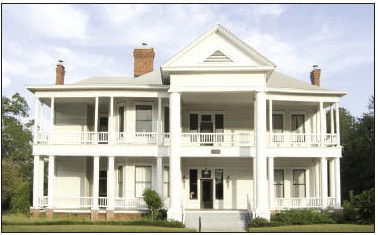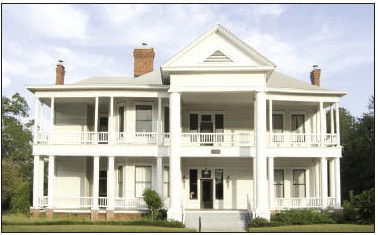 For the Brazell House
Special to The Advance
Traveling along Jackson Street, the eye cannot help but notice the grand building that stands across from the Ohoopee Regional Library. This Neoclassical beauty is the 1911 Brazell House and home of the Altama Museum of Art & History. Time has not been kind to the structure, however, continued from page
and a fund-raising campaign, the Second Century Project, has been launched to ensure the Brazell House will stand strong into the second century of its use.
The Second Century Project is off to a strong start. The Altama Museum, a 501(c)(3) nonprofit, was awarded a $75,000 Cultural Facilities Grant by Georgia Council for the Arts, supported by the National Endowment for the Arts, to further the endeavor. In addition, donations have been received to date totaling $40,617. Thanks to a very generous offer, all contributions toward the project made from now through January of 2021 will be matched to a grand total of $25,000.
Further contributions are still being sought to ensure the Second Century Project can be completed for maximum longevity and usefulness. The project will be guided by architect Fred Dean of Dean Architecture and Design, LLC of Vidalia with MMI Construction of Uvalda contracted for work. Robin Nail will serve as Historic Preservation Planner.
"It is very important to our organization to utilize local talent and resources wherever possible," said Jennifer Martinez, Museum Director. "Keeping funds received for the Second Century Project circulating within the community benefits everyone."
Since 1981, the Altama Museum has provided quality arts engagement to the greater Toombs-Montgomery- Wheeler counties area and the Brazell House serves as both the museum's home and the largest part of the permanent collection. The regional landmark provides the perfect backdrop for the museum's historical programming and allows patrons to experience life in another time.
The organization's mission is to promote artistic expression, preserve regional history, and provide discovery and educational opportunity to strengthen and inspire the community. Museum activities also strive to support area businesses, artists, historians, and performers. To ensure access, no admission is charged for museum entry and most events are free.
"The Altama Museum works to increase community awareness, tolerance and understanding with programming that highlights lived experiences both singular and common and is committed to welcoming all patrons regardless of age, ethnicity, gender, orientation, ability, or socioeconomic level," Martinez noted.
Completion of the Second Century Project will free funds and manpower for continued, high-quality cultural and historical programming, improvement of permanent collections and enhanced community outreach and partnering.
"At this time, mere access to the building is hampered by safety and accessibility concerns. This is not conducive to serving the public and by eliminating these barriers, the guest experience will be greatly enhanced," Martinez said.
Over the past several years, the 109-year-old Brazell House has endured infestation of wasps, a minor roof leak, exterior paint deterioration, as well as water incursion and wood rot in areas. In addition, foundational underpinning is necessary, windows need shoring up, and historical details have become obscured.
"The safety and comfort of all museum guests is a high priority," Martinez said. To that end, an Americans with Disabilities Act-compliant restroom facility is planned, along with a new exterior accessibility ramp. Exterior lighting will be improved, new code compliant porch railings constructed and emergency systems upgraded throughout. Lead paint is present on much of the structure so encapsulation is necessary. Closing gaps and sealing chimneys will deter pests from further nesting. Because the building is listed on the National Register of Historic Places, special care and attention will be given to original architectural intent and materials.
Original details will be restored wherever possible, including the original "haint blue" of porch ceilings and decorative column caps and bases. The project goal is for all of these issues to be addressed in the scope of work and in accordance with architectural plans and Register guidelines. "Once work is completed, focus can resume on community engagement in a safe and welcoming environment that better responds to the needs of our patrons," Martinez noted.
Originally designed and built for the Crawford W. Brazell family by Ivey Crutchfield, a noted architect of his day, the home displays Crutchfield's signature Neoclassical style, marked by grand columns, multi-hipped rooflines and wide porches. Fifty original windows, all over five feet tall, allow light to flow into the building's 4000 square foot interior.
The home was built with two full interior restrooms (neither survived) and was on Vidalia's infant electric grid; four original chandeliers are still in use. Brazell's primary business was timber and naval stores. The Brazell Family, whose five daughters were well-known in the community, was the only family to reside in the home. It remained a private residence until the building was sold to the then-Altama Gallery, LTD, with the blessing of the last Brazell daughter and her family.
The Altama Museum is proud to have the continued support of Brazell descendants across the country. Added to the National Register of Historic Places in 1982, the Brazell House is one of only a handful of remaining early 20th Century Neoclassical residences remaining in Toombs County.
For more information, contact Jennifer Martinez, Director at 912.537.1911 or [email protected] To make a tax-deductible contribution, visit www. AltamaMuseum.org or text CENTURY to 44321. Standard messaging rates may apply.

COMMUNITY RESOURCE – Above, children's book author Lynn Skinner reads to a group of children at the Altama Museum of Art and History. The museum activities support area businesses, artists, historians, and performers. To ensure access, no admission is charged for museum entry and most events are free.


DAMAGE TO COLUMN – Above, time has taken a toll of one of the columns on the Brazell house. Through the Second Century Project, original details of the historic house will be restored wherever possible, including the original "haint Bbue" of porch ceilings and decorative column caps and bases.