Posted on
Warming up this Winter with Meatball & Collard Green Soup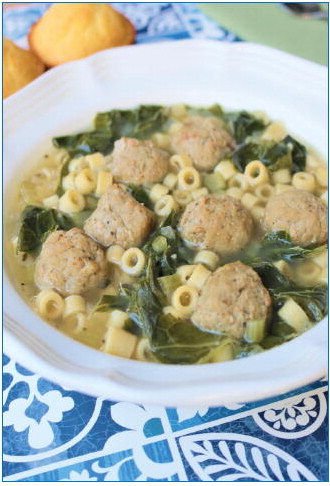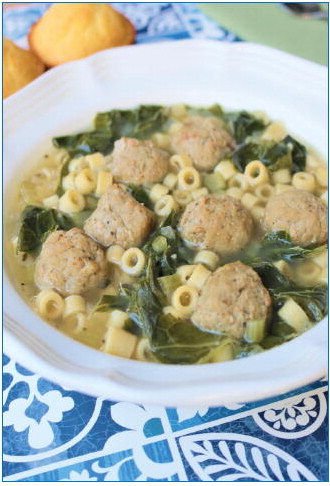 Azure
Rountree
Fun, Delicious and Festive
Oh baby, it's cold outside and the best way to get warm this January is with a hearty bowl of Meatball & Collard Green Soup. This wonderful dish is made with Italian meatballs and tender ditalini pasta nestled in a rich broth flavored with basil pesto. With all of this deliciousness, this soup will definitely feed the soul all winter and bring you a little luck the whole year through.
Meatball & Collard Green Soup
4 cups Italian Style Meatballs (¾ of a 2-pound bag) 1 Tablespoon Olive Oil ¾ cup diced Onion ¾ cup diced Celery 10 cups Chicken Broth 1 ½ Tablespoons Basil Pesto 1 teaspoon bottled Minced Garlic ¾ teaspoon Salt 1 ¼ cups uncooked Ditalini Pasta 4 cups Collard Greens (cleaned, stems removed and torn) Cook meatballs according to package directions, then set aside. In a Dutch oven or a large heavy pot and over medium heat, add olive oil. Once hot, cook onion and celery for 5 minutes. Add chicken broth, basil pesto, minced garlic and salt, then cook for 15 minutes, stirring occasionally. Increase the heat to medium-high.
Once boiling, add the ditalini pasta and cook for 5 minutes.
Reduce heat to medium-low and add the collards, then cook for 4 minutes. Stir in the meatballs, then remove from heat
and serve. *Please note that you can use homemade meatballs in place of the store bought if you prefer. Also, if you can't find the Ditalini pasta noodles, just use another small noodle in place of them.
Kid Friendly Recipes from the Kitchen of Azure Rountree is available at The Advance. A portion of the proceeds from every book sold will go to benefit children with special needs.