Posted on
Chicken of the Sea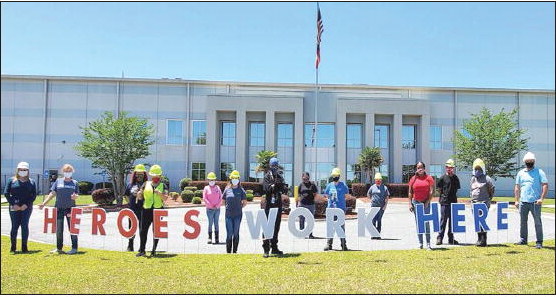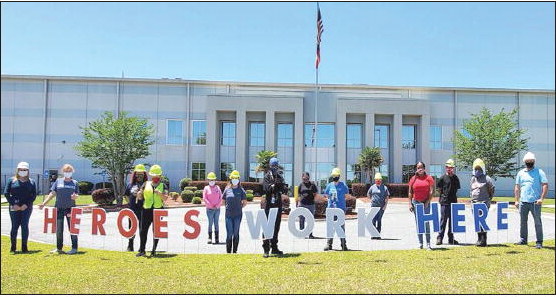 Helping to Meet Challenges of a Global Pandemic
In the past several months, individuals, organizations, government agencies and businesses have come together to mitigate the effects of COVID-19. Among the corporations stepping up to meet this global challenge is Chicken of the Sea, a subsidiary of Thai Union Group, which has a large production facility in Lyons. Greg Riekhof, General Manager at the Lyons plant, noted, "When the COVID-19 pandemic crisis first began in North America, Chicken of the Sea implemented a COVID Response team at Corporate Headquarters in El Segundo, California, and locally here in Lyons." Thanks to Thai Union Group Corporate-Wide Emergency Management training, Chicken of the Sea was among the first corporations to suspend travel, provide daily temperature checks, set up social distancing markers, create new breakroom space, and require masks. "The plant has steadfastly followed best practices and guidelines from around the world," Riekhof emphasized.
Craig Rexroad, Director of Communications, said, "As one of the world's largest seafood companies, Chicken of the Sea has a longstanding commitment to operate in a socially and environmentally responsible way in order to bring consumers healthy, responsibly-sourced seafood."
In response to the challenging times presented by the COVID-19 pandemic, Chicken of the Sea donated more than three million serv- continued from page
ings of canned tuna, salmon and other proteinpacked products to hunger relief organizations helping vulnerable populations within the local communities where the company operates.
Rexroad added, "In the face of the COVID-19 outbreak, hunger relief organizations have experienced a dramatic increase in demand for nutritious, balanced meals, particularly the countless schoolaged children that typically receive these meals at school." Because no one should have to miss a meal, especially in times of crisis, Chicken of the Sea has partnered with America's Second Harvest of Coastal Georgia to deliver critical nourishment to families, kids and the elderly within their respective communities.
In the first wave of donations in March 2020, Chicken of the Sea provided more than 500,000 servings of shelf-stable protein to food banks nationally and in the local communities where the corporation has offices and at the processing plant in Lyons.
Additional waves of donations went out in August, October and December 2020 when Chicken of the Sea provided more than 2,500,000 servings of frozen and shelf-stable protein to food banks nationally and in the local communities where the company has offices and at the processing plant in Lyons.
Total donation to date in 2020 is more than three million servings of frozen and shelf-stable protein.
Food Bank partners include: Feeding America Convoy of Hope West Los Angeles VA Campus/Community Engagement & Reintegration Service California State University Long Beach Loyola Marymount University The El Segundo/Los Angeles Unified School District
Second Harvest Food Bank of Georgia In March, Chicken of the Sea was able to assist the City of New York in the midst of its COVID emergency by facilitating the delivery of more than 20,000 cases of infusions to the Emergency Services Department in New York City to help feed the thousands of local residents severely impacted by the pandemic. Infusions is the Chicken of the Sea brand name for Wild-caught tuna infused with extra virgin olive oil, herbs, and spices. A tiny fork is included for easy, on-the-go snacking. Since the beginning of March, the Lyons plant increased production by 20%, increased workforce by 10%, and produced 26 million cans of shelf-stable tuna since the first of March. Riekhof explained, "As essential critical infrastructure workers, our employees are committed to providing families with safe, delicious, and nutritious food that can easily be prepared at home."
All employees received regular "hero bonuses" t h roughout the year to help build up production capability. As the business was changing rapidly, management held frequent town halls and meetings to keep every employee well informed," Riekhof added. During this pandemic, the Lyons team has focused on three goals: Protect employees and their families through Industry, company, and CDC best practices. Protect the nation's critical food supply chain by supplying healthy and safe canned tuna. Protect the Lyon's plant's long-term viability.
Matt Scalese, VP Supply Chain, said, "The true name of the game was rooted in collaboration: We quickly implemented cross-functional daily meetings with Sales and our commercial counterparts to assess sales patterns, inventory position, and evaluate and prioritize new opportunities.
We ramped up frequency of inventory reviews – Supply Chain readiness, Fin- i s h e d Goods, frozen tuna loins, raw materials – to facilitate our prioritization into a more dynamic, agile approach to production planning." Demand continues to be strong and COS is looking to fill an additional 20 positions. "We are looking for machine operators, electricians, mechanics, and many other great jobs. This employment level is expected to continue and grow. We continuously look at new opportunities to grow our business and grow our employment now and in future years," Riekhof said, adding, "As restaurants closed and more people started eating at home, a whole new generation has discovered the nutritional value and convenience found in shelfstable, canned food."
Riekhof said, "Chicken of the Sea is proud of the outstanding work culture we have built between highly-competitive pay, ongoing training, and fun, weekly employee perk programs and incentives. Our Chicken of the Sea Lyons Canning Plant is also one of the safest and most proactive facilities in the entire food industry. At Chicken of the Sea we are family and we take care of each other. We like to say, there are lots of jobs out there but very few true opportunities; being here is an opportunity."
Chicken of the Sea, began operations in Lyons in 2009 and has over 280 employees producing shelfstable, ready-to-eat canned tuna. Products include staples such as the famous Chunk Light in Water as well as Premium Genova Yellowfin in Olive Oil and Genova Albacore in Olive Oil. Chicken of the Sea products can be found in nearly all retail food stores. Also in the Toombs Corporate Development Center is the Lyons Warehouse with 25 employees. This distribution center receives seafood from providers all over the world and distributes products all across the U.S.

COAT AND TOY DRIVE — Paige Williamson, Toombs County Family Connections, Casey Woods, Citizens of Georgia Power, Mindy Morrison and Marissa Brown of Chick-fil-A Vidalia, and Greg Hudgins, Citizens of Georgia Power, gather for a group photo at the end of the local Toy and Coat Drive to benefit needy families sponsored over the holidays by Georgia Power, Chick-fil-A and Toombs County Family Connections.Photo by Evan Riekhof