Posted on
Bench Placed in Wheeler County Courthouse Honors Late Judge Braswell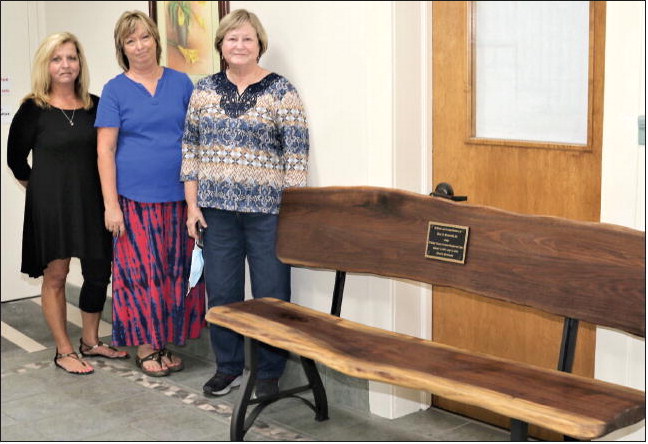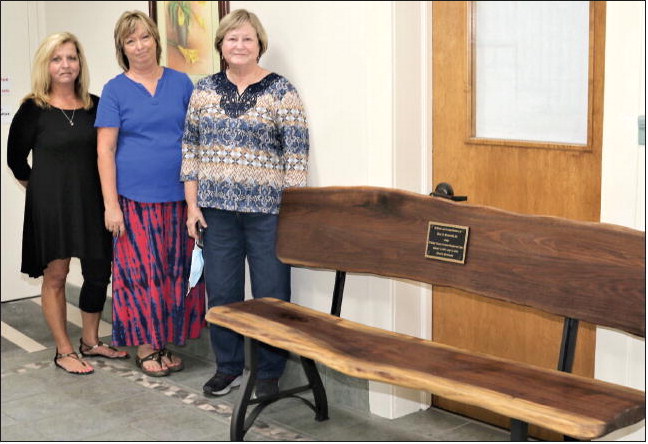 A black walnut bench placed in the hall outside the Probate Judge's office at the Wheeler County Courthouse honors a beloved public servant, the late Probate Judge Roy Oris Braswell. The bench, made by wood artisan Danny Hamsley, was donated in Braswell's memory by his family. Braswell's sister, Hilda Gillis, current Wheeler County Probate Judge Jolinda Harrelson and Superior Court Clerk Carol Bragg, were on hand for the dedication of the bench. A public ceremony was precluded because of the COVID-19 pandemic which closed the courthouse to the public.
It is not an exaggeration to claim that Judge Braswell was one of Wheeler County's most beloved residents and public servants. In fact, those who knew him loved him and acknowledged that they owed him a debt of gratitude. As Glenwood Mayor G.M. Joiner said, "Everybody liked Roy. He helped anyone he could."
Braswell, 70, passed away Thursday, October 17, 2019, at Community Hospice in Vidalia after a brief illness. His funeral was held in Alamo and the Wheeler County courthouse where Braswell's office was once located was closed for part of the day so that employees could attend the service. Braswell served for 21 years as Wheeler County's probate/magistrate judge, and, after retiring, assumed a seat on the Alamo City Council which he still held at his death. Judge Harrelson worked in Braswell's office from 2007 until 2014. When Braswell retired in 2014, Harrelson succeeded him as judge.
"He was one great guy with a heart of gold. Actually, I learned from the best," Harrelson said.
Wheeler County Attorney Perry Avery said he had known Braswell "since I was born, or as far back as memory will allow." Avery, who graduated from Mercer Law School in Macon, worked for a few years at Buzzle, Graham & Welsh before moving back to Wheeler County and being appointed county attorney. "Roy was probate judge (then) and that is where our professional relationship started," Avery recalled, adding, "Judge Braswell was a good man and a fair judge. He believed in second chances. That is him in a nutshell— a very selfless man."
Bragg is Braswell's second cousin and has fond memories of visiting his parents' home when she was a youngster. "I had the privilege of working with him from July 1994 until his retirement in 2014; in fact, he recommended me for a deputy clerk's position for the Superior Court in 1994." Braswell administered the oath of office when Bragg began her first term of office as clerk in 2009, and performed her marriage ceremony. "I will miss his sweet smile and hearing him calling me by my nickname. He had a nickname for everyone, you know," Bragg said. Braswell's passing leaves a big void not only in his family, but in the community as well, she added. "He served our county with honesty and integrity as probate/ magistrate judge, but retirement did not end his community service. He felt he had much more to offer his community and proved it by serving on the Alamo City Council. My thoughts and prayers are with his family and with our community as we mourn his passing." Pamela Lee, currently the mayor of Alamo and who served previously as mayor pro tem on the Alamo City Council, was first elected to the council in 2015 and took office in 2016 alongside Braswell. "When I heard of his death I thought: 'Who can fill his shoes?' He was our pillar. He didn't talk a lot, but when he did, we listened. He was always about what was right," she said. Braswell was born July 17, 1949 in McRae. His parents were Roy Oris Braswell, Sr. and Ruby Smith Braswell. He enjoyed fishing, hunting, farming, and fellowship with friends and family. In his early adulthood, Braswell farmed, operated long-haul trucks, and worked in the timber industry. His family said of him, "He was a devoted son, brother, husband, father, grandfather, and a faithful friend to many."

Roy Oris Braswell