Posted on
Bulloch Defeats RTCA Crusaders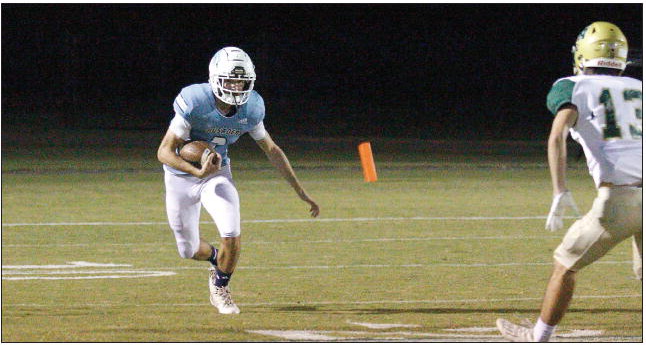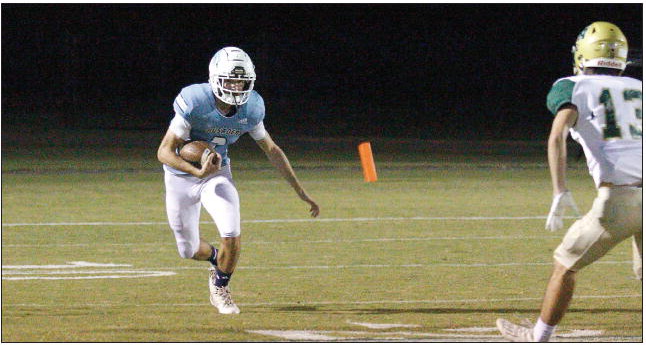 The Crusaders football team of Robert Toombs Christian Academy hosted the much larger Bulloch Academy on Friday of last week. It was a daunting task for RTCA as Bulloch had nearly 50 players on their sideline, while the Crusaders started the season with just 16 and have suffered some injuries. RTCA had the ball to start the game, but a bad snap and a penalty and they were quickly facing a thirdand- 24. RTCA went for it on fourth down, but a fumble was recovered by Bulloch in the end zone for the first touchdown of the game. They added the extra point and led 7-0 less than two minutes into the game.
Clayton Meadows carried the ball for a few yards, and a short pass to Jackson Newton got the Crusaders close to a first down. But they ended up turning the ball over on downs at their own 28-yard line. Just two plays later the Gators of Bulloch were in for another touchdown. They added the PAT for a 14-0 lead.
RTCA did get a first down on their next possession with runs by Meadows, Newton and Hunter Ennis. But another bad snap went over quarterback Meadows head and the Gators scooped it up and scored with 5:10 left in the first quarter. After the kick it was 21-0.
Bulloch added another touchdown with just over two minutes to go in the first quarter for a 28-0 lead. By the end of the first half of the game the score was 48-0.
It was a running clock throughout the second half. Bulloch was rotating out lots of players over the second half of the game to give everyone a chance to play. They made it 55-0 early in the third quarter, and put one more score on the board in the fourth quarter as they won the game 62-0.
This week RTCA will travel to Dawson to take on the Eagles of Terrell Academy. RTCA is 0-7 on the year and Terrell comes into the game 5-3. Kickoff will be at 7:30 p.m.