Posted on
City of Lyons Receives Three Grants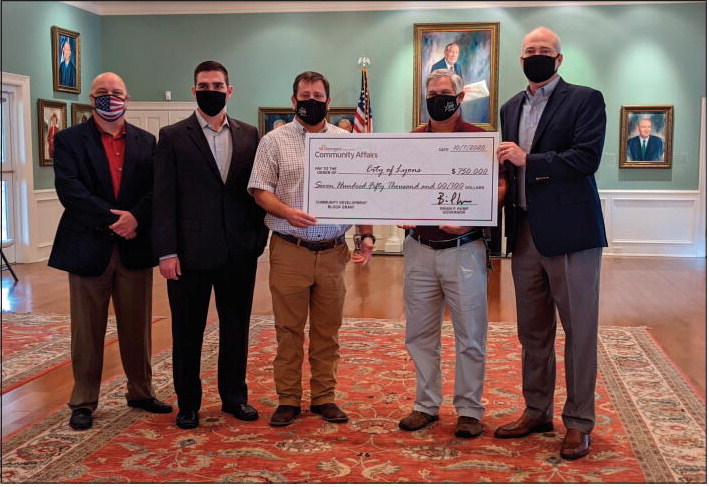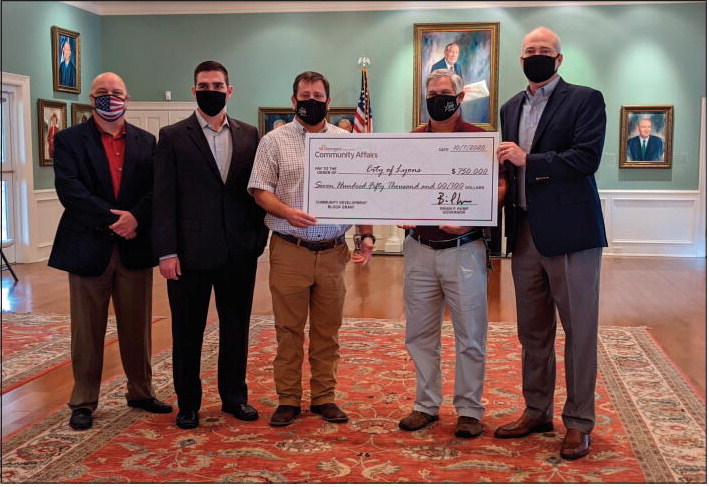 In a ceremony in Dublin on October 29, the City of Lyons was awarded three grants totaling $1,938,690 The City garnered $750,000 from the Community Development Block Grant Program to mediate storm water issues in the Pecan Place and Mimosa Drive area of the City. The CDBG program provides annual grants on a formula basis to cities for projects that benefit low to moderat income areas.
The City was also awarded $688,690 from the One Georgia Equity Program to provide sewer capacity to the new Robin Builders project on U.S. Highway 1 North. The Equity Fund provides a program of financial assistance that includes grants, loans, and other forms of assistance to finance activities that will assist applicants in promoting the health, welfare, safety, and economic security of the citizens of the state through the development and retention of employment. The Robin Builders expansion will add 60 much needed jobs to the area. The need for sewer improvements in the project area was vital to the project's success. Finally, the City was awarded $500,000 from the Employment Incentive Program. These funds will be used to provide sewer capacity to agricultural businesses along Collins Road allowing for much needed expansion. The EIP program is used to carry out economic development projects, which will result in the employment of low and moderate income persons.
Lyons Mayor Willis Ne-Smith stated that the City is very blessed by the growth it is seeing. He said that Lyons and Toombs County, which also received awards, will look very different in the upcoming years. He thanked Brett Manning and Hugh Darnley of the Heart of Georgia Regional Commission, who assisted the City in applying for the grants.