Posted on
A time to give Thanks with the Pumpkin Gingerbread Trifle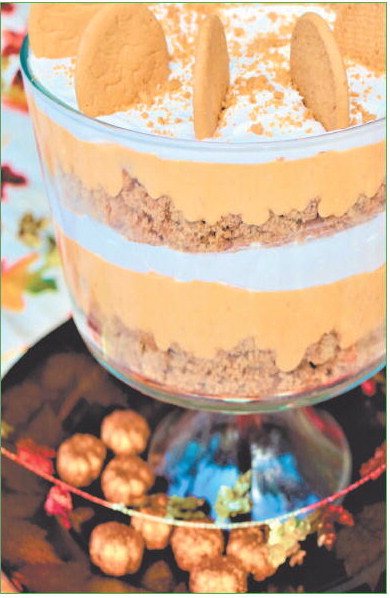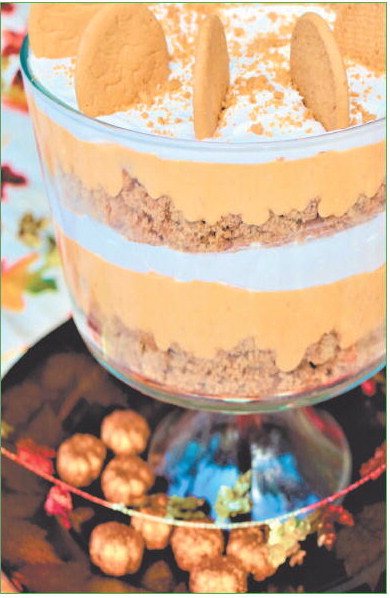 Azure
Rountree
Fun,
Delicious and
Festive
Pumpkin Gingerbread Trifle
This year, more than ever, we have a reason to feel grateful for one another. While enjoying those closest to you this Thanksgiving, make the meal even more special with the Pumpkin Gingerbread Trifle. This beautiful dessert has layers of soft gingerbread, sweetened pumpkin with flavorful spices, creamy whipped topping and then garnished with gingersnaps making it the perfect compliment to your delicious feast.
1 (14.5-ounce) box Gingerbread Cake & Cookie Mix 4 ounces Cream Cheese (softened) 2/3 cup Sweetened Condensed Milk 1 (3.4-ounce) package Vanilla Instant Pudding Mix 1 ¾ cups Cold Milk 1 (15-ounce) can Pumpkin & Pie Filling 3/4 teaspoon Pumpkin Pie Spice 1 teaspoon Vanilla Extract 12 ounces frozen Whipped Topping (thawed) 9 Gingersnap Cookies (optional) Bake gingerbread according to package directions, then remove from oven and let cool completely. In a large mixing bowl and with an electric mixer, beat together the cream cheese and sweetened condensed milk. Beat in the vanilla pudding mix and cold milk. Place in the fridge for 30 minutes to set. Remove pudding mixture from the fridge and stir in the canned pumpkin & pie filling, pumpkin pie spice and vanilla extract, then set aside. In a trifle, crumble half of the gingerbread cake in the bottom, making sure to set aside 1 tablespoon of the crumbled cake for the topping. Next, layer half of the pumpkin pudding mixture, then spread half of the whipped topping. Repeat with another layer of each, then garnish with gingersnaps, if desired. Sprinkle the reserved 1 tablespoon crumbled cake on top. Refrigerate overnight, then serve the following day.
Kid Friendly Recipes from the Kitchen of Azure Rountree is available at The Advance. A portion of the proceeds from every book sold will go to benefit children with special needs.