Posted on
Squealin' Good Time at Annual BBQ & Music Festival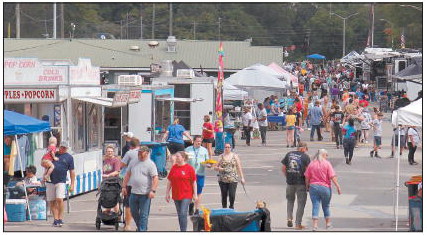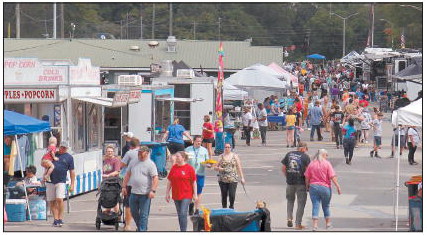 Thousands of visitors flocked to Lyons last weekend as the sights, sounds and smells of the 11th annual Real Squeal BBQ and Music Festival filled the streets downtown and at Partin Park. On Friday evening, October 9, crowds thrilled to live music, a steak cookoff and amateur Backyard BBQ contest, and a fabulous fireworks display. It was the first time a steak cook-off had been held at the Real Squeal, and the event attracted 35 competitors who were judged by a team of local celebrities.
continued from page
Early on Saturday, October 10, crowds enjoyed browsing vendor booths at Partin Park. Arts and crafts, a dog show and an exhibit of Native American artifacts were among the attractions.
Also on Saturday at the park, the professional BBQ cooking got underway. The 37 competitors—the largest number of BBQ pros competing at the festival so far—were judged by the Kansas City Barbecue Society. Winners were announced at 4 p.m.
The overall winner in the professional category was first-time festival competitor Who Cares BBQ from Asheville, North Carolina. The winner took home $2,500 in cash as well as a freezer donated by Farmers Furniture in Lyons and a freezer full of food from U.S. Foods.
Also placing in the top 10 overall winner category were: Hot Wachula's, Bubba Grills, Smokin' Sweetmeats, Smoke Me Silly, Muttley Crew BBQ, Bald Hawg, Que'n Stew'n & Brew'n, Backyard Bro's and FYC.
Overall winner of the Backyard BBQ amateur competition was Backwoods BBQ. This team also won the ribs category. Bad Habits won the chicken category.
The BBQ sauce competition was won by Uncle Kenny's BBQ 2.
Overall scores for the professional and backyard teams, including the Steak Cook-Off are posted on www.realsqueal. com.