Posted on
Heritage Downs Peoples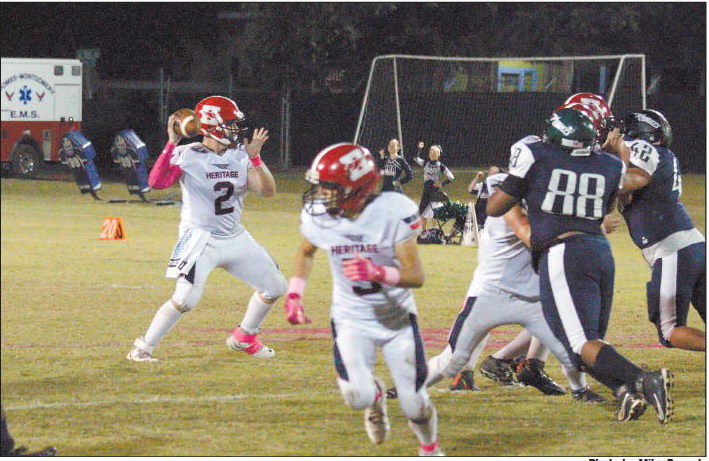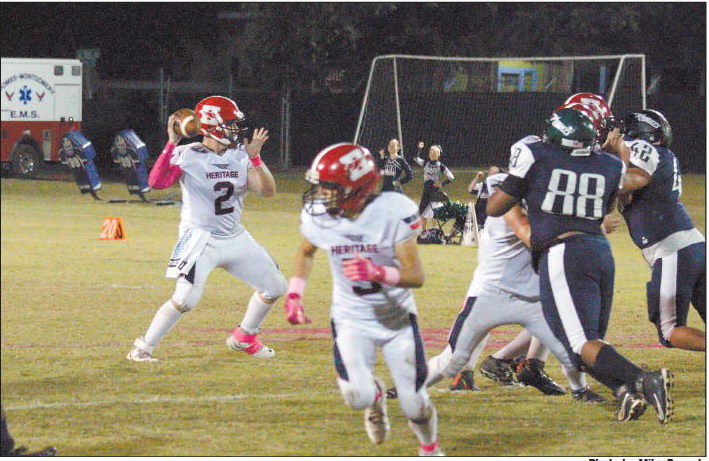 The Vidalia Heritage Academy Eagles football team picked up their fifth win of the season on Friday of last week as they hosted the Knights of Peoples Baptist Academy. With the win they also locked themselves into a spot in the playoffs with the Region victory. It is the first time the Eagles have made the playoffs. It was a costly win though as they lost more players to injury including quarterback Jacob Thompson.
Mason Beacham came in to replace Thompson and did a good job at the position as he helped lead the Eagles to a win. Peoples took the early lead as they had the ball to start the game and drove it down for a score. They failed on the two-point conversion, but led 6-0.
VHA followed with a good drive, but coughed the ball up at the 3-yard line with the Knights recovering it. That was when quarterback Thompson was injured and had to leave the game.
After getting a stop on defense the Eagles drove down the field behind Beacham and got the twopoint conversion to take an 8-6 lead. They got one more score to take a 14-6 lead into halftime over the Knights.
In the third quarter they got a big run from Jackson Williamson for 14 yards to the 25-yard line early in the quarter. JT Cofield caught a nice pass over the middle from Beacham, but on the next play a fumble was recovered by Peoples. Peoples was able to score on the Eagles just one more time in the game as the defense stepped up and helped to get the win. Heritage scored two more times in the game on their way to a 28-12 win. Head Coach Seth Sitzman said, "I reminded the team how important this game was for the school and the community of Vidalia. With our senior leader going down was a punch in the gut. However, I challenged the team to prove themselves during the second half. I am proud of how we responded to the adversity that was brought upon us." VHA is 5-1 on the season and are 2-0 in Region action. This week they will be at Coastal Home School in Hinesville with kickoff at 7:30 p.m. on Friday night.