Posted on
continued from page ment manager, ….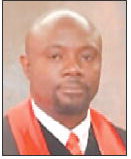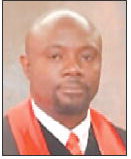 continued from page
ment manager, police instructor and community relations coordinator combined with my ability to connect with people and solve problems makes me the best qualified choice for sheriff.
Regarding goals and objectives, I would like to help the people and businesses of Wheeler County build a better relationship with the law enforcement agencies in the area. I would also like to encourage more businesses to bring jobs and job training to Wheeler County. I would like to give the Law Enforcement Agencies in the area the opportunity to get the training and equipment that they need to better perform their jobs. I would like to receive funding to do more community outreach programs for the youth and adults. (Community Recreational Activities, Job and Educational Programs) Wheeler County Coroner The Rev. Dr. Marvin Howard, Democrat I am a 1977 graduate of D. F. Douglass High School in Montezuma and a graduate of Albany State College with a bachelor's and master's degree in middle grades education. I have a specialist degree in leadership from Troy State University and a doctorate in leadership from Nova Southeastern University. I am a retired school teacher, assistant principal, principal, director of an alternative school, and a school superintendent. I have been in education for 37 years. I have been a pastor for 39 years. Presently, I am the pastor of Corinth CME Church in McRae. I am the owner of Howard Mortuary (two locations, McRae and Warner Robins). I am the chairman of the Wheeler Democratic Committee, a member of the Wheeler County NAACP, a member of Phi Beta Sigma Fraternity, Inc., and many more organizations. I am married to Susie A. McRae-Howard, a retired educator of 30 years. We have three children, Marvin Howard, Jr., Angel Howard, and Landon Wilson. I am seeking this office because I know that I can bring some much-needed change to this office. I have done this type of work for over 20 years. Most people do not know anything about this office, but I want to change that. The people need to know what this office is all about. My qualifications include having over 20 years in the funeral business. I am a student at Ogeechee Technical College seeking a degree in mortuary science. Regarding goals and objectives, my number one goal is to educate the citizens of Wheeler County on the responsibilities of the coroner. This will be accomplished by holding meetings in the county. My second goal is to develop a website for the Wheeler County coroner. This will be accomplished by contacting the necessary people who are skilled in that area. My third goal is to develop a mission statement: The mission of the Wheeler County Coroner's Office is to conduct honest and independent death investigations, and to work with all agencies to gather all information, facts and evidence, to protect and serve those who have gone before us, their families, and the general public. This is my promise!
Ted Mercer, Republican, Incumbent I am a lifelong resident of Wheeler County and a graduate of Wheeler County High School. I live in the Landsburg community where I grew up, just a thousand yards from the house where I was born. I worked as an EMT until 1994, and am a former truck driver. I have one son, Blake Alan Mercer, 31, who is employed in the financial department at Georgia Southern University. I am a member of the Masonic Lodge in Glenwood.
I enjoy helping people and at the time of a death, families need answers to their questions and they need understanding and comfort. I have served as the coroner for Wheeler County since being elected to the office in 1993 and was trained at the Georgia Public Safety Academy in Forsyth where I return annually for refresher courses. Over the years, as I have worked alongside first responders and public safety officials, I have learned a lot about team work. My background as an emergency medical technician has assisted me in working with people and the different situations I have encountered as coroner. My goals and objectives are, first, to continue the tradition of teamwork with local government, public safety officers and coroners throughout the area I serve. I have always enjoyed a good working relationship with public safety personnel, local government officials and would appreciate the opportunity to continue these relationships in another term as coroner. Secondly, I want to educate the public about the duties of the coroner's office. I have lived here all of my life and I care about Wheeler County. I enjoy being here for the people of my community and I value my role as coroner. I would like to encourage citizens with questions about the coroner's office to contact me. Also, I want to maintain the tradition of putting the needs of families who have lost loved ones at the forefront while doing my job as professionally as possible. I will continue to consider the feelings of victims' families while also providing the information they may require.
Alamo City Council Non-Partisan, At-Large Post Phyllis Adams I am a graduate of Telfair High School. My husband is A.M. Buddy Adams, Jr., and we have three children and four grandchildren. I have been in retail agriculture for 31 years. I am a member of Alamo First Baptist Church, the Lions Club and the Chamber of Commerce. I am seeking a seat on the Alamo City Council as a service to the community I am proud to call home. I have been a resident of Wheeler Co u n t y for 36 years and a resident and home owner in the city of Alamo since 1999. My career in the retail agriculture industry has provided me with a great deal of experience and training during the past 31 years. I have had the opportunity to work with cost budgets, operational duties, administrative procedures, profit and loss, etc.
My goals and objects include maintaining a healthy city budget. This can be achieved by making proactive decisions regarding managing and spending. We have a wonderful town. Taking care of what we have—maintaining our roads, buildings and infrastructure—is vital in order to continue to move forward and to maintain our small town appeal. I also want us to make decisions that best serve the entire community. In making policy decisions, we (the commission) can operate as a group to communicate the merits of each idea as it relates to an issue.
Stephen Keen
I received a high school diploma from Seminole Community College and a business diploma from Oconee Fall Line Te c h n i cal College. I am so blessed with my family. I have a beautiful wife and nine-yearold daughter. They are my strength, joy, and peace. I have an amazing talent for business. I came into a town where businesses struggle and have established several. Even with the pandemic going on, we have held our own. I am a husband, father, minister of the gospel of Christ, Wheeler County Sheriff Office Chaplain, Pray Georgia Regional Ambassador, and stand for Pro-Life.
I desire to be a part of the vision to see our town grow. I will be an equal opportunity council member to the citizens of Alamo. My strength is in business, and I have strategies to move the city of Alamo forward. My goals and objects include being a voice for local businesses. I want to help establish and increase new businesses in our city. I want to help our city government grow in unity. I would achieve these first by prayer, then strong communication, and finally by building strong relationships.
Leigh Ricks
I am married to Julie Ricks. We have three children, Erin, 13, Kiley, 10, and Rley, 10. I spent 15 years at Wheeler Co r r e c tional Facility and the past six years with the Wheeler County Board of Education where I am the kitchen manager.
I am a lifelong citizen of Wheeler County and have been a citizen of Alamo for the past 29 years. I am looking forward to getting Alamo back on track to move forward into the future. I will work hard to get Alamo in a better place for my kids and the next generation. We have to bring in more businesses for jobs and income for the city. We need more things for families and kids to do. We all need to come together as a town and move forward. We all have a voice no matter how old or young. With your vote I will listen and try my best to get it done. So, let's make Alamo the best we can for the future.
Patricia Woodard
I am a native of Statesboro and have been a resident of Alamo since 2014. I and my husband, Charles, have been married for 34 years. I retired from the DeKalb County School System in 2013 after 30 years of service. I attended Valdosta State University and currently serve as a property manager for Investors Management Company. I am also a founding member/manager for American Dream Builders, LLC. My devotion to changing the lives of others has led to a lifetime of volunteerism to youth athletic associations, local school boards, religious organizations and pride and joy of being a member of the Big Sister's Mentoring Program since 1994.
My belief is that anyone can be an agent of change is what spurs their civic engagement. In 2017, I was elected to fill a remaining term on the Alamo City Council. During my tenure, I was instrumental in creating an annual employee performance measure and worked with the conversion to a more accountable gas card system. I have helped several nonprofits obtain grants and funding support while living in the Atlanta area.
One of my primary goals is to work on beautifying downtown Alamo. I believe with all my heart that a city's "charm is the gateway to attract more residents and businesses to the area. Building a coalition of support which includes the mayor's office, other council members, business owners, and community members is the key to this ongoing effort. Closely related to my primary goal is the valuable role code enforcement plays in maintaining the aesthetics of the city. While in office I will work to ensure that codes keep the city well maintained and its citizens safe are being enforced. Additionally, I want to ensure that the city continues to upgrade its virtual services platform. I believe the "small town appeal" of Alamo doesn't mean that the city can't be on the cutting-edge of technology in its business practices. I would love to see a group of citizens help identify areas of concern and work with the City Council to implement virtual technology when it is feasible.

Stephen Keen


Patricia Woodard


Ted Mercer


Phyllis Adams


Leigh Ricks