Posted on
Teachable Moment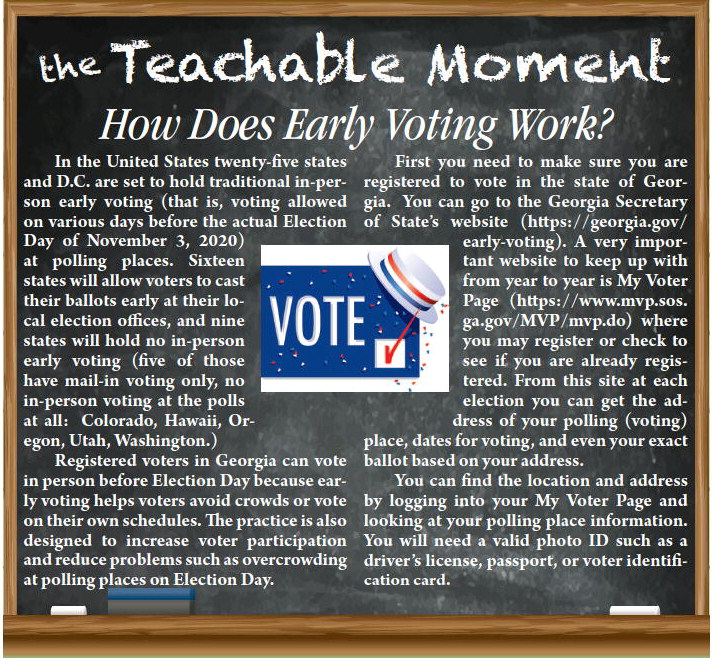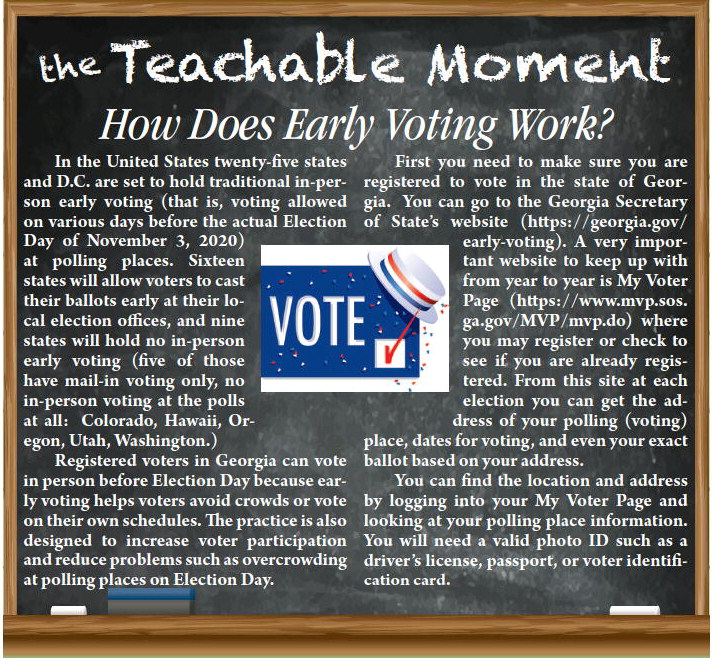 the Teachable Moment
How Does Early Voting Work?
In the United States twenty-five states and D.C. are set to hold traditional in-person early voting (that is, voting allowed on various days before the actual Election Day of November 3, 2020) at polling places. Sixteen states will allow voters to cast their ballots early at their local election offices, and nine states will hold no in-person early voting (five of those have mail-in voting only, no in-person voting at the polls at all: Colorado, Hawaii, Oregon, Utah, Washington.) Registered voters in Georgia can vote in person before Election Day because early voting helps voters avoid crowds or vote on their own schedules. The practice is also designed to increase voter participation and reduce problems such as overcrowding at polling places on Election Day.
First you need to make sure you are registered to vote in the state of Georgia. You can go to the Georgia Secretary of State's website (https://georgia.gov/ early-voting). A very important website to keep up with from year to year is My Voter Page (https://www.mvp.sos. ga.gov/MVP/mvp.do) where you may register or check to see if you are already registered. From this site at each election you can get the address of your polling (voting) place, dates for voting, and even your exact ballot based on your address.
You can find the location and address by logging into your My Voter Page and looking at your polling place information. You will need a valid photo ID such as a driver's license, passport, or voter identifi-
cation card.