Posted on
Georgia Celebrates National 4-H Week: October 4-10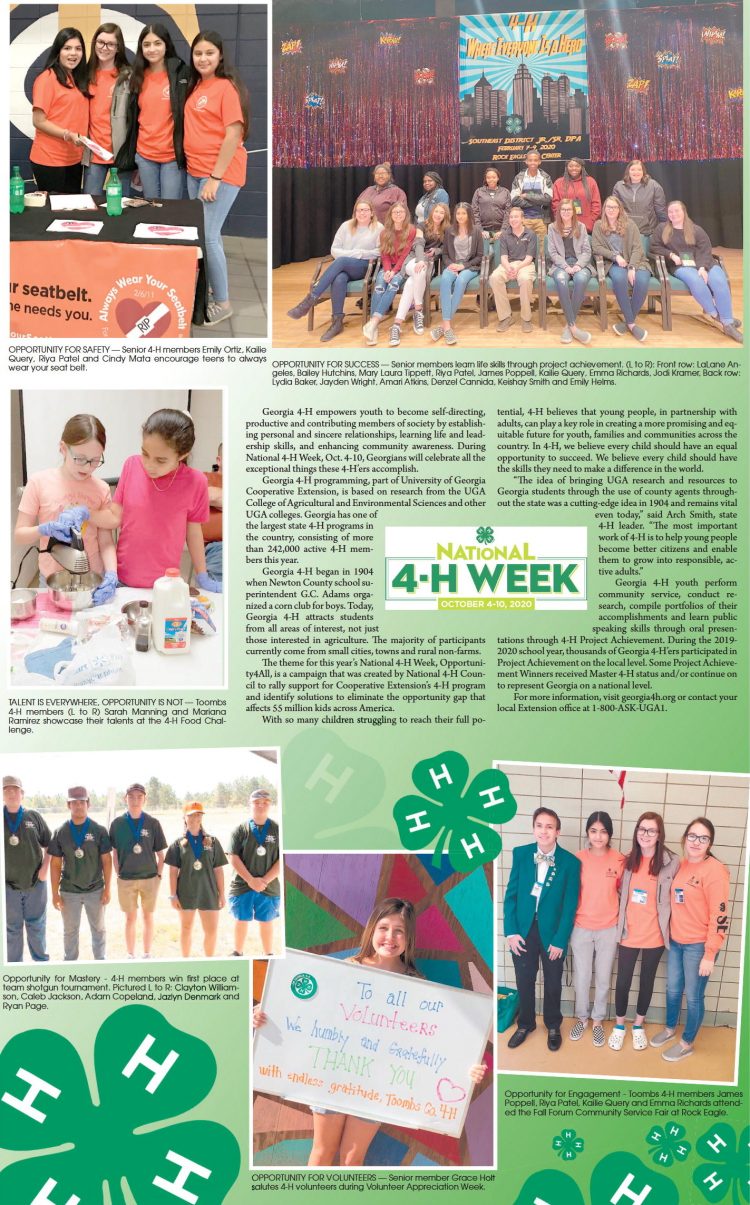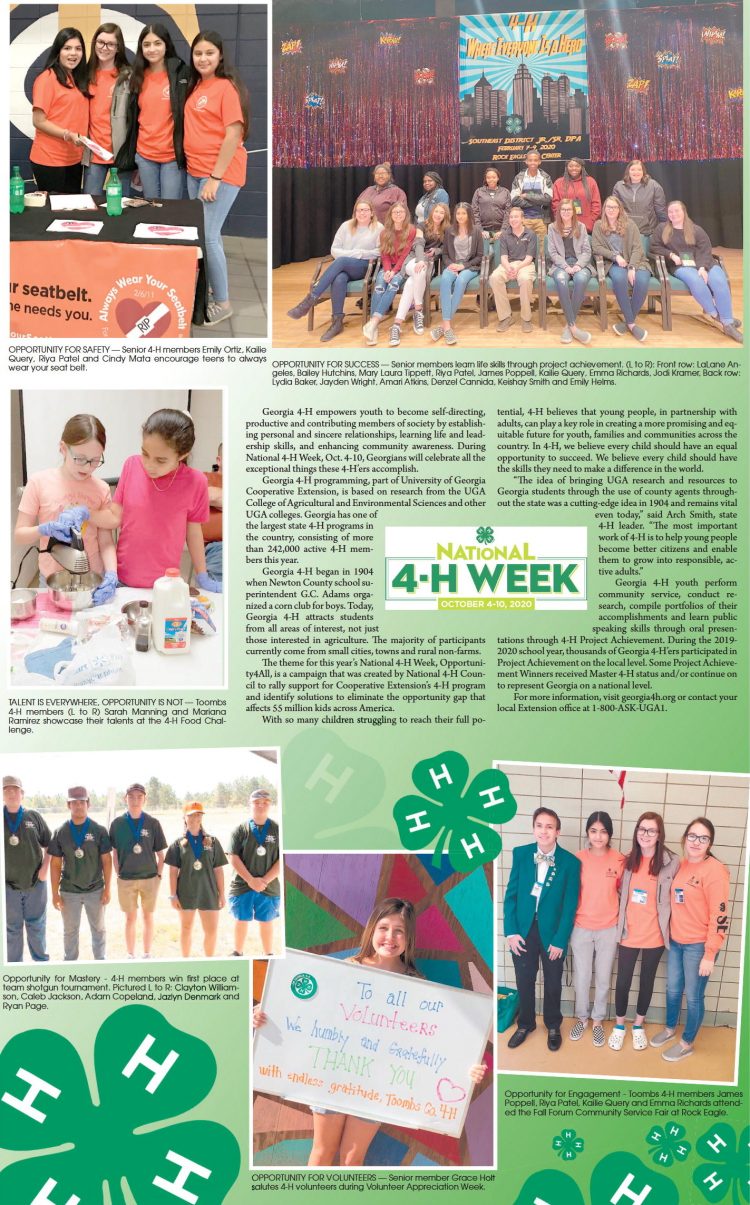 Georgia 4-H empowers youth to become self-directing, productive and contributing members of society by establishing personal and sincere relationships, learning life and leadership skills, and enhancing community awareness. During National 4-H Week, Oct. 4-10, Georgians will celebrate all the exceptional things these 4-H'ers accomplish.
Georgia 4-H programming, part of University of Georgia Cooperative Extension, is based on research from the UGA College of Agricultural and Environmental Sciences and other UGA colleges. Georgia has one of the largest state 4-H programs in the country, consisting of more than 242,000 active 4-H members this year.
Georgia 4-H began in 1904 when Newton County school superintendent G.C. Adams organized a corn club for boys. Today, Georgia 4-H attracts students from all areas of interest, not just those interested in agriculture. The majority of participants currently come from small cities, towns and rural non-farms.
The theme for this year's National 4-H Week, Opportunity4All, is a campaign that was created by National 4-H Council to rally support for Cooperative Extension's 4-H program and identify solutions to eliminate the opportunity gap that affects 55 million kids across America.
With so many children struggling to reach their full potential, 4-H believes that young people, in partnership with adults, can play a key role in creating a more promising and equitable future for youth, families and communities across the country. In 4-H, we believe every child should have an equal opportunity to succeed. We believe every child should have the skills they need to make a difference in the world.
"The idea of bringing UGA research and resources to Georgia students through the use of county agents throughout the state was a cutting-edge idea in 1904 and remains vital even today," said Arch Smith, state 4-H leader. "The most important work of 4-H is to help young people become better citizens and enable them to grow into responsible, active adults."
Georgia 4-H youth perform community service, conduct research, compile portfolios of their accomplishments and learn public speaking skills through oral presentations through 4-H Project Achievement. During the 2019-2020 school year, thousands of Georgia 4-H'ers participated in Project Achievement on the local level. Some Project Achievement Winners received Master 4-H status and/or continue on to represent Georgia on a national level.
For more information, visit georgia4h.org or contact your local Extension office at 1-800-ASK-UGA1.
OPPORTUNITY FOR SAFETY — Senior 4-H members Emily Ortiz, Kailie Query, Riya Patel and Cindy Mata encourage teens to always wear your seat belt.
Opportunity for Mastery – 4-H members win first place at team shotgun tournament. Pictured L to R: Clayton Williamson, Caleb Jackson, Adam Copeland, Jazlyn Denmark and Ryan Page.
TALENT IS EVERYWHERE, OPPORTUNITY IS NOT — Toombs 4-H members (L to R) Sarah Manning and Mariana Ramirez showcase their talents at the 4-H Food Challenge.
OPPORTUNITY FOR VOLUNTEERS — Senior member Grace Holt salutes 4-H volunteers during Volunteer Appreciation Week.

Opportunity for Engagement – Toombs 4-H members James Poppell, Riya Patel, Kailie Query and Emma Richards attended the Fall Forum Community Service Fair at Rock Eagle.