Posted on
Elderly Woman Injured in Tense Hostage Situation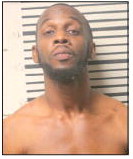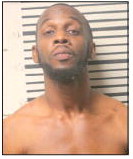 Vidalia police were able to defuse a deadly situation last week as a man held his grandmother at knife point. Officers responded to a report of a domestic incident on Smith Street in Vidalia at 7:50 p.m. Tuesday, September 1, where an elderly woman answered the door and told police her grandson was behaving strangely and that he had a knife. Once officers entered the house, they could see into the kitchen where Byron Terrel Shinhoster, 34, was on the phone with a knife in his hand. The woman's grand- continued from page
daughter and a three-year-old girl were also in the kitchen at the time.
Shinhoster then noticed police had entered the house and "started getting very agitated, stating someone was out there," the police report said. The suspect then grabbed his grandmother "around the neck with the knife in his hand."
The responding officers, who had called for backup, were joined by a third officer and all three entered the kitchen with their service revolvers drawn and gave loud verbal commands to the suspect to drop the knife. One officer reported that he attempted to grab the knife but was blocked by the suspect who was holding the woman in front of him with the knife against her neck.
A fourth police officer arrived on the scene and attempted to persuade Shinhoster to drop the knife, but Shinhoster continued to ignore police commands. "While we were trying to talk to or get close to Mr. Shinhoster, he would stick the knife into (his grandmother's) neck. We had family members on the phone trying to talk to him but they were unable to get him to comply," the police said. Eventually, police were able to edge closer to Shinhoster and wrest the knife from his hand. As the police took the suspect into custody, the woman was taken outside the home and was later airlifted to an area medical facility for treatment. The woman's granddaughter and the three-yearold child were not harmed in the incident. As police attempted to handcuff Shinhoster, he started resisting arrest and had to be stunned with a taser. Once he was placed in the back of a police vehicle, Shinhoster started kicking the vehicle's door. When police opened the car door Shinhoster positioned his foot so that the door could not be closed. He continued to resist multiple commands to put his foot back inside the unit and police had to use a taser to stun him again.
Shinhoster was transported to Meadows Regional Center to be medically cleared and then incarcerated in the Toombs County jail. He was charged with aggravated assault, false imprisonment and obstruction of law enforcement officers, all felony charges. Police said more charges are pending. The Toombs County Magistrate Court denied bond for Shinhoster, necessitating his request for a bond hearing in Toombs County Superior Court. Shinhoster, who has a Uvalda address, is also facing felony warrants in Montgomery County for probation violations.