Posted on
Indian Softball Goes 5-1 On The Week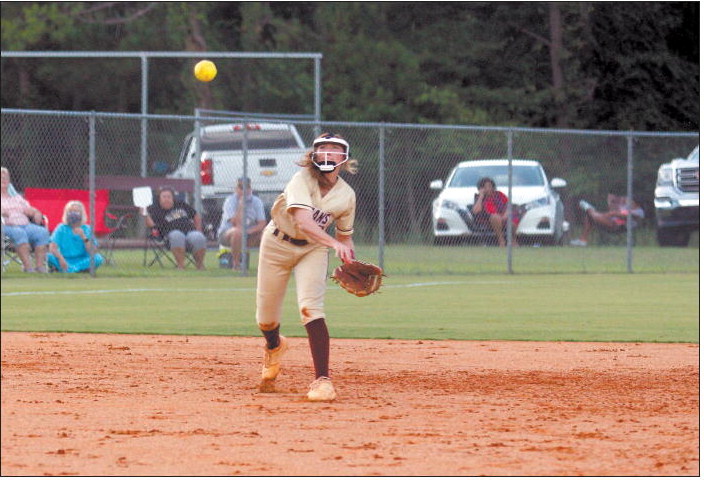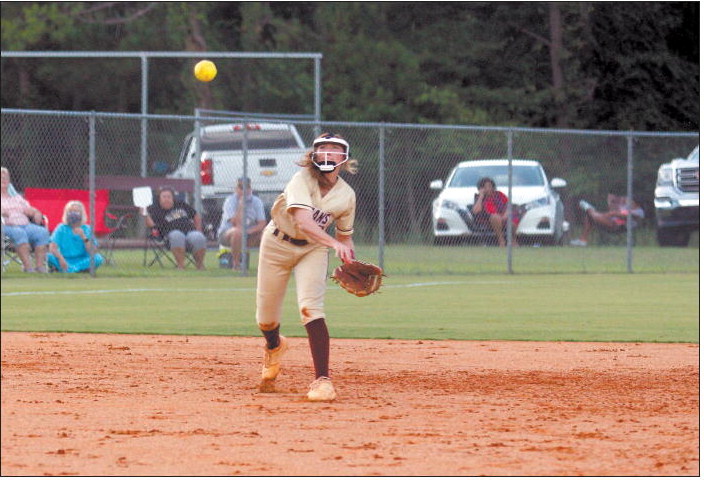 It was a busy week for the Vidalia High School Indians softball team as they hosted East Laurens on Tuesday, had Bacon County at home on Friday and then traveled to Oconee County for the Hog Mountain Invitational, where they played four top five ranked teams from higher classifications.
VHS vs. East Laurens
East Laurens had a couple of runners on in the top of the first inning, but the Indians got out of the jam. In the bottom of the first Tori Wright hit a triple down the right field line, and then scored on a throwing error on the play to put VHS on top 1-0. Bailey Holland followed that with a double, and then a walk by Emma Humphrey put two runners on base. Two errors on one play brought in Holland, and then Humphrey scored on a hit by Alli Taufmann for a 3-0 lead.
VHS held in the top of the frame and got right back to work in the bottom as Ashtyn Braddy led off with a triple and then scored on a hit by Starr. Wright hit a two run homerun to right center to put VHS up 6-0. Holland hit a double and scored on a single by Tymber Harris sending the game to the third inning with VHS up 7-0.
Braddy singled in the third and Wright hit an RBI double for an 8-0 lead. East Laurens finally got on the board in the top of the fourth inning on an error by the Indians to make it 8-1.
VHS went on to win the game 9-2. Starr picked up the win for the Indians in the circle.
VHS vs. Bacon
It was another Region win for the Indians as they defeated Bacon County on Thursday. Braddy led off with a base hit in the bottom of the first inning. Braddy moved over on a fielder's choice by Wright and then scored on a ground out by Holland to put VHS up 1-0.
Bacon had a couple of runners on base in the top of the second, but Holland, who was in the circle got out of the inning without allowing a run. In the top of the third Bacon had a runner on third base, but a line out to right field got VHS out of the inning. continued from page
In the bottom of the frame Humphrey scored on a single by Harris. Harris and Taufmann scored on an error on a ball hit by Lydia Smith. Smith scored on a wild pitch and an error scored Starr as VHS built up a 5-0 lead. VHS loaded the bases with Wright coming to bat, and she almost got the grand slam as she hit a high fly ball to the fence, but it came up just short and was caught for the third out. VHS added one more run in the game to get the win, 6-0 over Bacon County.
Hog Mountain by John Koon Facing four ranked teams in just two days is a tall order for any team. Throw in a four hour plus bus ride to North Georgia, and you have an even bigger task in front of you. But the Vidalia Lady Indian Softball Team is not just any team. In fact, the 2020 squad, ranked #4 in the preseason rankings, may have played with a little chip on their shoulder, as they took three of four games in this weekend's Hog Mountain Invitational, played in Oconee County. Heading into the weekend, the Lady Indians were 7-1, with the one loss coming to 6A South Effingham 5-3. They had just come off a 6-0 Region 2AA win over Bacon County and had swept the Crisp Co. Watermelon Invitational the weekend before. Yet when this week's rankings came out, the Lady Indians were nowhere to be found.
'Yeah, I think we played with a little extra motivation,' said Head Coach Brad Thompson. 'Although there was no mention of the rankings by me to my players before play started on Friday, I have players who pay attention to detail, and I think our girls took it personally and played very well this weekend.'
Playing well may have been an understatement, as the Lady Indians knocked off Single A #3 Commerce, 3A #4 Oconee County and 7A #3 Grayson in the two days. Their lone loss came to the #3 team in 5A Starr's Mill, 2-0 in their first game Friday evening.
'I was pleased with our performance this weekend,' said Thompso, 'We try not to get caught up on who we are playing, but rather how we are playing. And it all begins with defense. We want to play defense better than anyone we play. And it all starts in the circle, where this weekend we were really great. Starr (Madison Starr) and Bailey (Bailey Holland) put so much time in, and the defense behind them recognizes this and embraces it as their identity as well.'
VHS vs. Starr's Mill Lost 2-0 The Lady Indians committed an error that allowed the #3 team in 5A to score their two runs in the loss. Despite the loss, Madison Starr allowed only two hits while striking out 6. The Lady Indians' bats were silenced as they struck out 15 times while being no-hit.
VHS vs. Commerce Won 1-0 The Lady Indians rebounded in the nightcap Friday night, getting another good pitching performance from Bailey Holland, who allowed only one hit while striking out 7 Tiger batters. Tymber Harris, Ashtyn Braddy, and Emma Humphrey all had hits for the Indians, with Braddy scoring the only run of the game.
VHS vs. Oconee Co. Won 9-4
The Lady Indians tallied 16 hits, scoring nine runs against the #4 team in AAA in a 9-4 win. Madison Starr led the way going 3-4 and also got the win in the circle, going seven innings while allowing four runs on six hits and striking out four without a walk. Jesslyn Collins, Ashtyn Braddy, and Emma Vinson each had multiple hits, and Logan Menard also had a quality game at the plate.
VHS vs. Grayson Won 9-1 The Lady Indians' hot bats continued in the tournament's final game as they scored nine runs en route to a 9-1 win over the Grayson Rams, the #3 team in 7A. The Indians scored five runs in the 3rd inning with the big blow coming off of Freshman Emma Humphrey's bat, a three-run home run, the first of her Varsity Career. Holland once again pitched well to get the win, allowing just four hits over seven innings, while striking out six and walking only 1 Ram batter. The Indian defense was strong once again, going errorless in the final game of the weekend for Vidalia. This week the Indians played Monday at Effingham County, and again on Tuesday at Swainsboro after presstime.
They will be back in action on Thursday at Toombs County at 5:30 p.m.