Posted on
Brewton-Parker College Dedicates Warren C. Crawley, Sr. Commons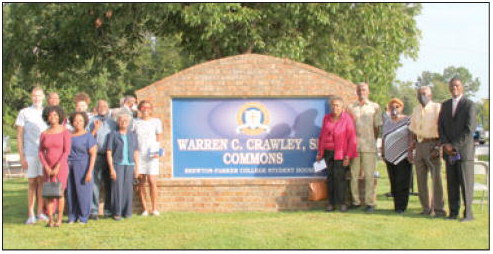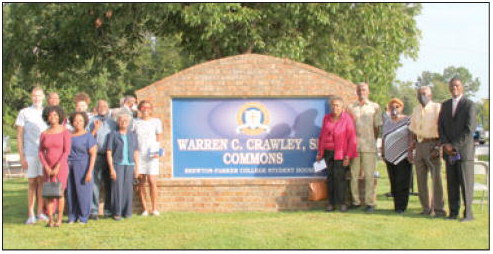 Warren C. Crawley, Sr., was a businessman, a visionary and an ex-slave whose exemplary life and legacy continue to impact the community he loved. On Monday, August 25, Crawley's descendants gathered at Brewton-Parker College in Mount Vernon to help dedicate a complex of dormitories on a commons named in Crawley's honor. Born into slavery in Virginia in 1842, Crawley was later brought to Georgia. After emancipation, he migrated to Montgomery County and became a successful merchant and landowner. When Crawley heard that the Rev. John Brewton and Charles Parker did not have enough property to start a new school in Mount Vernon, he donated five acres to comprise one-third of the original campus of the school in 1904.
continued from page
He did this knowing that because of segregation his own grandchildren would not be able to attend the school.
"Today, the racial diversity of the current student body at the Brewton-Parker is a fitting testimony to Crawley's legacy," said college president Dr. Steve Echols. "Mr. Crawley's gift of land to make Brewton-Parker College possible was an unselfish act that crossed the deep divide of racial separation." In 1905, the Georgia Baptist Convention, whose churches at the time had few African-American members, passed a rare personal commendation thanking Crawley for his generosity. "The world of Mr. Crawley was harshly divided by segregation and prejudice, but through his gracious act, we are reminded that Christ transcends all that separates us, and that in Him, we find unity," Echols said.
Mattie Watson, a greatgranddaughter of Crawley, expressed her appreciation for the honor being paid to her great-grandfather. "When I was growing up, I heard about my great-grandfather donating land to the college, but I did not realize how important that was then. Now, there are seven generations of our family and we are so proud to be a part of this college and proud of what it has grown to be. Our family still stands ready to be of assistance to this college in any way we can."
Sammie Jackson and Elizabeth Crawley NeSmith, first cousins and great-grandchildren of Crawley, unveiled the marker designating the Warren C. Crawley, Sr., Commons. Also attending was Crawley's great-grandson, Michael Crawley. The commons named for Crawley includes four dormitories, two of which are new and two of which were recently renovated with $1.1 million raised between 2017 and 2019 in a capital funds campaign. The donations also went toward general improvements, including parking upgrades.
Dr. Beverly Robinson, Vice-President for Student Success and Diversity Engagement, presided at the event and the Rev. Dannie Williams of First Baptist Church in Lyons provided the invocation. The national anthem was sung by The Wardlaw Brothers and Brewton-Parker student Willie Ford delivered remarks on behalf of the student body. The Rev. Carl C. Wardlaw, Sr., of First African Missionary Baptist Church offered the benediction.
Please see additional photos, BPC
11A GREAT-GRANDCHILDREN of Warren C. Crawley, Sr., are, from left: Sammie Jackson, Mattie Watson, Elizabeth Crawley Ne-Smith and Michael Crawley. They are standing in front of wall where a memorial plaque hangs alongside a plaque recognizing donors to a campaign to create the commons honoring Warren C. Crawley, Sr.
GREAT-GRANDDAUGHTER Mattie Jackson Watson addresses the crowd at the August 25 dedication ceremony for the Warren C. Crawley, Sr., commons on the campus of Brewton-Parker College in Mount Vernon. At left, just behind the podium, is College President Dr. Steve Echols, who delivered the dedication message.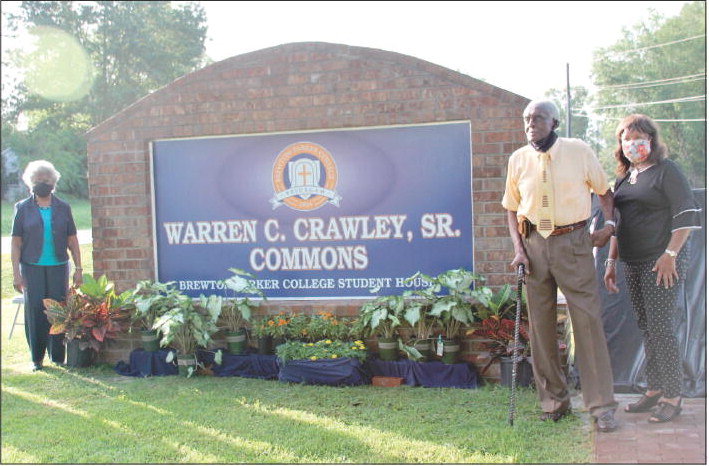 UNVEILING — The great-grandchildren of Warren C. Crawley, Sr., unveil the marker at the dedication of a commons on the campus of Brewton-Parker College. From left are Elizabeth Crawley NeSmith, Sammie Jackson, and Dr. Beverly Robinson, Vice-President of Student Success and Diversity Engagement at the college.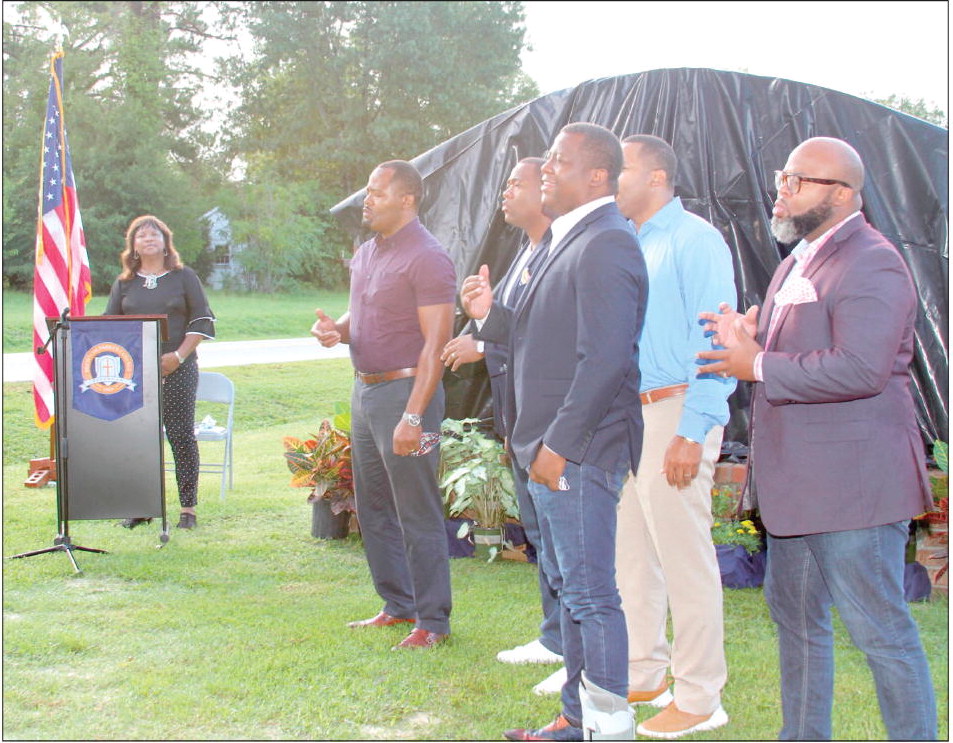 NATIONAL ANTHEM — Dr. Beverly Robinson, Vice-President of Student Success and Diversity Engagement, listens as The Wardlaw Brothers sing the National Anthem at the dedication of the Warren C. Crawley, Sr., Commons.