Posted on
Ask Ms. Magnolia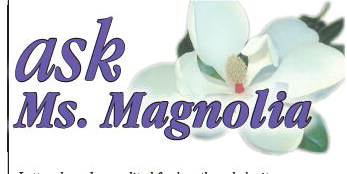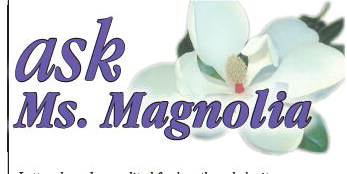 If you have a question for Ms. Magnolia, please mail it to P.O. Box 669, Vidalia, GA 30475, or e-mail to msmagnoliaadvance@yahoo.com.
Ms. Magnolia
Dear Ms. Magnolia, I'm 13 years old, and I just got a new
puppy for my birthday. This is the . rst time
I have owned a pet by myself, and I'm not sure what to do to keep my new puppy safe during this hot weather. My parents have said that Dusty is my responsibility, and I don't want to slip up so that they can say that I am not responsible enough to drive a car when I get older. Can you give me some ideas? Teen
Dear Teen, Many websites have very good tips for animal owners. Make sure Dusty gets a yearly check-up with the veterinarian. Feed him recommended puppy food, once or twice a day. If possible, have a fenced in area where he can play safely. Take him for a walk in the cooler hours avoiding hot concrete, asphalt, and metal, which can burn his paws; carry plastic bags to scoop his poop; and carry water for him.
Outside always have shade and shelter available with plenty of cool water (don't use metal bowls which heat up in the sun). Let your puppy stay inside during the hottest part of the day, perhaps in a dog crate, allowing several trips outside. Never leave him alone around a pool or in a car, especially on a hot day.
Train Dusty daily to respect people and other animals. If you take him to a dog park, make sure he is well-rested before you go so that he will be on his best behavior. Don't take his toys to the playground. Don't dress him up in cute puppy out. ts,
which can be restrictive and hot.
Good luck with your new pet.
Letters have been edited for length and clarity.