Posted on
VCS Teachers Prepared for Friday, August 21, Reopening of Schools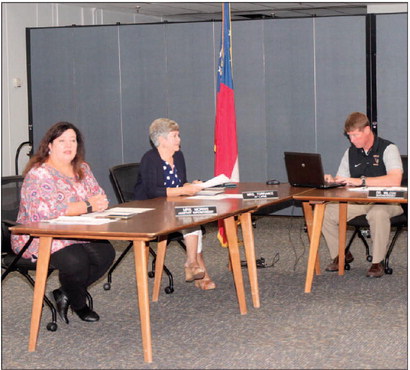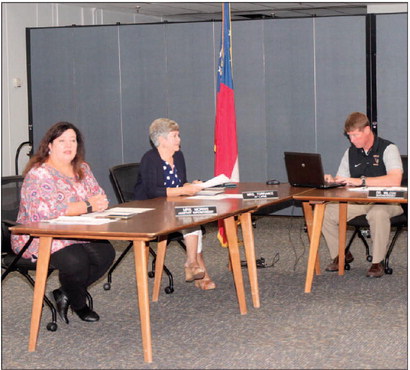 Classroom Protocol and Virtual Instruction Aligned for Seamless Transitions
Principals for Vidalia City Schools updated Superintendent Dr. Garrett Wilcox and board members on procedures for conducting in-classroom and virtual instruction during a called meeting of the school board on August 4. The schools had prepared for the reopening of schools on August 7, but because teachers in some of the schools have been affected by COVID-19, the start date for students was pushed back to August 21. In a statement on August 3 announcing the delay, Superintendent Wilcox said, "Hopefully, this twoweek period will allow this surge in cases to reduce and will enable us to begin our school year in earnest." All updated VCS information can be viewed at https://www.vidaliahighschool. org The regular board meeting on July 14 was focused on protocol for safe operations outside of the classroom. Every school has developed plans to achieve seamless transitions from classroom to virtual instruction in case individual students or whole groups may need to stay at home.
On the high school and middle school level, one change was to drop the use of the APEX online curriculum for virtual students and use Google Classroom, a platform for recording instruction that students can access at home on their own internet devices and review as needed. This tool has already been in use in the VCS.
Jamie Sharpton, Instructional Coordinator and science teacher at the high school, is knowledgeable about Google Classroom and its advantages. Sharpton said, "One reason we picked this model to use is because if all teachers were doing it at all times, then students who have to be quarantined because of family members and have to go home for 10 days, their instruction does not have to stop. They just become a virtual student for those 10 days and then they'll come back."
There will be a weekly office time of 45 minutes for teachers and virtual students to engage in zoom sessions, an online platform for conferencing, as well as using email communication. Virtual students will be required to sign in for time-stamped attendance every day. Tests for all students will be scheduled to be done on campus. The first few days of school will be focused on enrolling, training and practicing so that each one can use the virtual Google Classroom. In the case of all students being required to return home during the pandemic, all teachers and staff, throughout the system, will be on campus in the classroom to continue virtual instruction. Dr. Sandy Reid, Principal of J.R. Trippe Middle School, who was present in this called meeting via Zoom, reported that her teachers also wanted to align their instruction in the classroom with virtual learning. To do this, the whole middle school schedule was reworked to open up two virtual sections in each subject every day so virtual students have a regular school day using Zoom. Teachers at J.R. Trippe have practiced using tools for Zoom sessions from the students' point of view and from the instructors' perspective. Virtual students are encouraged to engage in live sessions. At the virtual open house, students received their schedule, Google classroom codes, and Zoom session times to align with in-school sessions. A weekly format of Monday through Thursday will be for instruction.
Sally D. Meadows Elementary Principal Scott Stephens said, "We are doing a very similar procedure" at the middle school "on a more age appropriate level." About 25% of SDM students have chosen virtual learning. Direct instruction will be done with live interaction. Small group time and whole group instruction will be recorded and uploaded to Google Classroom for use by the at-home student at multiple times.
Brenda McLain, Principal at J.D. Dickerson Primary School, said all her teachers are in the learning process in using Google Classroom, and have had good training. Five teachers at JDD will be dedicated for virtual instruction. Scheduled sessions for tests during the year will need to be on the JDD campus.
Parents of virtual students in kindergarten and first grade are to meet at JDD on August 19 and 20. At that time Mrs. McLain and the teachers will communicate to parents choosing virtual instruction the importance of at-home students being online for faceto- face instruction during the school day. Pre-K students will be required to be on campus for instruction, with no virtual option.
Athletic Director Coach Tommy Dalley reported that the Georgia High School Association leaders are in discussions about how to proceed through the athletic calendar.
School Nutrition Director Denise Parson reported that a box of frozen food for five breakfasts and five lunches will be prepared for virtual students, or a designated person, to pick up at S.D. Meadows each week.
Temperatures of on campus students and staff will be taken either on buses, in car lines, or at entrances into buildings; students will go directly to their first classroom upon entering; distanced seating will be used in the classrooms and lunchrooms; masks and distancing will be required in hallways; and frequent sanitizing will be done throughout the buildings.
Dr. Wilcox and board members expressed appreciation to principals for their thoughtfulness, and for the teachers' diligence, in preparing for this coming school year. Board member Tim Truxel said the principals did an "e x t r eme l y good job trying to answer questions for something that in no way you know the answer. For the teachers this is going to be extremely difficult; there will be bumps in the road. I see positives in this; this virus is forcing us into uncomfortable territory. Virtual learning is probably going to be in the future and this will give us a good idea of what it could look like. It will push our system further along technologically which is something we want as a strategic plan." During this meeting, a prayer and remembrance was given for Board Member Bruce Asberry and his family in the recent loss of Mr. Asberry's wife, Rosa, who was a beloved member of the community.
"…this virus is forcing us into uncomfortable territory. Virtual learning is probably going to be in the future and this will give us a good idea of what it could look like. It will push our system further along technologically which is something we want as a strategic plan."
— VCS Board Member Tim Truxel