Posted on
Back to School: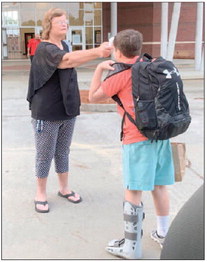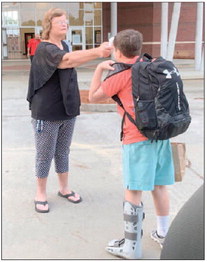 Good News, So Far
Area school administrators whose fall terms have gotten underway following closures due to COVID-19 in March reported that the reopenings have gone smoothly so far. Montgomery County Schools Superintendent Hugh Kight said Monday that after a week of classes there were no major issues. School started there on Monday, August 3. Kight said last week that 98% of Montgomery County's students were wearing masks when they came back to school on the first day. Kight said three students have been tested for COVID-19, but results were negative. The system has implemented a robust protocol for keeping students, staff and faculty safely distanced, and wearing masks is encouraged.
In Wheeler County, Superin- continued from page
tendent Suzanne Couey said that the system got off to a good start for the new term. "It has gone well. Everyone is wearing a mask and spreading out," she said Monday. That system's elementary and middle/high schools started on-site classes Friday, August 7. As with all area schools, virtual instruction is also an option.
Toombs County Superintendent Dr. Barry Waller was ecstatic about the beginning of the fall term. "It's one of the smoothest openings we have ever had. We were a little concerned because of the new safety measures, but everyone has done a great job. I want to compliment the staff and instructors," he added.
Robert Toombs Christian Academy and Vidalia Heritage Academy, both private institutions, have also reopened.
Vidalia City Schools (VCS) were due to start August 7, but it was announced last week that those schools would not reopen until August 21. In a called meeting on August 4 administrators acknowledged that some instructors had been affected by COVID-19. Citing a local surge in COVID-19 cases, VCS Superintendent Dr. Garrett Wilcox said in an announcement issued last week, "…hopefully, this two-week period will allow this surge in cases to reduce and enable us to begin our school year in earnest."
The system has taken the opportunity the delay has provided to further refine its health and safety protocol, as well as its plans for in-class and virtual instruction.