Posted on
Robert Toombs Dominates Memorial; Wins Region Title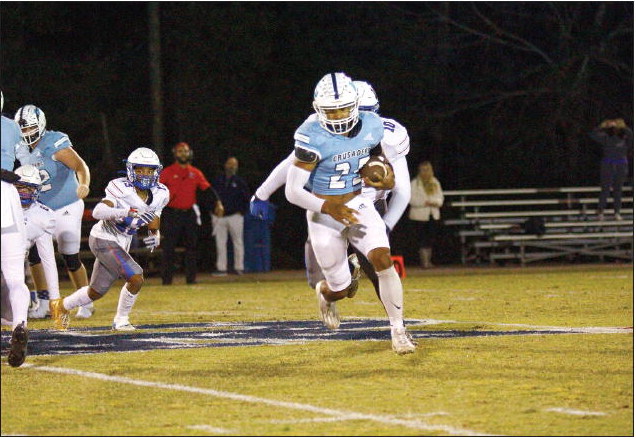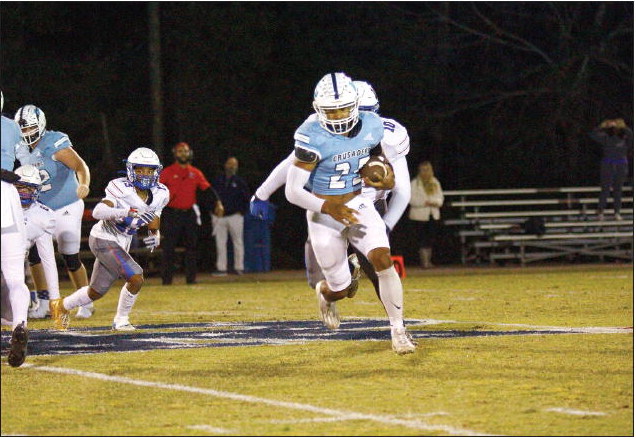 Courtesy of RTCA
Friday night Robert Toombs Christian Academy hosted the Region Championship game against Memorial Day. Before the game began, Robert Toombs recognized all of their fall senior athletes. In the game RTCA dominated the Matadors as they rolled to a 63-6 victory and a Region Championship.
With 9:58 in the first quarter Ahmelion Jones took it in for the first touchdown of the game for the Crusaders. Hayden Meeks tacked on the extra point for a 7-0 lead.
The Matadors did score on their next possession, but RTCA kept them out on the two-point conversion to hold a 7-6 lead. That was the only score that the RTCA defense allowed all game.
RTCA was on the board again with 4:46 left in the first quarter as Aaron Hankerson went in from 16 yards out. With the extra point RTCA was on top 14-6. Justin Powell added a 52-yard touchdown run late in the first quarter as RTCA extended their lead to 21-6.
The Crusaders were unstoppable during the second quarter scoring four touchdowns total. Durden caught a 16yard pass from Hayden Kight scoring the fourth touchdown of the game. Eli Baker scored the next two touchdowns with a 28-yard run and a big 90-yard run.
Hankerson came through and scored his second touchdown of the game, the 7th for the Crusaders. The score heading into halftime was 49-6 with RTCA in complete control.
Coming back from halftime, RTCA scored two more touchdowns during the third quarter. David Hill with a 22-yard run and Jones with a 51-yard run. It was a running clock in the second half as RTCA cruised to their 63-6 win.
Head Coach Matt Meeks stated, 'It was a great, total team win on Friday against Memorial to claim the Region Championship. I'm extremely proud of our guys for the hard work, dedication, and effort that they have displayed continued from page
throughout the season, and this is the type of result you can get with that.
"Offensively, we were able to amass 445 yards of offense on 31 plays with 2 guys rushing for over 100 yards a-piece and multiple guys scoring multiple touchdowns. That doesn't happen without your offensive line doing things well; and Hunter Sikes, Isaac Holton, Bishop Lampp, Devin Cowart, and Gage Brantley have been working tremendously well to create running lanes for our backfield.
"Defensively, we held them to less than 180 total yards of offense on 51 plays with numerous guys with 5 or more tackles. We had defensive backs and linebackers breaking up passes, and guys swarming to the football to limit yards gained.
'Our kicking game was a huge weapon in limiting their starting field position as well as recovering a pooch kick to gain another possession back for our offense. All-in-all, I feel like all three phases of football were played really well and that carried us to winning the Region.'
RTCA will now head into the GIAA State Playoffs. They are off this week with a bye in round 1 of the playoffs. They will be back in action next week to face the winner of the Memorial Day vs. Harvester Christian game. RTCA will host the game on November 17, and it will be the Final 4 of the playoffs.