Posted on
Brown's Sculpture Rededicated in New Home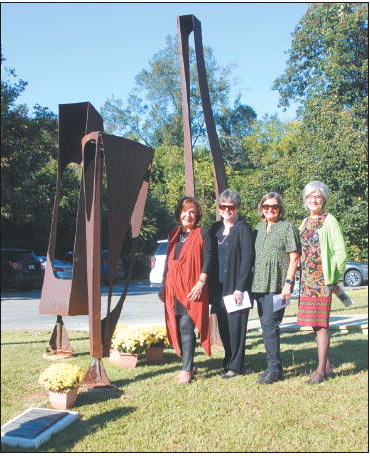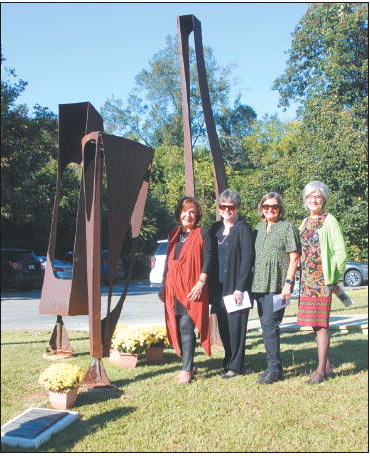 The iconic three-piece sculpture that adorned the lawn of the Vidalia-Toombs Public Library has now found its new forever home at the Altama Museum of Art & History. With this new location comes a renewed dedication, as many gathered to honor the sculpture and the memory of Sylvia Brown on Saturday, October 21.
The sculpture was first erected outside of the library in 1970, after Brown passed away at the early age of 39. "Sylvia was a beloved member of the Vidalia community. She was a businesswoman, a Girl Scout leader, and a lover of the arts," Museum Director Jenn Martinez explained. "She was unfortunately taken from this earth far too young. To honor her legacy, her Girl Scout troop – which included her daughter Ann and Cathy [Lewis] – raised the money to build this sculpture."
Martinez said that the troop selected Harold Karen of Statesboro to create an object to commemorate Brown's love of the arts. "I've heard it told – though I can't confirm it – that the three elements represent the visual arts, music, and either literature or dance," she remarked.
"I'm so excited that [the sculpture] has come to live here at the museum – what a fitting place for it to finish up its days," Martinez continued. "For this, we have Cathy [Lewis] to thank. When she continued from page
discovered that the library was no longer to keep this sculpture, she made it her work to find a new home for it, and to fundraise and bring it here."
Four members of Brown's Girl Scout troop attended the event, and former Scout Laura Reed spoke on her experience of knowing Brown throughout her life. "She was such a gentle and strong soul," Reed emphasized. "She just loved the arts. She was very devoted to her family, she was very devoted to her faith, [and] she was very devoted to her community."
Reed added that Sylvia was "one of the nicest people you would ever meet," and "someone so supportive of the community."
Reed continued, "It means so much to have this back in the area. [Brown's daughter] Ann did know before her death that the sculpture would be here – she got to see pictures of it. I was so excited that she did get to see it before she died. This means so much to their whole family that this is here."
The ceremony ended as the attendees united together to sing the classic Girl Scout song, "Make New Friends." Donations were accepted following the close of the celebration to help fund lighting for the sculpture, which will be installed later this year.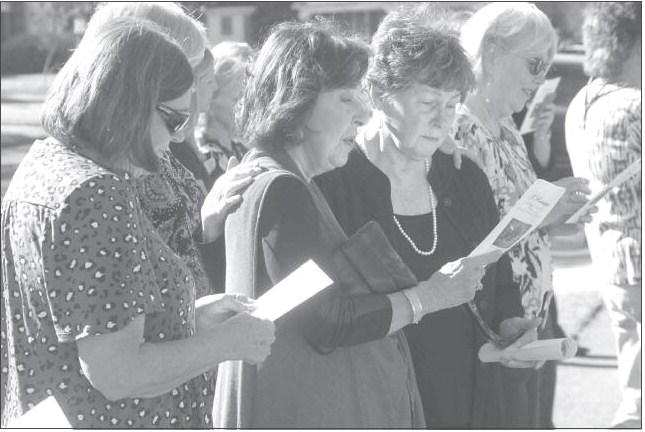 MAKE NEW FRIENDS – Members of Brown's girl scout troop join together in singing the classic, "Make New Friends." L to R: Sue Ann Jackson Balkcom, Lois Elijah, Laura Reed.Photo by Makaylee Randolph