Posted on
Ferguson Re-Arraigned In Police Officer's Death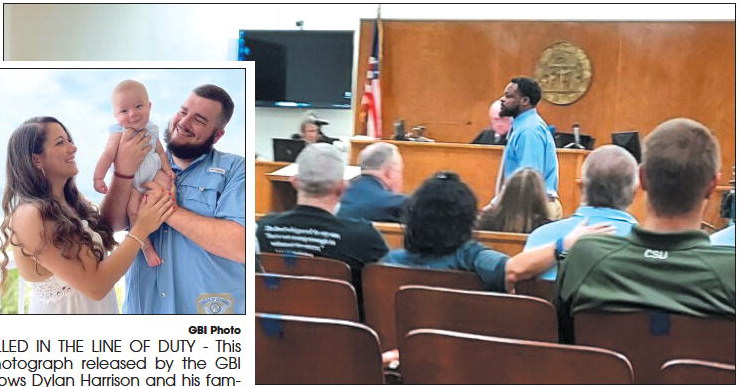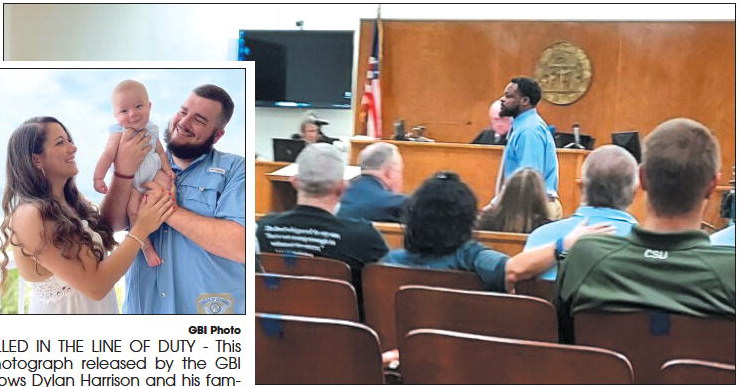 The man accused in the 2021 shooting death of an Alamo police officer entered not guilty pleas to seven counts against him during his second arraignment in Wheeler County Superior Court on August 24. The state is seeking the death penalty in the case.
Damion Anthony Ferguson of Alamo was first indicted by a Wheeler County Grand Jury on December 15, 2021, on six counts stemming from the October 9, 2021, incident which claimed the life of Alamo Policeman and Oconee Drug Task Force Agent Dylan Harrison. continued from page
Ferguson was arraigned last Friday under a new indictment filed by the August 2023 term of the Wheeler County Grand Jury which added an additional count of felony murder based on the possession of a firearm by a convicted felon. The new count was combined with the original counts, bringing the total number of counts to seven.
The counts against Ferguson are malice murder, aggravated assault on a police officer, felony murder (two counts), possession of a firearm by a convicted felon, bias-motivated intimidation of first responders, and possession of a firearm during the commission of a felony.
Ferguson, who has been incarcerated outside of the area since his arrest on October 10, 2021, entered the courtroom in street clothes and without restraints due to a motion filed and granted earlier in the case which affords him those privileges, according to Oconee Judicial Circuit District Attorney Timothy Vaughn, who is prosecuting the case for the state. Ferguson was also allowed via the motion to greet and embrace friends and family members who attended the proceedings.
Ferguson was represented by Jerilyn Bell and Ali Rad of Capital Defenders, and Catherine S. Bernard and Jordan Johnson of Bernard and Johnson LLC. Wheeler County Superior Court Judge Howard C. Kaufold, Jr. presided.
Vaughn said he does not expect that the case will come to trial for a minimum of two years, owing in part to the heavy case load being experienced in the circuit. Vaughn said 51 motions in the case have been filed so far and more are expected. Action on these hearings will be handled in segments in future hearings, Vaughn said.
Harrison, 26, was working his first shift as a part-time officer with the Alamo Police department when he was shot and killed in the parking lot outside of the police station about 1 a.m. on Saturday, October 9, said Natalie Ammons of the Georgia Bureau of Investigation (GBI). Ammons spoke at a news conference at the Wheeler County Courthouse where a command center was established by investigating authorities during the search for the single suspect in the shooting.
Ferguson was apprehended on October 10 following a manhunt in the Wheeler County area which lasted overnight. He was taken into custody without incident at his residence by members of the Georgia SWAT team and the U.S. Marshal's Service, Southeastern Regional Fugitive Task Force.
In a press conference following Ferguson's capture, GBI Special Agent Lindsey Wilkes of Eastman said the shooting followed a Friday night incident in which Harrison apprehended a man who was known to be an associate of Ferguson's.
Ferguson has had previous encounters with the law. He spent more than seven years in prison after being convicted of charges including theft by taking and aggravated assault on a police officer in an incident in 1998. He was released from the Coffee County Correctional Facility in August 2006, Georgia Department of Corrections records show.
In 2020, Ferguson was arrested and charged with felony arson in the first degree following a fire on February 5, 2020, which displaced a mother and her children. He was booked into the Wheeler County Jail on February 12, 2020, after an investigation by the state fire marshal, Wheeler County EMA/Fire, and the Wheeler County Sheriff's Office. He was indicted for this crime in 2021 and that case remains open Most recently, Ferguson was indicted by the August 2023 term of the Wheeler County Grand Jury in a stalking offense which occurred on October 5, 2021. The three counts against him included aggravated stalking, and criminal damage to property in the first and second degrees. Ferguson is accused of violating a preliminary injunction by confronting a woman with the purpose of harassing and intimidating her, and is also accused of damaging her vehicle by slashing the tires and rendering it unsafe to drive, and using a sharp object to scratch the side of the vehicle.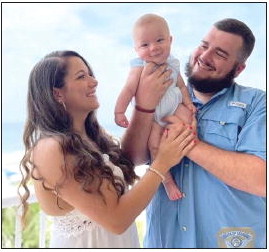 KILLED IN THE LINE OF DUTY – This photograph released by the GBI shows Dylan Harrison and his family. He was working his first night of duty as a part-time officer with the Alamo Police Department when he was shot and killed outside the police department. Harrison was a full-time agent with the Oconee Drug Task Force in Dodge County.GBI Photo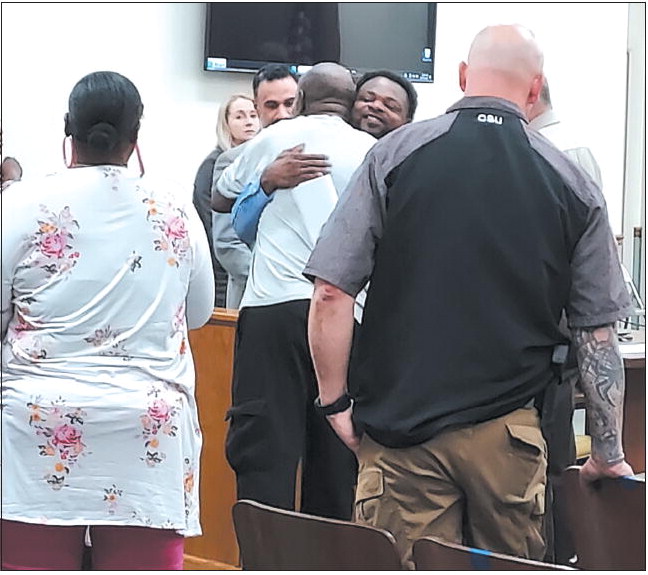 GREETING FAMILY – A motion filed early in his court case allows murder suspect Damion Ferguson to enter the courtroom in street clothes and unrestrained, and to also interact briefly with family and friends inside the courtroom.Photo by Deborah Clark