Posted on
Hopkins Reappointed to Cotton Commission Board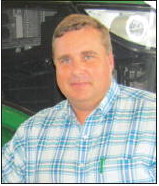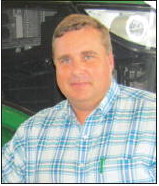 Courtesy of The Georgia Cotton Commission
Toombs County Farmer Chris Hopkins has been reappointed for a three-year term on the Georgia Cotton Commission Board of Directors.
Last month, the Commodity Commission Ex-Officio Committee met to make appointments to the Georgia Cotton Commission Board of Directors. At this meeting, Hopkins and Morgan County Farmer John Ruark were selected to be reappointed for three-year terms, while Bulloch County Farmer Greg Sikes was chosen to fill the seat of Lee Cromley, who had served on the Commission's board since 2011.
Hopkins and his wife Marilynn started their operation on 50 acres in 2005. He is a firstgeneration farmer and has served on the Commission's board since 2017. He grows cotton, peanuts, corn, and rye continued from page
in Toombs and Tattnall Counties. He holds degrees from the University of Georgia College of Agricultural & Environmental Sciences. He serves as a director of Cotton Incorporated and Southern Cotton Growers, and as a producer delegate to the National Cotton Council of America. Locally, Hopkins serves as the president of the Toombs County Farm Bureau and the chairman of the community board of directors for Ameris Bank. He and his wife have two sons and are members of the First Baptist Church of Lyons.
The Georgia Cotton Commission, which began in 1965, is a producer- funded organization located in Perry, Georgia. Georgia cotton producers pay an assessment, which enables the Commission to invest in programs of research, promotion, and education on behalf of all cotton producers of Georgia. For more information on the Commission or other topics, call (478) 9884235, or visit the Commission website at www. georgiacotton.com.