Posted on
VHS FCCLA Receive National Honors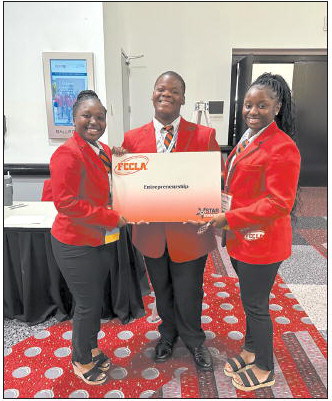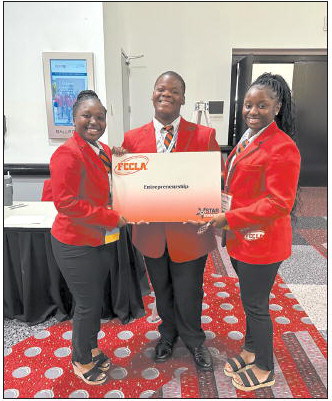 Courtesy of Vidalia City Schools
The Vidalia High School (VHS) Family, Career and Community Leaders of America (FCCLA) attended the FCCLA National Competition in Denver, Colorado, on July 2-7 and brought home three Gold Medals and two Top Ten placements in the National Competition.
Cristal Franklin, who submitted a Chapter Service Project entitled 'Picnic at the Farm,' brought home a Gold Medal, and her project placed in the top ten in the Nation. For this continued from page
project, Franklin held an event at Pittman's Family Farms to encourage children in our community to eat fresh fruits and vegetables.
The trio of Kingston Ryals, Hillaree Hankerson, and Sanaya Lewis also placed in the Nation's top ten with their Entrepreneurship Project, which also garnered a Gold Medal. During this project, the team created 'Beauty & Soul,' an African-American- owned business that creates a safe place for individuals to receive counseling and hair care at the same time.
Also receiving Gold Medal status was Saylor Herrin, who submitted a Food Innovations Project, which featured Protein Packed cookies. Herrin created two cookies, a 'Blueberry Madness" and a Snickerdoodle, with high school athletes in mind.
During the week in Denver, the group was able to hike in Rocky Mountain National Park and go white water rafting in Idaho Springs. 'These trips allow students to not only compete against other schools in the nation, but provide experiences that will last a lifetime!' said VHS FCCLA Advisor Amanda Mosley, who thanked 'all the local businesses and civic organizations that helped make this trip possible.'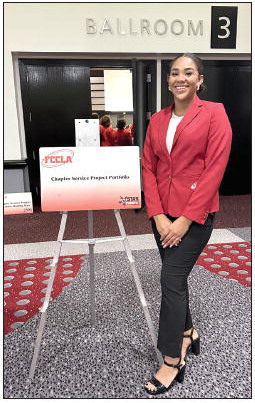 GOLD RANKING – Saylor Herrin received a gold ranking for her Food Innovations Project, in which she created recipes for two protein-packed cookies.