Posted on
Saved By A Single Minute
Local Heroes Rescue Child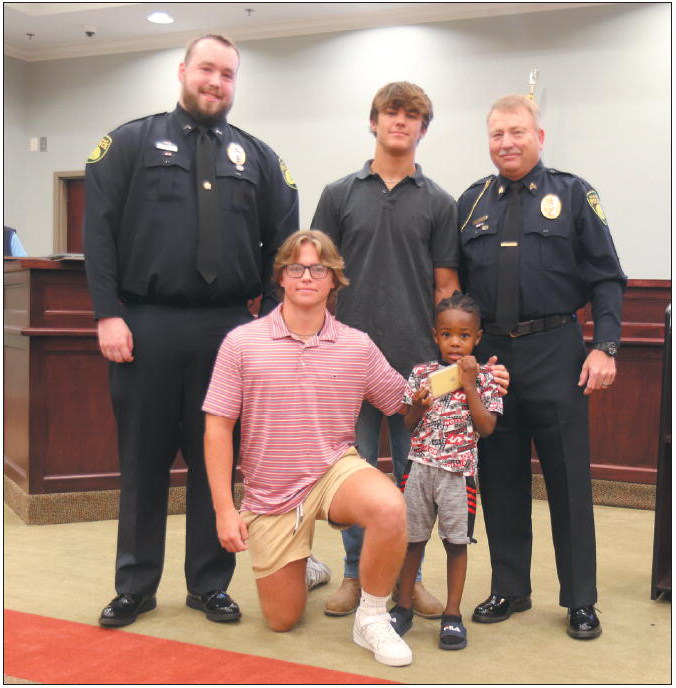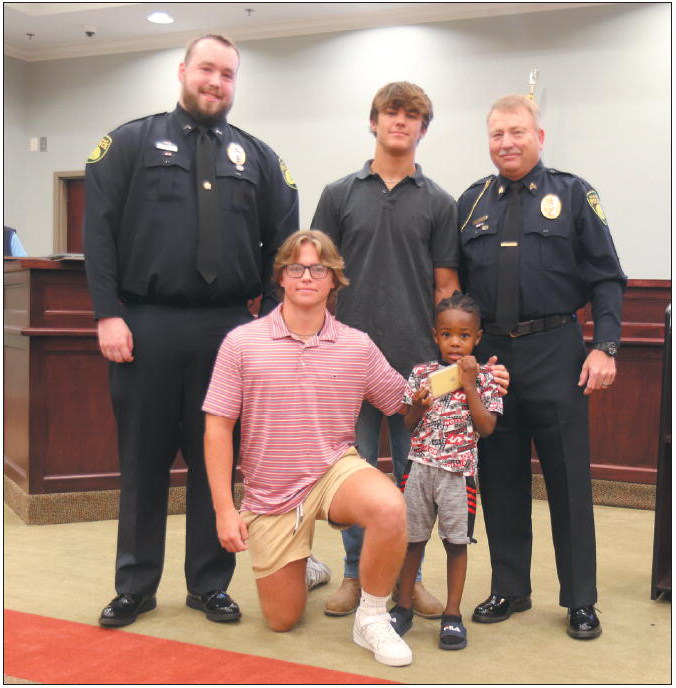 Two teenage lifeguards from the Vidalia Aquatic Center are being hailed as heroes after their efforts saved the life of a 4-year-old child, Demetri Sharpe, on June 24.
Brylen Goss and Deuce Hightower were working at the Aquatics Center when Goss noticed that the little boy, who was at the pool with a 16-year-old, was floating in the water underneath the surface. "We have three stands – two are in the deep end, and one is in the shallow end. I was sitting at the shallow end stand. Usually, the shallow end is more busy because of small kids being there," Goss explained. "I was watching, and I looked down and saw the kid floating in-between the top of the water and the bottom. It's not out of the ordinary for kids to do that – to just go underwater and just float around. I figured that's what it was because I saw him go underwater and roll. I just thought he was playing around until he stayed under for around 20 more seconds."
Goss said he then got into the pool to tell the boy to get above the water to avoid making lifeguards think that he was drowning. "I picked him up and his body was completely limp. He was completely unconscious and unrespon- continued from page
sive," he recalled. "I picked him up out of the water and yelled for Deuce to come help."
Hightower quickly came to Goss's aid, as the pair began doing CPR on the child. "I took my mask out and started doing ventilations, while Deuce started doing compressions," Goss said. "We did CPR for around two-anda- half minutes until the cops got there; then, they did CPR for another minute until the paramedics got there."
"When I got over there, I was kind of in shock and just started doing the things I needed to do – I couldn't really think much, I just had to react," Hightower remarked.
The pair said that in the moment, they could not think about much, and had to act on the training which they received to become a lifeguard. "Because of my training, [the lifesaving procedures] were not something I really had to think about. It was just instinct," Goss emphasized.
According to the young men, they receive lifesaving training certification from the American Red Cross, as well as CPR certification every two years. To obtain these certifications, the lifeguards spend two days at the Aquatics Center training in the pool. During this time, the lifeguard prospects swim 12 laps without stopping, tread water for periods of time, and learn how to administer CPR.
"It's definitely scary," Goss added. "I was obviously kind of shocked, but I was more concerned about keeping him alive because when I got him out, he had a very weak pulse. The cops told us after the fact that if [the child] had been in there another minute, he would have died."
Goss has spent two summers as a lifeguard at the Aquatics Center, but said he has never experienced anything like this. "That's what our supervisor told us: it's [a] real easy [job], until something like that happens," he commented.
Hightower is a firstyear lifeguard, but said the experience gave him insight on the importance of the job and working together. "I'm thankful for all the other guards who did what they were supposed to do to make everything work out," he added.
The lifeguards, Nurse Allyson Byrd who was at the pool and assisted, and the two Vidalia Police Officers, were recognized at the Vidalia City Council meeting on Monday, July 10. The heroes were given Official Proclamations from Mayor Doug Roper and the City Council, which stated: "On June 24, 2023, employees of the Vidalia Aquatics Center and Vidalia Police Department demonstrated bravery and heroism when they took quick action during a life threatening situation; and while working at the Vidalia Aquatics Center and upon identifying a 4-year-old child under water in distress, lifeguards Brylen Goss and Deuce Hightower instinctively enacted lifesaving skills acquired through their certified training by the American Red Cross; and it is recognized and confirmed the immediate administering of CPR, by Brylen Goss, Deuce Hightower and Allyson Byrd, provided the necessary forms of medical treatment until further responding personnel arrived on scene; and it is furthermore recognized, the quick response and continuation of life sustaining CPR, administered by Sergeant David Williamson and Corporal Scott Howard of the Vidalia Police Department, resulted in the outcome of life being preserved; and the City of Vidalia would like to further recognize and praise the training, quick response and collaborative efforts of all individuals involved. Therefore, I, Doug P. Roper, III, Mayor of the City of Vidalia, proclaim on behalf of all our citizens, our sincere appreciation as we honor and recognize Brylen Goss, Deuce Hightower, Allyson Byrd, Sergeant David Williamson and Corporal Scott Howard for their courageous actions."
Vidalia Police Chief James Jermon presented the lifeguards, the officers, and nurse Allison Byrd plaques thanking them for their service and quick action to save a life. Corporal Scott Howard and Sergeant David Williamson were presented pins to be worn on their uniforms signifying their heroism.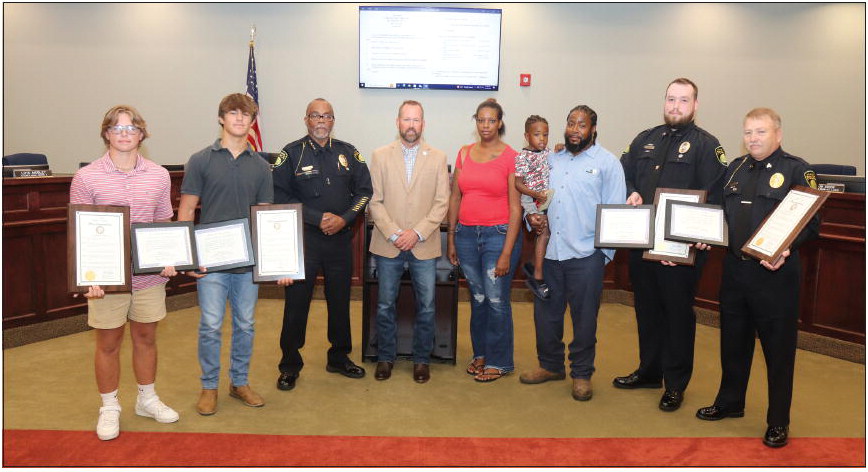 HONORED FOR THEIR HEROICS – The lifeguards and police officers were honored by both the City and the child and his parents during Monday's City Council meeting. L to R: Lifeguard Brylen Goss, Lifeguard Deuce Hightower, Chief James Jermon, Mayor Doug Roper, Mother Angel Sharpe, Demetri Sharpe, Father Demetrius Sharpe, Corporal Scott Howard, Sergeant David Williamson.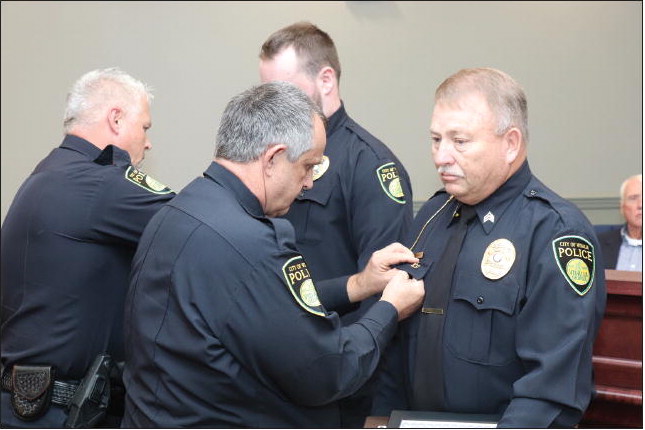 PINS FOR THEIR HEROISM – Corporal Scott Howard and Sergeant David Williamson were pinned by supervisors so that their lifesaving measures may be recognized by those they come in contact with.