Posted on
Loving Lyons Asks For Community Support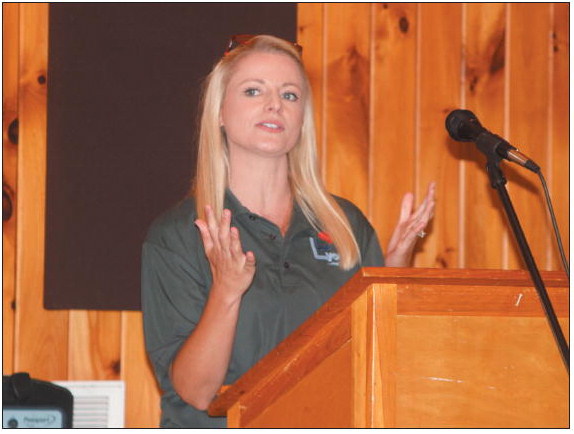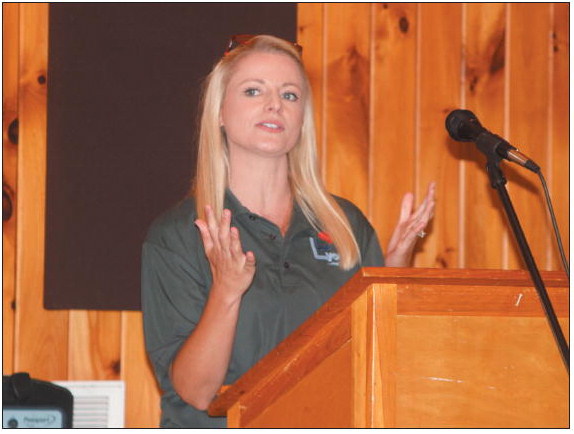 mrandolphadvance@gmail.com
Loving Lyons and Beyond, a local nonprofit organization, invited members of the community to a luncheon to discuss the need for community support on Tuesday, June 27.
"We serve those who serve – we serve others who serve others," Loving Lyons Founder Joseph Akins emphasized about the charity during the luncheon.
The organization was first formed in 2020, when Akins, a pastor at Faith Assembly of God in Lyons, was looking for ways to serve others in the community. "It began as [just] Loving Lyons – that was the name of our church's local ministries," he explained. "We've been doing this for 4-5 years. We have been officially organized for 3 years, but just became a 501c3 organization within the past few months."
The first logo included the colors for both Robert Toombs Christian Academy and Toombs County Schools to show the organization's pride for their city. Yet, as time went on, Loving Lyons began to branch out past the city limits. "We are proud to be from Lyons, but we live in Toombs County. We love continued from page
Vidalia, we have people that are working with us from Vidalia, and we knew that this was going to be a community thing. It has grown even beyond what we thought it would be before," Akins remarked.
Although the organization began with the name of the church's outreach ministry, the church itself was never used in the promotion or definition of the group. "From the beginning, our goal and our purpose was for this to be a community initiative for people to buy into – if I go out there and put that church name, I'm going to lose people because they're going to think I have an agenda," he said. "Well, I do have an agenda: it is to advance the Kingdom of Christ."
Akins went on to continue sharing the emphasis the group places on being a community organization. "We want you to join with us because we believe there is no other place like here," he said. "You serve so well, and it is such a great community to live in. We just want to do what we can [for the area]."
According to Akins, the group's guiding principle is "Impacting By Serving," which they use as a foundation for the mission of the organization. "Our mission first and foremost is to transform peoples' lives in Lyons and the surrounding communities with the life-changing gospel of Jesus Christ – that's what we want to accomplish. But we are not an evangelistic organization, we are a service organization," he clarified.
He added, "The next part of our mission is to connect A to B, whether is be providing food to the hungry, resources to those in need, or the gospel to a dying world – that is a very important and integral part of our mission. And thirdly – this is our primary goal – we are a hub for resources to Lyons, Toombs County, and surrounding communities by brokering and negotiating, and procuring material goods and services for local churches, service organizations, and individuals in need."
Since its first organization, Loving Lyons and Beyond has morphed into an area outreach program, which is why the name was changed. "The organization began changing into what it is now with Convey of Hope," Akins told attendees. "Convey of Hope is a wonderful organization that has been a tremendous blessing to us and this county. They have supplied us with literally hundreds of thousands of dollars worth of resources that we have funneled and channeled into this community and surrounding communities. We weren't just serving Lyons anymore – we were going beyond that. So, we came up with Loving Lyons and Beyond, because there is no bounds to our Father's love, and there is no bounds to serving the Kingdom and others."
After receiving that help to work in the area, Loving Lyons and Beyond continued outreaching to the community "behind the scenes," as they helped other local organizations, such as the Lyons Police Department with charitable projects. "We have operated behind the scenes for quite a while, and we like it that way. We have done so much that we forgot what we've done," he explained. "I like the fact that we have done so much that we have forgotten [all the projects] and moved on. We don't care about [being recognized]; we wanted to serve then, and we want to serve now."
He added, "We need people to know what we're doing so that when we ask for help, people know what we do," Among the projects that the group was involved in was the distribution of toys to every child in Lyons at Christmastime, which was completed by the Lyons Police Department. "We have distributed semi-trailers full of food boxes for families [with] snack foods, water, [and] sports drinks," Akins informed attendees. "We have also distributed trailers of sanitizer, bleach, paper towels, and hand soap. We have distributed smaller trucks – with half a dozen or less pallets – of things like canned goods, baby food, school supplies, clothes, women's shoes, sheets, towels, and plates."
According to Akins, Loving Lyons and Beyond currently serves schools, bus shops, law enforcement, fire departments, EMS/first responders, Department of Family and Children Services, Toombs County Family Connection, Boys and Girls Club of Toombs County, Paul Anderson Youth Home, Mel Blount Youth Home, Georgia Sheriff's Youth Home, Mercy Ministry, The Refuge, Forge Men's Recovery Center, Gardens of Hope RCO, The Dream Center, His Works Southeast Georgia Community Projects, multiple churches, and several local businesses. They also help individuals on the basis of need, though that is not their primary focus.
Akins also stated that Loving Lyons and Beyond had reached numerous counties, including Toombs, Treutlen, Laurens, Montgomery, Tattnall, Wayne, Ware, Emanuel, Appling, Twiggs, Bibb, Bulloch, Candler, and Evans counties.
The group is currently planning several projects, including an Autism Awareness program in the fall, which will benefit families with individuals with special needs. Also, the organization will host a Suicide Prevention campaign, which will include an assembly at Toombs County High School, training for teachers and staff, similar but separate training for local first responders, and a worship-focused community rally. Along with these events, the group is working to provide afterschool care for children, and temporary and longtime housing for those in need. They also are sponsoring a men's prayer group on a quarterly basis.
"We don't know how you do what you do – we just want to come alongside you and see you succeed at what you do," he emphasized about the organization's work with others.
Akins also informed the luncheon attendees that his purpose in sharing information about the work of the organization was to gain support from the community for future projects. He said that the group is currently needing work trucks, a refrigerated truck, and a few more vehicles for the transportation of goods. In addition to this, the group needs "boots on the ground," or individuals willing to volunteer their time to the group's work.
Among the Loving Lyons and Beyond Board Members who are currently dedicating their time to serving the community with the group is Board Chairwoman Tabatha Nobles. Nobles began getting involved with the organization after her experience with them while working as the principal at Lyons Upper Elementary School.
According to Nobles, Akins was one of many representatives from a variety of organizations that visited the school and offered to do acts of service for the students. "With almost every organization that came in, they wanted something in return," Nobles explained. "That was not the case with Loving Lyons. They came in, no strings attached, and gave every single one of our teachers and students a pair of shoes. It was incredible, and I and my staff were blown away at their kindness."
In fact, Nobles said that kindness impacted the staff of the school so much that they would often volunteer when needed, fundraise, and even host blood drives on the campus. "Seeing how amazing they were to us just really touched me," she emphasized. "I am proud to be a part of this organization."
Nobles helps to lead the board, which is composed of Rhonda Benton, Tony "Doc" Wardlaw, Wesley Walker, Kevin Collins, Jason Hall, Willis NeSmith, Kimberly Holland, Laren Hodges, Tres Herin, and Joe Gabbard.
For more information on Loving Lyons and Beyond, or for information on how to donate or volunteer, email the organization at contact@lovinglyons. org.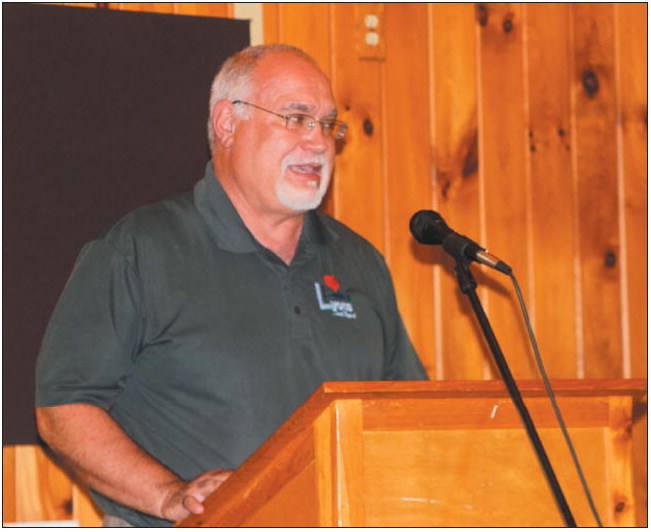 WORKING BEHIND THE SCENES – Loving Lyons and Beyond Founder Joseph Akins said that the organization enjoys working "behind the scenes" and allowing others to get the credit for the work that they do.Photo By: Makaylee Randolph