Posted on
Faison Park to Receive $2.2M Facelift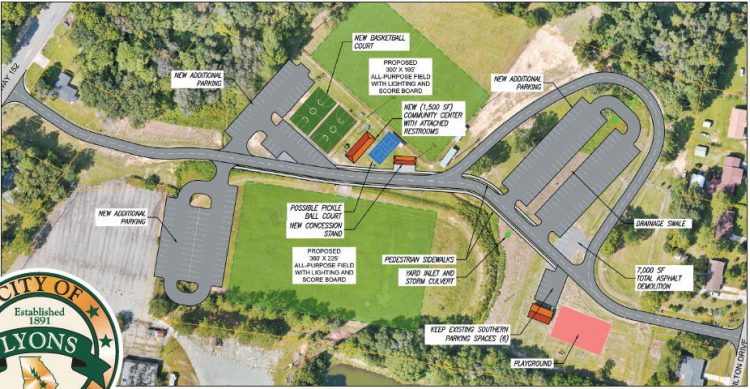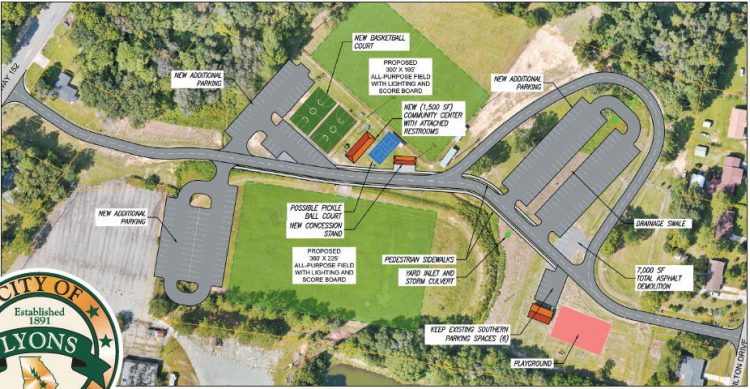 Vincent Faison Sr. Park, located along Ben Mitchell Road, will receive a $2.2 million renovation after receiving a neighborhood assets improvement grant from Governor Kemp. The community celebrated this accomplishment with a public ceremony at the park on June 6.
"Today is a historic day for us. I came on City Council back in 2004, and I know this has been an idea and a dream for us since all the way back then – when John Moore Sr. was Mayor and Ben Mitchell was Mayor Pro-Tem. I can remember them telling me about things they wanted to get done here, and ideas and visions we wanted to do. Well, it's taken right at 20 years, but we are finally getting something
1891 continued from page
done here. I am happy and thankful to know they're looking down – John Moore Sr. and Lynn Mitchell – on what we are going to get accomplished here," Mayor Willis NeSmith Jr. remarked.
The park was formerly known as Hallmark Park before being renamed almost 15 years ago to honor longtime Lyons Recreation Department Volunteer Coach Vincent Faison Sr. It holds a lot of history and memories, according to the public.
"Right over there was a football field," Mayor Willis NeSmith Jr. explained. "I can remember Mr. Ben [Mitchell] telling me about it. It was Lyons Industrial School over there, and Mr. Ben played football over there. What he told me was that Mel Blount played football over there. That is a Professional Football Hall of Famer that we had grow up here, and he played football right over there on that field. There is a lot of history here and a lot of memories."
State Senator Blake Tillery reminisced, "I got to play baseball on this field. When Partin Park would be filled, we would come over here and play our games. Hopefully, in 30 years, when someone is standing up here again talking about their opportunity to play on this field, the community will be in a place to once again invest and continue to make things here in Toombs County better."
"In 1988, the pinnacle of being a young boy playing in the Lyons Recreation Department was not Partin Park. The pinnacle was coming to Hallmark Park, playing for a Kevin Hill All Star [Baseball] Team, and muscling up to get the ball over that fence," Councilman John Moore Jr. added. "I reached my pinnacle. I played for a Kevin Hill All Star team, [and in a game against] Reidsville in 1989, it went over that left field fence. I could tell you story after story about the vision that's been here. This is home to me."
Moore continued, "The drive to bring this part of the Recreation Department back where it needs to be, back to the community, has been a vision for several years since Daddy and others. There are a lot of memories here, and that's what you want. That's what we thrive for and push for. Thanks to Governor Kemp, Senator Tillery, and Representative Hagan, that dream is coming back. When that last brick is laid, when that little bit of asphalt is put down, that vision will be completed. That's what it's all about. A community as strong as ours works together."
Most of the improvements are focused on the increasing community involvement at the park. "What we are going to do here is widespread: a new basketball court, pickleball courts, soccer fields, community center, pavilion, bathrooms, many things we are planning on doing here. It will be great to see; I don't know how long it's going to take – hopefully, it will only take a year or two – but we are excited about what is coming down," Ne-Smith explained.
He said that State Representative Leesa Hagan and State Senator Blake Tillery were "instrumental" in attaining the grant. Councilwoman Cathy Benton echoed these sentiments, as she said, "I'd like to thank Senator Blake Tillery and Representative Leesa Hagan for being an advocate on behalf of our city and for the job that they do to make sure we receive what we are asking for."
Both Tillery and Hagan were in attendance at the celebration and spoke on the occasion. "Community is so important, and Faison Park is at the center of it for so many residents here in Lyons, so I'm very excited to see how it's going to change and increase the activity level in town," Hagan remarked. "Thank you to Mayor Ne-Smith, City Council, [City Manager] Jason [Hall], [and] everyone down at City Hall who put the work in to apply for this grant. Grant applications are hard work. Congratulations on getting this grant!"
Tillery added, "This is a really exciting day. It's an honor to be here. There is a lot of people who deserve a lot of credit, and I am one who does not deserve the credit on this one. Those [who deserve the credit are] Rick [Bennett] and Brett [Manning] from the [Heart of Georgia] Regional Commission who wrote the grant, [and] City Council who had the foresight to realize they have to match this grant – they have to have the funding to put forth to maintain the park. The state will come in here one time, but we have to make sure it can be sustained because if we are going to go and paint a building, we want to make sure that building doesn't fall down the next year. So, that's where you guys come in – community support has to be there for this place to be maintained and sustained. "
"I've said it before: the state is really good at stacking bricks together – building parks and places – but we are not as good at making sure that those facilities carry on the mission afterwards," he continued.
Tillery also thanked Governor Kemp and Georgia Grants Division Director Jen Wadefor their help bringing such a large grant to the small community. "The Mayor said earlier that this grant is $2.2 million – I just want to make sure you understand the size of that grant. The general revenue budget for the city of Lyons is roughly $4.5 million. So, you're talking about an investment that is roughly 50% of the entire general revenue estimate of Lyons in a community park in one year. That is huge," he emphasized.
Members of the Faison family were also in attendance at the event, and Faison's first cousin Theron Faison addressed the crowd on his gratitude for the kindness that they've shown his family. "This is a great day. We realize that we need to give thanks to individuals on the state level, as well as the City and County level for everything that they have brought forth before us on today," he said.
Faison informed the audience that the family had moved to the area many years ago from Clinton, North Carolina. "I wish our patriarchs could be here today just to see what Vincent has done not just for the family, but also for the community," he reflected. "As I sit back and think of Vincent, so many times, I think about how well he did in sports. I think he was one of the better athletes that there was in the family because he played multiple sports."
He concluded, "God has really blessed us and we appreciate it. We have been brought up in a very nice community – a good community. We used to come down here to these basketball courts during our younger years and played a whole lot of ball. We even played with the Peoples Bank softball team here. But the thing about it was the people who we grew up around have made us very proud on today by being here and establishing everything you all have established for Vincent."
Commissioner Alfred Cason also addressed the audience and the Faison family, as he brought his sister-in-law Toni Faison along with him to address the crowd. "This is Vincent's wife," he said. "Vincent's wife was very close to my family. I remember at the Vincent's funeral, Coach [Anson] Calloway named this park Vincent Faison Sr. Park. Everybody agreed, and my heart liked to jump out my frame – I was so grateful. And I was so grateful of Ben [Mitchell] and all of you who was on City Council that agreed to that."
"This County has done marvelous things for us – for all of us. Lets treat it with some care. Let's treat it like it may be the last time [we receive a grant like this]," he shared.
Ben Mitchell's son Quincy Mitchell also addressed the crowd. "Man, this is such a great honor for the City and a great honor for my dad. Thank you to the Faison family for sharing this honor with us, and allowing the street to be named after my dad," he said. "This was a dream of his for a long time to get this park rebuilt and thriving the way it was when we were growing up. My par­continued from page
ents always knew where to find me – I was here until the street lights came on every day. It is great to see that it will be rebuilt and restored to its past glory."
Councilwoman Cathy Benton shared her gratitude to God for the occasion. "I wanted to start off by saying thank you to our Lord and Savior Jesus Christ for answered prayers because I prayed about this. When Jason called me and told me that we were going to be able to get this grant, I started praying about it. It is an answered prayer," she told the group.
She added, "I am excited for the improvements here at Faison Park. It's going to be good for our neighborhood – especially for our kids and grandkids. I am also happy that we as the City will be able to have a new community center, basketball court, and all of the amenities that we will be able to do at this park. It has been a long time coming, and we are excited for that. I am grateful to have played a part in this."
The celebration ended with the presentation of the grant check from Heart of Georgia Altamaha Regional Commission Director of Economic & Community Development Rich Bennett and a contributing grant writer. The start date for construction on the renovation has not yet been announced.


CHECK PRESENTATION – Members of the Faison family and local government leaders were presented with a check by members of the Heart of Georgia Altamaha Regional Commission. L to R: Toni Faison and Grandchildren, State Representative Leesa Hagan, Councilman Tracy Johnson, Quincy Mitchell, Councilwoman Cathy Benton, Councilman John Moore Jr., Mayor Willis NeSmith Jr., Rich Bennett, City Manager Jason Hall, Brett Manning.Photo by Alysa Marsicano



FAISON FAMILY – Vincent Faison Sr.'s family was in attendance at the grant celebration, and his first cousin Theron Faison addressed the crowd as Mayor Willis NeSmith Jr. looked on.Photo by Makaylee Randolph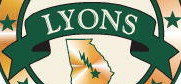 SHARED HONOR – Ben Mitchell's son Quincy Mitchell thanked the Faison family for sharing this honor.Photo by Makaylee Randolph



TREAT IT WELL – Both Commissioner Alfred Cason (right) and Faison's wife Toni (left) told the public to make sure to respect the facility and to help maintain it as a nice community asset.Photo by Makaylee Randolph