Posted on
McLendon New Altamaha EMC General Manager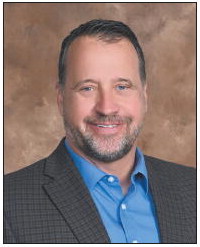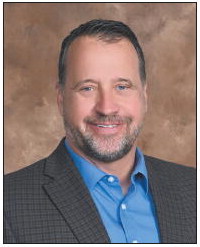 mrandolphadvance@gmail.com
George McLendon began his career with Altamaha EMC as a lineman, moved up through the ranks in management positions and now has been selected General Manager of Altamaha EMC/Fiber.
McLendon succeeds Romanous Dotson, who is retiring after 49 years of service, including 13 as the General Manager.
'I am honored to have been selected as the new General Manager of Altamaha EMC,' McLendon said. 'I look forward to working with the Board of Directors, the employees, and the members to build on the cooperative's successes and tackle the challenges ahead.'
McLendon first began working for the company in 1987 as a lineman apprentice. continued from page
"I started with contractors that worked with Altamaha EMC, then came to the company in '87, and spent most of my career up in the office in Soperton. I've spent probably 25 years there as a serviceman, lineman, and then District Manager of that office in 2019. A few years ago, I moved down here [to the Lyons office] as the Assistant Manager," he explained.
According to McLendon, his new position is not much different than the work he grew accustomed to as Assistant Manager. "It's a little different. I didn't have to make the final decisions when Romanous was here, and there's always some decisions easier than others," he remarked. "Being here so long, I've worked with a lot of these guys, especially the crews; you know, we worked poles out together, and now, I'm their boss. It's a little difficult for me and for them, I'm sure, but I think if you treat people fair and treat them all the same, I think they respect that."
Th e Altamaha EMC Board of Directors is confident that McLendon's leadership skills and industry experience make him the ideal candidate to lead the cooperative into the future. 'We are thrilled to welcome George McLendon as our new General Manager,' said Board Chairman Bob Youmans. 'His 36 years of experience, knowledge, and passion for the cooperative model make him the perfect fit for our organization, and we look forward to working with him to continue providing outstanding service to our members.'
"We have some really great employees that are dedicated," McLendon said about the business. "If you work at a power company, it has to be more than just a job to you; it has to be your life because we're on call all the time. You could have your kid's birthday party planned for a weekend and a storm rolls in and you have to leave; it's just the nature of the job, but our employees do it well."
McLendon shared a message of reassurance for customers regarding their services. "We're going to continue to work to keep rates as low as possible and to connect more customers to broadband. We are going as fast as we can, just please be patient with us, and call us if there is ever anything that you need," he emphasized.
With McLendon's appointment, Altamaha EMC is well-positioned to continue delivering safe, reliable, and affordable energy to its members for many years to come.