Posted on
Ready, Set, Grow!
Center For Rural Entrepreneurship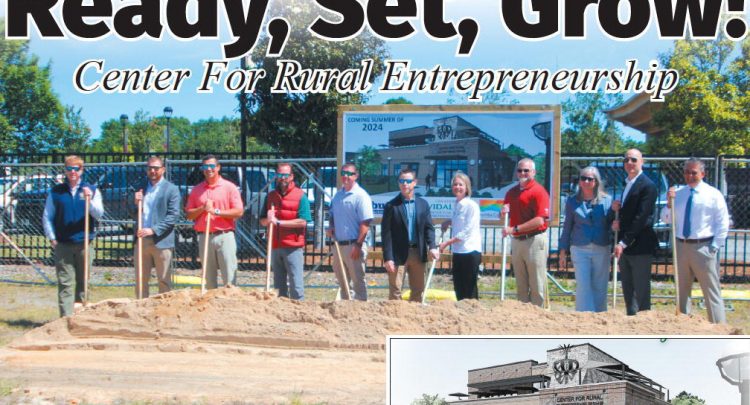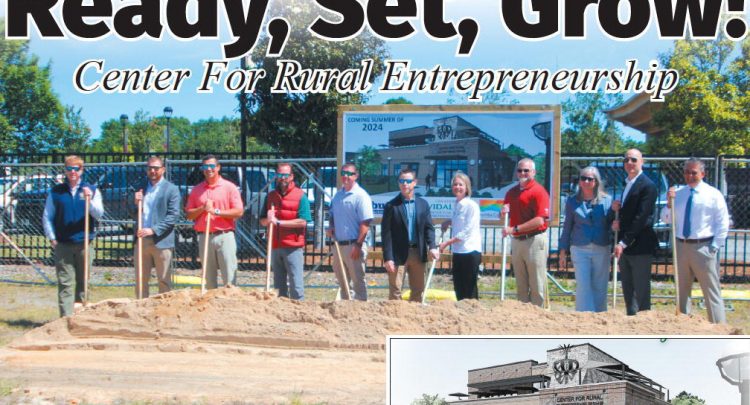 The Greater Vidalia Chamber and Toombs County Development Authority, kicked off the 2023 Vidalia Onion Festival week by breaking ground on the regional business incubator facility on Monday, April 17.
According to Toombs County Development Authority Executive Director and Greater Vidalia Chamber President Michele Johnson, the Center For Rural Entrepreneurship is a project that has been in the works for the past five years.
"The Center is a Southeast Georgia regional initiative that will stimulate the establishment and growth of entrepreneurial companies by providing coworking, incubation, mentoring, technology, tools, strategic support, and a collaborative downtown environment where entrepreneurs can develop the projects of their dreams," Johnson explained. In June 2022, Vidalia was one of nine communities to benefit from a $17.25 million allocation of Downtown Development Funds by the Georgia Department of Community Affairs. continued from page
Of that $17.25 million, the Toombs County Development Authority received $4,059,474, which they combined with $750,000 of OneGA funds, and a $859,386 local match.
These funds were designated to the creation of the Center, and half of the former Econo Inn property, which is located along Highway 280 East in Vidalia and was previously purchased by the City in August 2021 before being transferred to the control of the Downtown Development Authority, was purchased for $666,500 total. Yet, in the sale agreement with the Authority, the Authority pledged to contribute $100,000 to the project.
Vidalia Mayor Doug Roper addressed the property's new purpose at the groundbreaking. "What a great day for our community," he began. "I believe we have had a piece of property in our town that has sadly represented where folks would go for their dreams to die for too long. We are going to turn that around and transform it into a place where folks are going to go to see their dreams come to fruition – that is incredible for our community."
The 14,200-squarefoot construction project, which is being completed by Garbutt Construction, costs a total of $5,688,860, and is expected to be completed by Summer 2024. In addition to providing support and space for new businesses, the facility will also provide businesses direct access to the Greater Vidalia Chamber, the Toombs County Development Authority, and an information technology (IT) provider, Responsive Technology Partners, all of whom will be anchor tenants.
John Koon began the groundbreaking ceremony by sharing the purpose and history of the project. "This project is unique in that it is completely rural community driven. The concept was developed and based on the findings of work facilitated by the community advisory council, which was formed for that purpose, as well as the comprehensive market feasibility study and economic impact study – both which were developed by the Center for Business Analysis and Economic Research, a member of the business innovation group at the partner college, Georgia Southern University," he told the crowd.
According to Koon, the community advisory council activities were funded by the combined efforts of the Toombs County Development Authority, Greater Vidalia Chamber, and Georgia Power. "It is also unique that in Toombs County, the Development Authority and Greater Vidalia Chamber have committed to relocate their administrative offices and personnel to the Center, as well as maintain ongoing development," Koon continued.
This facility is structured to allow developing businesses and aspiring entrepreneurs direct access to several services offered by the two entities and will give a central location for business affairs within the city. Though owned by the Toombs County Development Authority, the Center will serve as a regional rural entrepreneurship facility, servicing business owners throughout the surrounding counties.
Toombs County Development Authority Chairman Tim Truxel also spoke on the project. "Rural entrepreneurship development is a key component in rural development of a community. It may be the most promising strategy for a rural community to adopt," he emphasized. "However, it is more than just brick and mortar – we are creating a public space that will harness the proactive entrepreneurial spirit in our community and continued from page
combine it with supporting services, connections, and networks to create opportunity, bring patrons to the market place, and drive our economy into the future."
Truxel highlighted that the Center will create more local job opportunities and help in the enhancement of the downtown Vidalia area, as well as contributing to the growth of new surging businesses. "These factors will provide the long-term metrics that will be used to measure the success of this project."
"The Chamber's mission is to support our business economy by investing in tools and resources that entrepreneurs need to launch and maintain thriving businesses. This Center demonstrates the Chamber's unwavering commitment to business in our community, and through this project, we will take our support to the next level," Greater Vidalia Chamber Chairman Mike Hagan added.
Both Truxel and Hagan thanked the past chairs of the Development Authority and Chamber for their help in working towards this goal of creating the Center. "I am really appreciative of leaders who understood the power of leveraging public-private partnerships to achieve amazing results for our entrepreneurs and small business community," Hagan remarked.
Reflections
"How cool is it that Vidalia has an opportunity to do this for that next generation?" Toombs County Commission Chairman David Sikes asked the crowd at the groundbreaking ceremony. "It is amazing. Thank you for being such a wonderful community to be a part of."
"This is a day that a lot of us have waited so long for, and it is finally here," State Representative Leesa Hagan added. "I want to see this community be one that our young people can live in – when they graduate from high school, they can stay here in Vidalia and find a job or start businesses and work. If they go away for college and university, they know that they can come back here and have a future where they can support their hometown that they love so much, raise their own families here one day, and thrive and contribute to this great community. This venture here is going to make that happen."
State Senator Blake Tillery emphasized his gratitude towards those who made the building possible. "I am grateful for the members of the legislature and government that made this building possible through a development grant, but it would not have happened if it was not had the local membership of Chamber and Development Authority in all three cities of our county – Vidalia, Lyons, and Santa Claus – along with our county commissioners not put up that local match that's necessary to make these things occur," he explained.
Tillery continued, "The state can put grants out there, the state can send people down to help you figure out how to open a business, but if folks aren't willing to help themselves and do what this community is willing to do, it just doesn't work. The reason it works in Toombs County is because of you, and it is an honor to represent you."
He concluded his remarks during the ceremony by reminding the crowd that it is not merely the construction of the building that matters, but the activity that goes on within the facility once it is built. "We are really good at building buildings," he told the group. "But what happens in those buildings after those bricks are dry and done is what is really going to matter."
Johnson's Remarks
Toombs County Development Authority Executive Director and Greater Vidalia Chamber President Michele Johnson took to the stage last to share her perspective on the Center, which is her vision.
Johnson began her address by thanking all that made it possible, including Senator Tillery, the chairs of the Authority and Chamber, Georgia Power, Georgia Southern University, late Vidalia Mayor Ronnie Dixon, and more.
She explained to the crowd that helping to grow rural entrepreneurship within the community had been an effort in the works for many years, and that the collaboration between Lyons, Vidalia, and Toombs County had made opportunities possible. "The other communities are doing a downtown or a city, we are working together as a group to make our community better," she emphasized.
"We have been working on this project for almost 5 years now," she said. "This building is a lot more than bricks and mortar."
According to Johnson, the Cultivating Rural Entrepreneurs and Transforming Economies (CREATE) program, which is completed through Georgia Power, will be used to develop programming for the Center during the construction project. Several members of Vidalia and Lyons are serving on the CREATE board, which is evaluating the local area to see what needs must be met.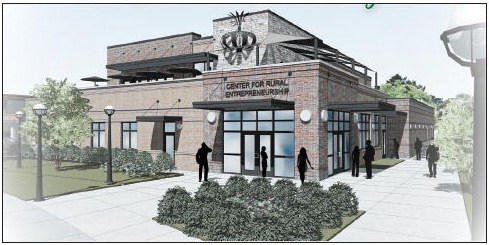 A REGIONAL CENTER – The Center for Rural Entrepreneurship will serve as a regional center for entrepreneurs and small business owners to gain skills and knowledge about how to best operate their facilities.