Posted on
VHA Senior Wins Harvard Model Congress Honors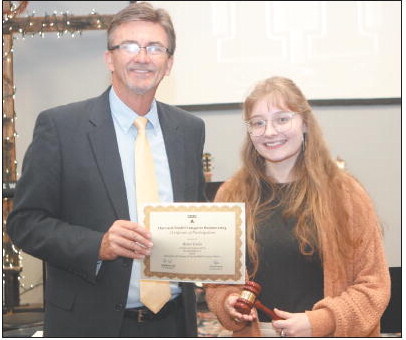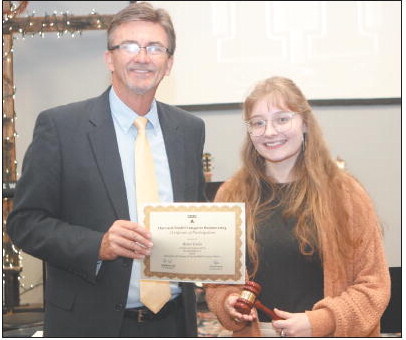 mrandolphadvance@gmail.com
Vidalia Heritage Academy senior Rylee Toole took home the top award for her committee at this year's Harvard Model Congress event, as she was named the Best Delegate for the program's Media Committee. Toole was recognized at continued from page
the school's weekly chapel service on Friday, March 24, where Headmaster Jeff McCormick presented her with the award's official gavel.
"The staffers at Harvard Model Congress are always looking for those who go above and beyond in the work they do in their committees," McCormick told chapel attendees. "Each year, these staffers also look for those who were the best delegates in the committee. We've won the Best Delegate award two other times before this year – Briley Braddy won it, Bryson Henriott won it – and so today, we celebrate Rylee Toole for winning the award this year for her work in the Media Committee."
He continued, "We are so very proud of the entire team, and especially Rylee for this incredible award. She has worked hard for all of her academic career here at Vidalia Heritage Academy, and she did the same thing while she was there at Harvard. This is well-deserved, and this young lady has an incredible future ahead of her." "It was really, really fun. Everyone I met was super nice, and it was a great experience," Toole commented on her work at Harvard Model Congress. About Model Congress
Harvard Model Congress is a governmentsimulation event run entirely by Harvard undergraduate students and held by Harvard University in Boston, Massachusetts, every February. This simulation allows high schoolers throughout the nation to travel to Boston and gain hands-on experience and knowledge as a United States member of Congress.
Over 1500 high school students fro all over the United States attended in 2023. The participants were split into several committees dealing with the executive, legislative, and judicial branches of the American government, as well as several lobbyist and media groups.
Vidalia Heritage Academy first began attending the Congress in 2013, when three freshmen and one sophomore traveled to Boston for the first time. Since then, the school has grown to over 15 participants, ranging from grades 10-12.
Her Experience
Toole, daughter of Tony and Sharon Toole, served on the program's Media Committee, where she informed delegates and chaperones of the news of the happenings throughout the week. "My committee is a lot more lenient than some of the other committees because I'm not in session all of the time [we're there] – that's kind of the difference," she explained. "I get to report on the sessions. So basically I would have to meet with my committee every time that sessions would begin. We would sign in, and then [our leaders] would say, 'OK, you're free to go do whatever you want to.'" During her time in the committee, she worked on four articles, 3 of which made publication during the event. "For my first project, I wanted to write an article about the House of Representatives and Senate and some of the comparative committees they both had – like, they both had Judiciary and Financial Committees – so I wanted my first article to tell what they were beginning to work on and compare and contrast what they were both doing at the same time," Toole said.
"My second article that I worked on was titled 'Menstruation, Human Desire, and the Importance of Power.' It was an opinion piece [inspired when] I sat in [as a spectator] on the World Health Organization [during a session] and they brought up the topic of menstruation. So, all these delegates, who represented countries, would go up and create bills basically advocating or not advocating for certain menstruation products to be distributed and all the logistics of that," Toole said. "I sat in on that because I think it is really interesting and I think it is really important."
The third individual piece she worked on was not finished during the Congress, but served as a valuable learning experience, according to Toole. "It was an interview piece, and I interviewed all the chaperones, and even though I didn't get it published, it was a really, really wonderful experience to get to see their insight [on the experience] because they're not really in [the program]—they're just the chaperones and they're there for the students. They are there for the experience, but they are not really participating themselves," she remarked. "So, I got to talk with some really, really cool people. I talked with a teacher from Puerto Rico who was representing the only school from Puerto Rico that they have at Harvard Model Congress. I also talked with a woman from Massachusetts and it was really interesting to see all their different perspectives."
The annual crisis simulation during the event gave Toole insight on true journalism, as she explained, "Actually, I did end up publishing a third article. Every year they have a simulated crisis, and this year they actually had three different crises. My fellow delegate [and VHA classmate] Lily Williams and I chose to report on the global warming simulated crisis. We published that co-dependently and it was a really fun experience. It's definitely stressful because you have to stop everything that you're doing and think on your feet really, really quickly."
Toole is also taking away many lessons from the experience. "I think that Harvard is really, really intimidating, but it's really what you make of it. After a really hard session or if someone had a bill that they did not get passed, we would go down to the Cheesecake Factory and get some cheesecake. It was a really grounding experience to be in this really high academic space and then be like 'OK, I get to have cheesecake at the end of it; that's what I'm looking forward to.' So, I think just having little rewards and being able to balance things is important, and that is a lesson I can take with me everywhere," Toole summarized.
Parents' Reflections Toole's parents also commented on the award, saying that they were both overjoyed, but not shocked at the accomplishment.
"Obviously, this is one of many accomplishments that we are proud of Rylee for," her father commented. "We are excited to know that she was the gavel winner for being the top delegate in her media committee. We're super excited about that, but we are not shocked. She's done a lot. Last week she [continued to be the] reigning State Champion in Literary for two years in a row, so we're also excited about that, and she continues to amaze us with everything she does. We just couldn't be more proud of her."
Rylee's mother noted, "I just want to say we give God all the glory for this child. She has absolutely been a blessing. With any obstacles she faces, she hits them head-on. She puts her trust in God and I am just constantly lifting my praises to Him for her." Honorable Mentions
Three other Harvard Model Congress participants from VHA received Honorable Mention for the Top Delegate awards within their respective committees: Emily Jarriel, House of Representatives Financial Committee; Cason Jones, House of Representatives Select Committee on Intelligence; and Josie Harrell, House of Representatives Education and Labor Committee.