Posted on
Leslie Seabury Receives Debra Brantley Award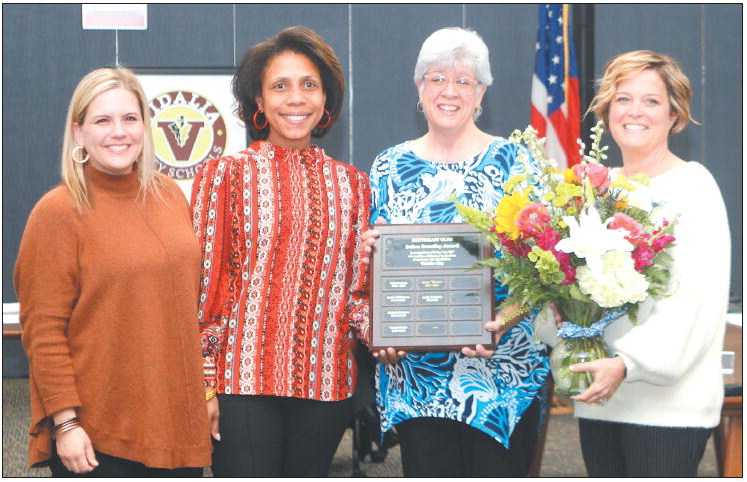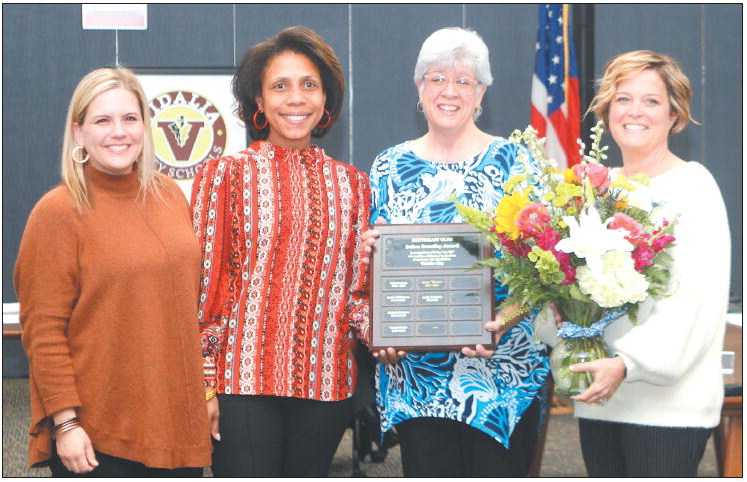 The Vidalia City Schools Board of Education, at its regular session on Tuesday, March 14, celebrated the success of a teacher and approved leadership changes for the district.
Debra Brantley Award
The Debra Brantley Award, also known as the Special Education Teacher of the Year, is awarded to one teacher within each RESA district every year to honor the memory of beloved former Toombs County Special Education Teacher Debra Brantley, who passed away in 2015. Recipients of this award exemplify the qualities that define a successful Special Education instructor and advocate for stu- continued from page
dents with disabilities in the same way that Brantley did during her Special Education career.
J.R. Trippe Middle School Special Education Teacher Leslie Seabury was recognized at the Board meeting for being this year's First District RESA Debra Brantley Award recipient. "It's always great when we have an opportunity to recognize one of our own," Superintendent Garrett Wilcox remarked. "If you ever want a smile or are having a bad day, just go into Mrs. Seabury's room and watch her interact with those kids."
Seabury is not stranger to the award, having won it in past years for the district. Director of Student Services Katrina Black began, "In the past, we have recognized Mrs. Leslie Seabury as our award recipient. Mrs. Seabury has been with us since November of 2012, that's actually when her application was approved, and she has served in the capacity of a special education teacher. She has been an awesome teacher."
She continued, "Debra Brantley was a very dear friend of mine. We used to ride to all of our trainings together, and I was fortunate enough to get to be a recipient of her humor and play a part of her life. She was a champion for kids and was a very good advocate for students with disabilities, so this award is to recognize people who embody those same qualities."
Black explained that the award recipients were first nominated by their school systems, then were selected by their peer teachers rather than a committee by the RESA district.
J.R. Trippe Middle School Principal Sandy Reid also spoke on Seabury. "I don't need a lot of notes to say much about Mrs. Seabury, because Mrs. Seabury knows that I love her and she is one of my favorite people on the whole planet," Black emphasized. "She embodies everything it means to be a servant leader. It is no coincidence that she has received this award before, that she has received the school level Teacher of the Year award before [in 2017], and also the system level [Teacher of the Year award before]. She is not new to being up here in front of the Board receiving these awards, but she is the type of person that every time, she is just as grateful and thinks it's just as special."
Black added, "What she does with the kids and how she loves the kids is a God-given gift and not something that she has learned at any schools, but she's taken that and what she has learned at school, along with training, and gives those kids 150% every day and makes it easy for others to do their jobs," she concluded. Special Education Academic Coach Sarah Cook added, "You know you have a winner when consultants say, 'that woman works too hard!'" Seabury also commented on the award. "Thank you very much. I am very grateful, honored, and appreciative of this."
She will be honored again at the Debra Brantley Award Banquet on Friday, March 24, with other award recipients from other RESA districts.
Leadership Change
Both Principal Sandy Reid and Vidalia High School Assistant Principal Eric McDonald will have new leadership roles in the school system, according to Superintendent Wilcox.
At the conclusion of the meeting, the Board approved naming Reid as the new Assistant Superintendent and Curriculum Director for the District. This position was previously vacated last month by former Assistant Superintendent Ginger Morris.
"I feel blessed for the opportunity to serve Vidalia City Schools in the capacity of Curriculum Director and Assistant Superintendent," Reid remarked. "I look forward to working closely with school administration and school personnel to increase performance levels and to continue building a culture that promotes excellent learning opportunities of all kinds for students across the District. I love this school system, and I love our community and this is an opportunity to give back to both."
She continued, "The change in positions is bittersweet in that every opportunity comes with a cost and in this situation, the cost is my day-today interactions with the staff, students, and families at J.R. Trippe Middle School. These past 7 years as Principal at J.R. Trippe [Middle School] have been the greatest experience. The relationships developed will last a lifetime, and the impact our team has made on the hundreds of students that come through Trippe during this time is a gift. I will miss being in this position but look forward to serving the same students, staff, and community through another role. It will always be a great day to be a Chief!"
McDonald, who has been the Assistant Principal at Vidalia High School for 3 years, will fill Reid's vacated position as Principal of J.R. Trippe Middle School.
"It is a blessing to be named the Principal at J.R. Trippe Middle School," McDonald emphasized. "My family and I are excited for the opportunity to join such a wonderful work family and honored to follow Dr. Sandy Reid's leadership. I am thankful to Dr. Wilcox and the Board of Education for the opportunity to advance my career in administration and for all the opportunities I have been allowed in my time here at Vidalia City Schools. A huge thank you to [former Vidalia High School Principal] John Sharpe and [current Vidalia High School Principal] Bruce Mulkey for their guidance and faith in me as a school leader."
He added, "I am extremely grateful for my time at Vidalia High School. My VHS family has been wonderful, and I will miss them greatly! VHS is the best high school in the state due to our wonderful staff, students, and parents. I am thankful for a patient, loving family who have always been so supportive. I am looking forward to this new chapter and will always Rep the V!"
This change will occur at the beginning of the 2023/2024 School Year.
Board Member Appreciation
The week of March 13-17 was celebrated throughout the state as School Board Appreciation Week; thus, Superintendent Wilcox and Communications Director John Koon recognized the Board for their tenure during the meeting.
According to Wilcox, each Board member has spent various years serving Vidalia City Schools: Bruce Asberry – 20 years, Hal Chesser – 16 years, Chairwoman Julee Torrance – 6 years, Anthony Blount – 3 years, Sadia Ajohda – 2 years. Wilcox and Koon also informed attendees that the Vidalia City Schools Board of Education is 1 of only 5 schools in the state whose Board members receive no monetary compensation.
"People that run for public office typically are compensated for their time – sometimes it's lots and sometimes it's little – but we are one of five Districts who are not compensated," Wilcox emphasized. "They are truly public servants in my mind, and we truly appreciate what they do. I know they don't ask for anything in return, but we are so thankful for you all."
Koon added, "I don't know any city council in the state and there are only 5 boards in the state of Georgia that do not receive any compensation. They do this because of the love of the school system, and most importantly, the love of the students. You guys have hard decisions to make – you have to take a lot of stuff on the side, and we want to show you how much we appreciate y'all."
The Board members were presented with gifts, which included a Vidalia City Schools shirt and several gift cards. Action Items Personnel
J.D. Dickerson Primary School Paraprofessional Allison Hayes' resignation was approved, which will be effective immediately. Resignations, which will be effective at the end of the 2022/2023 School Year, were accepted for: Vidalia High School Teacher Jason Cameron Vidalia High School Teacher Brooke Cameron Sally D. Meadows Elementary School Teacher Brooke Morris J.R. Trippe Middle School Teacher Niesha Bell Vidalia High School Teacher/Coach Britt Ingle Vidalia High School Social Studies Teacher Chad Barker Vidalia High School Art Teacher Kristin Kyzer.
Retirements were also accepted for Bus Driver/ School Nutrition Cashier Lorance Mackey, and School Nutrition Assistant Jennifer Tang.
Melissa McRae was hired as a Bus Monitor and will begin immediately. Approved hires, which will begin at the start of the 2023/2024 School Year, are: Vidalia High School Health/P.E. Teacher/ Coach Eric McNair Vidalia High School Chorus Teacher Kellie Rowell J.R. Trippe Middle School Teacher Candace Medlock J.D. Dickerson Primary School Assistant Principal Beth Wiggins J.D. Dickerson Primary School Teacher Amber Melton J.D. Dickerson Primary School Teacher Tiffany Trim
Sally D. Meadows Elementary School Teacher Anne Dixon J.D. Dickerson Primary School Paraprofessional Melissa McRae Vidalia High School Art Teacher Elizabeth Wolfe Other Approvals
The Board agreed to request the assistance of the Georgia Department of Education in the development of a new Five-Year Local Facilities Plan. This practice is normal procedure, which occurs every few years, for the district.
Board Member Bruce Asberry was selected to serve as the Board's delegate for the Georgia School Board Association Delegate Assembly, which will be held in Savannah on June 9.
Updates Centegix All alert badges have been scanned and assigned to specific staff, who received training on the badges during the professional development day on Friday, March 17. All school level drills were practiced during this training.
Nurse's Office Changes
Superintendent Wilcox informed the Board and attendees that the District has discovered a Department of Education liability issue that will no longer allow the schools' nurses' offices to administer over-the-counter medication to students. "In the past, our nurses have been able to call parents and ask if they could give the student Tylenol or anything like that, but now, we will not be able to do that," he explained.
Wilcox said the school is working to notify the parents of this change.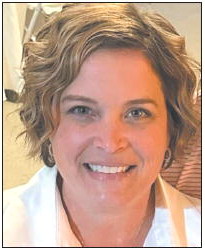 Dr. Sandy Reid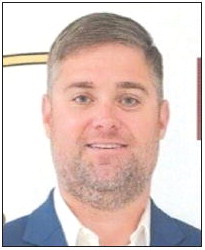 Eric McDonald