Posted on
Lyons Granted $320,000 for Sidewalks and Bike Path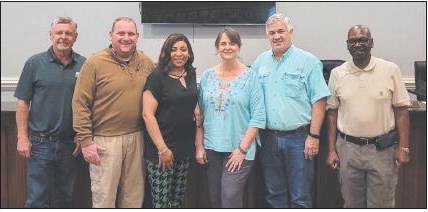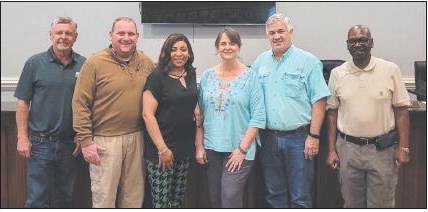 Lyons City Manager Jason Hall announced at the regular meeting of the City Council on Tuesday, March 7, that the city has been granted the Transportation Alternatives Grant of $320,000 by the state to complete a few projects to create sidewalks and bike continued from page
paths. According to Hall, this was available to cities within the state with a population of less than 5,000, and was composed of state funding which had been set aside for this purpose. This grant is slated to fund nontraditional transportation-related activities, such as amenities for foot traffic and cycling.
The projects that Lyons plans to complete with the funding include creating a sidewalk from U.S. Highway 280 and Bulldog Road to the Lyons city limits, which will provide a designated walking area for those traveling near the local schools. "We have a lot of pedestrian traffic around the schools, so this will create a safe pedestrian walkway," Hall emphasized.
Another sidewalk will also be constructed along GA Highway 292 between the Toombs County Courthouse complex and the downtown Lyons area. A pedestrian bike path will also be built along Highway 280 from its intersection with South Victory Drive to the city limits. The City is also hopeful that funding will come from another source to connect the current sidewalk along Hwy 280 in Lyons with the road's sidewalk in the Vidalia city limits.
Action Items Pay Increase Council members authorized the City to publish a notice of intent to raise the pay of the Mayor and City Council, effective in January 2024. This proposed change would increase pay for Council members to $200 per month, making their total yearly compensation $2,400, and would make the Mayor's compensation $250 per month, totaling $3,000 per year. This notice of intent will be published through media outlets for several weeks, and a public hearing will be held regarding the matter at the next Council meeting on Tuesday, April 4 at 6 p.m.
Rezoning
Three parcels of land, located at 123 N. Washington Street, 1331 N. Washington Street, and 132 W. Columbia Avenue were rezoned from C-1 to R-2 to allow Josephine Flores to begin constructing duplexes. Reynolds previously presented the request for the zoning change at the city Zoning Board meeting on February 23, and the Board recommended that the City Council approve the request. The construction plans were submitted to the Council for review. Contractor Jason Castro attended the meeting to speak on Reynolds' behalf and informed Council members that the preparation for and beginning of construction will get underway next week.
Appointment
Lyons Development Authority Member Becky Rollins was reappointed to the Authority after her initial term ended recently. Previously, Rollins spoke with Mayor Willis NeSmith and agreed to continue to serve on the Board. Her new term ends in five years.
Budget
The annual Capital Budget for Fiscal Year 2023 was unanimously approved by the Council. Request For Support
Attallaka Harris approached the Council to ask for the city's support in hosting the 3rd Annual Juneteenth Jubilee, which is slated for Saturday, June 17, from 4 p.m. until 9 p.m at Vincent Faison Park (contingent on Council's future approval).
"The last two years have been nothing less than a true learning experience, but it has been something that has blossomed beyond our wildest dreams…well, not really, because there are still bigger and better [things] to come," she emphasized.
The Juneteenth Festival is held each year by the Toombs County Spreading Equity and Empowerment in Disenfranchised Societies (SEEDS) organization. In previous years, the event has featured community service projects, such as providing boxes of supplies to the seniors, and a basketball tournament; but, this year, the key event will be the King of the Grill competition, which also serves as a salute to Father's Day.
The event will also be held later in the day than it is normally held. "The last two years, we have learned a lot. We have learned [about] rain, God knows we have learned [about] heat, so we are also learning and growing. This year, our plans are to start a little bit later in the afternoon, and then, if we can get everything approved, ending the evening with a fireworks display," Harris told Council.
She concluded, "We have a whole lot of things going on, but we just ask, once again, if the City of Lyons will support us as we bring about social and economic equity of disenfranchised societies right here in our own county through SEEDS, the nonprofit organization. We are the ones who take this Juneteenth [Jubilee] and other activities to help empower residents of our counties through bringing in money with our Food Truck Friday's and Movie Nights, as well as different community events that we have planned out and will be rolling out all year."
Mayor NeSmith responded to Harris's request. "Mrs. Tal, you have our participation 100%. It has been great the past two years, and we expect another good event this year."
Reports Lyons Main Street Lyons Main Street Association Director Daphne Walker informed Council that Toombs County Assistant Superintendent Tabatha Nobles has joined the Association's board, and local business owner Tommie Williams has applied for a façade grant to update his property in the downtown area. She also told the group that the Tales from the Altamaha production practice has began at the Blue Marquee theater in Lyons.
According to Walker, Community Heart & Soul Program Representative Jim Manning visited the area last month and presented a PowerPoint to 12 people from the community. "We had Altamaha EMC, The Advance, Toombs County Magazine, the Development Authority, Department of Family and Children Services, City officials and more [all have representatives attending this meeting], so it was a really good cross-section of people to listen to that program," she remarked. "This program is a resident-driven process that engages the entire population of the town, identifies what they love most about their community, what futures they want most for it, and how to achieve it." Walker said she is hopeful to be able to complete this 18-month program for the City, but is awaiting negotiations of potential cost-sharing between the Lyons Development Authority and Altamaha EMC.
Walker told the Council that the Southeast Georgia Soapbox Derby is gaining popularity among the population, as the recent pageant was one of the largest in the history of the event, totaling 73 contestants, and the state House of Representatives passed a bill proposed by Representative Leesa Hagan to make the Southeast Georgia Soapbox Derby the state soapbox derby. "We had 9 people travel to the state capital to watch the vote on the bill," she explained. "We had a really nice time, and I believe the kids [who attended] learned a lot from seeing it."
She shared that Lyons Main Street Association and the Lyons Development Authority collaborated and held an informative event for downtown property owners last month that was very well attended. The group held a follow-up meeting on Tuesday, March 14.
The monthly Morning Perks social event will be held on April 4, 8-10 a.m. at T-Byrds.
The Super Kids Soapbox Derby will be April 28, at 9 a.m. while The Run What You Brung Race will happen at 7 p.m. on April 28. The local Soapbox Derby will be April 29, at 9 a.m. Contact Jonathan Gordy for more information at 912-293-5763. Greater Vidalia Chamber Chamber President Michele Johnson thanked Mayor NeSmith, City Manager Jason Hall, and Lyons Police Chief Wesley Walker for their participation in the recent "State of the Cities" event, which was held on Thursday, March 2.
"Thank you so much for participating in the 'State of the Cities' event. We have had tons and tons of positive feedback, and we hope you have experienced the same. This was a new event. We had some of our business members reach out and suggest it, so we tried it, and I was very pleasantly surprised [at it's success]. I know the City and Chamber are all struggling; we are doing all this stuff to communicate with people and trying to get the word out, but I think this was very effective to sit down in a family-style atmosphere and just talk through some stuff and spread positive news. Y'all did very well, and I thank you so much," she emphasized.
Johnson also updated the Council on several upcoming events, such as: Toombs County Development Authority monthly meeting – Thursday, March 16 at 12 p.m. at the Chamber and Development Authority Board Room ConnectHER Women's Event – Thursday, March 23, 5-7 p.m. at the Vidalia Community Center Elliano's Coffee Ribbon Cutting – Wednesday, March 29, 4 p.m. at 3105-B East First Street in Vidalia Greater Vidalia Chamber Board Meeting, Thursday, March 30, at 11:30 a.m. at the Chamber and Development Authority Board Room.
City Manager
City Manager Jason Hall told the Council that Code Compliance Officer Chris Failla and Community Liaison Alysa Marsicano are currently working on a code enforcement section for the city website, which will allow the public to look up ordinances, file complaints, and more.
He highlighted several "workaversaries" for the month of March, including Lyons Main Street Director Daphne Walker – 8 years; Lyons Police Captain Jeffery Parker – 6 years; and Public Works Director/Fire Chief Darel Corley – 30 years. Those individuals will be treated to a lunch courtesy of the City later this month.
The next work session of the Council will be Tuesday, March 28, at 6 p.m., while the next meeting will occur on Tuesday, April 4, at 6 p.m.