Posted on
Toombs & Vidalia Wrestling Finish In Top 4 At State Meet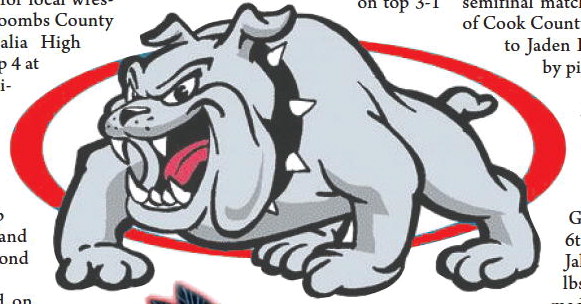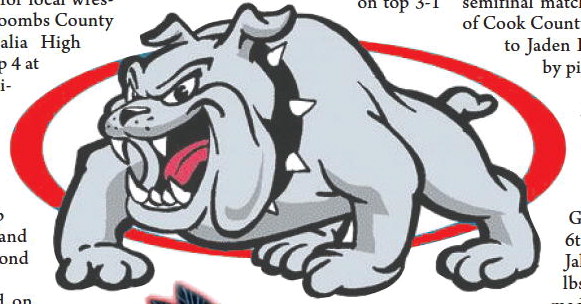 What a week it was for local wrestling programs as both Toombs County High School and Vidalia High School finished in the top 4 at the GHSA State Championships last week. The Bulldogs took the #3 spot with 101 points, and the Indians finished #4 with 96 points. Rockmart took the top spot with 244.5 points and Fannin County was second with 169.5 points.
Both teams wrestled on the first day of the tournament to qualify for the Championship Day. All wrestlers that made it to the second day were podium bound, and earned points for their respective team. The matches listed below all took place on Championship Day.
Toombs
The Bulldogs had two wrestlers finish as State Runner-ups. Tank Morris took 2nd place at 190 lbs. and Wil Watts was 2nd at 215 lbs.
Morris had a bye in the first round and then won by decision in his next match, 5-3. Morris defeated Tyler Malone of Rockmart in the semifinals by the score of 5-2 to move in to the Championship. It was a close battle as Morris faced Noah Allmon of Model in the finals Allmoncameout on top 3-1 for the title.
Watts also had a bye in the first round and then won by pin in the next match. Watts also won by pin in his semifinal match over J'Sun Covington of Cook County. In the finals Watts fell to Jaden Lyons of Pierce County by pin. Also placing for the Bulldogs were Brock Nobles, who finished in 4th place at 285 lbs., and Dabvn Wadley, who was 4th at 138 lbs.
Giovanni Yescos came in 6th place at 126 lbs. and Jahir Lopez was 6th at 106 lbs. All of those wrestlers made it to the podium as well for the Bulldogs and scored points for the team.
Also making the State Championships and wrestling for Toombs were Benjamin Parra at 113 lbs., Samuel Register at 120 lbs., Robert Agzigian at 132 lbs., Slade Landrum at 144 lbs., Tyson Brantley at 150 lbs., Michale Jones at 157 lbs., and Gailan Wilds at 165 lbs.
Vidalia
For the VHS Indians they had one wrestler finish as State Runner-up, and two more come in 3rd place. Gabriel continued from page
Hightower took 2nd place, with Jesiah Townsel and Ronald Pointer comeing in 3rd at the State Championships.
For Hightower at 150 lbs., he had a bye in the first round and came out in the next round with a major decision of 13-4. That moved him to the semifinals where he defeated Zack Sandres of Haralson County by the score of 7-2. In the Championship it was a true battle between Hightower and Ben Lampe of East Jackson. Just one point was scored in the match with Lampe picking it up to take the close decision and win the title. At 175 lbs. Townsel won by pin in the first round, but fell in the second by pin. That moved him into the consolation bracket. He won the first match by pin, and then took the second by pin as well. In the semifinals he won by a 9-7 decision over Frashawn Sankoh of Glenn Hills. In the consolation finals Townsel defeated Austin Wooten of Rockmart, 7-4, to take 3rd place.
Ronald Pointer finished in 3rd place at 190 lbs. Pointer had a bye in the first round and then won by a 13-6 decision in the next round. Pointer fell to the eventual State Champion in the next round by pin to move into the consolation bracket. He won his next match by a major decision, 13-3, over Tristian Lower of Putnam County. In the consolation finals Pointer won 7-4 over Tyler Malone of Rockmart to earn his 3rd place finish.
Also earning points for the Indians were Jack Godbee at 157 lbs. with a 4th place finish, Sam Sapp at 165 lbs. with a 6th place finish, and Marcus Dixon at 215 lbs. with a 6th place finish. Other Indians wrestling at the State Tournament were Brennan Neumann at 106 lbs., Jamari Jermon at 144 lbs., and Stephen Cheeks at 285 lbs.