Posted on
3 Wheeler Men Face Separate Burglary Charges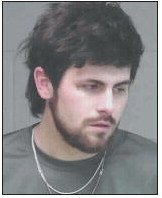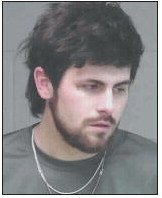 Three men have been charged in three separate burglaries that occurred in December and January at two residences and at one county government location in Wheeler County.
Trevor Austin Montford, 24, of Glenwood, was arrested on January 26 and charged with burglary and breaking and entering in incidents occurring between January 17 and 19 and on January 23.
The Wheeler County Sheriff's Office investigated after a Wheeler County property owner reported a burglary at a residence on Cat Squirrel Road. Officers were advised that while the property owner and her family were continued from page
out of town, someone had broken the lock on a door with a shovel to enter the residence and had taken several items without permission. The complainant said she knew who had committed the burglary and that several of the stolen items had been pawned in the Vidalia area. The complainant said that Montford had previously stayed at the residence that had been burglarized and had knowledge of the items that were taken.
WCSO Chief Deputy Richie Floyd made contact with a pawn shop in Lyons and discovered that Montford, on January 18, had pawned a battery charger taken from the residence. Also missing were a firearm, which was later returned to the owner by an unnamed source, a pressure washer, and a paint sprayer.
The Sheriff's Office investigated a second incident involving Montford after receiving a call reporting a break-in at the County Recreation Department's equipment room on Snowhill Baptist Church Road. Investigating officer Giancarlos Mancini reported that a gas pressure washer, valued at $629, had been stolen in the incident.
Floyd's contact with the Lyons pawn shop revealed that Montford had pawned the pressure washer on January 23. Floyd's report indicated that upon being interviewed by law enforcement, Montford admitted to the January 23 theft. He is being held in the Wheeler County jail.
Two Wheeler County men were arrested and charged in connection with a burglary that occurred around December 20.
Jaron West, 22, of Glenwood, and Delmar Poole, 24, of Alamo, were arrested on January 7 and January 18, respectively, and charged with burglary/ breaking and entering, destruction/damage/ and vandalism, and theft from a building.
A report by Wheeler County Sheriff's Deputy Brandon Zuckerman, who investigated, stated that he responded to a call from a Wheeler County resident who discovered that his property, which was unoccupied at the time, had been broken into and several items had been taken. The complainant said that when he arrived to check the property, he found that a window unit had been knocked out of its mounting. Upon entering the residence the owner discovered that the house was in disarray and several items were missing. A camera inside the house recorded two white males removing items from the home and disconnecting the washing machine from the water line. The water was left running, which caused flooding and substantial damage to the home's interior. Items reported as stolen included two firearms and a black tool box and tool bag.
Jaron is still incarcerated at the Wheeler County Jail. Poole, who was wanted on previous charges, was transferred to another facility.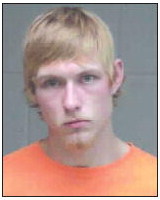 Jaron West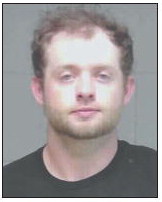 Delmar Poole